I was excited about traveling on M.V. Makruzz from Port Blair to Havelock. It was my first trip on a luxury boat! It was a fast, short and comfortable journey. The wait period was also not too long. The boarding was orderly, however when I did the trip, the boat was not full.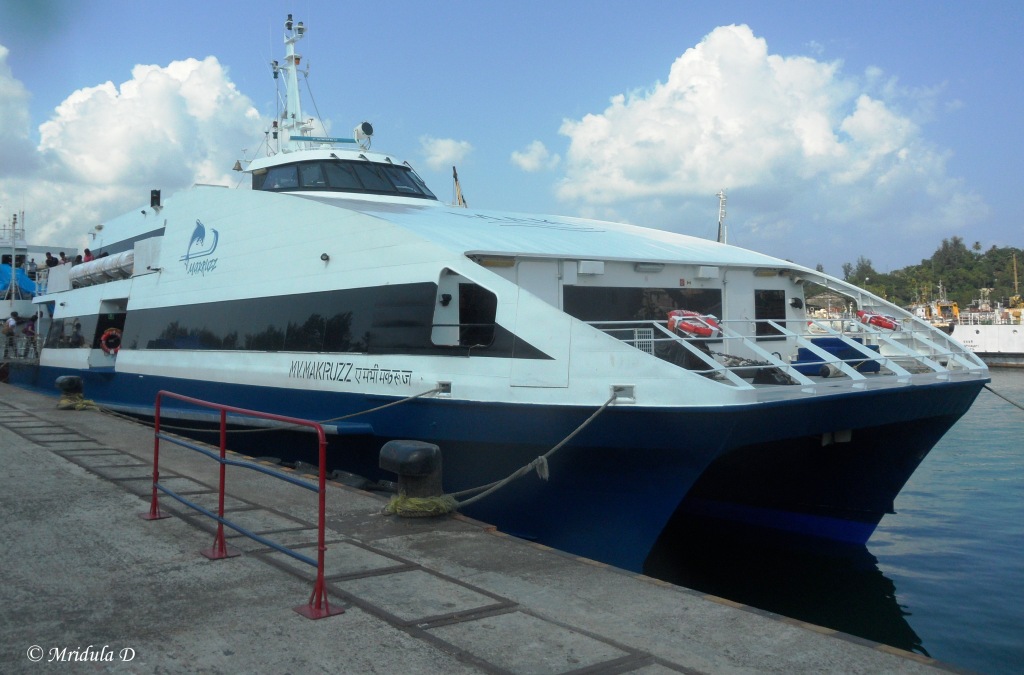 This is M.V. Makruzz that one can take to travel between Port Blair and Havelock and back. It is a very comfortable ship. You can buy beverages (as far as I know non-alcoholic) and snacks while you travel from Port Blair to Havelock.  When I took the trip, the ship was reasonably empty and my friend and I went to have a look at the upper decks too. The upper deck tickets are more expensive. My friend asked a crew member if we could sit there. He said as the seats are empty we could surely sit at the upper deck. We had a comfortable journey while going to Havelock. If you keep looking at the sea you can spot flying fish at regular intervals. The ship is air conditioned. They play an entertainment video on board as well.
Coming back was a different story. Apparently the return journey is against the wind. So there is more motion and I have motion sickness and so has my friend. And you know very well that having motion sickness is no fun. Our faces almost turned green while coming back. It was a miracle that I did not get sea sick in the end. They were playing the same video program on the return journey. I knew on which song the journey would end and I was so desperately waiting for it. We managed to reach without throwing up all the tea we consumed. But barely so.