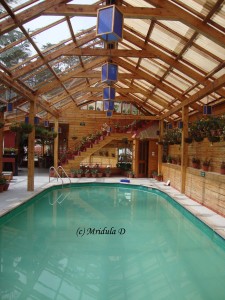 How many times did I used the pool in my two full day and two half day stays at the Chalets Naldehra? Twice, on both the full days. The water was temperature controlled so it felt lovely. But to some probably it was cold because the staff told me to check the water before going in. Looks like I am hardly known to feel the water before taking in the plunge!
As the resort pools go, the pool was similar, only it was indoors which makes sense as you can swim even if it was raining, which in the hills could be most of the times. As I said, it had been more than a year since I had entered a pool, the last being at the Banjaar Tola Camp.
But the next time around I have to be careful before I plunge, I have to think carefully if I am overtiring myself, it is no fun to fall sick after such a good trip. There was a time when I had access to an Olympic size swimming pool in every summer, during my Ph.D days and yet I would prefer to play TT or Badminton or Basketball rather than swim! Never knew once I move to a city it would become such a luxury.