I attended a friend's wedding yesterday and it was so nice to catch up with the lovely bride and the groom. I have to say I am a little closer to the bride but I knew the groom too. And he actually made my day. Apparently the groom (who recently completed his Ph.D.) reads my blog and said to me "Your blog was my guide." I hope he would be too busy to read this, after all it was their wedding yesterday, but his comment just made my day.
But the pictures that I am going to post today were taken when I was driving back from work to the metro station in Gurgaon to attend the wedding. Sesha was at home and was coming straight to the station, we had decided to parked our cars at the station and take the train. He called to say that he had started a little late and I would have to wait. That gave me an idea. I stopped the car and ran out to click a few pictures. The sun didn't care about the surroundings and was looking glorious while it was setting.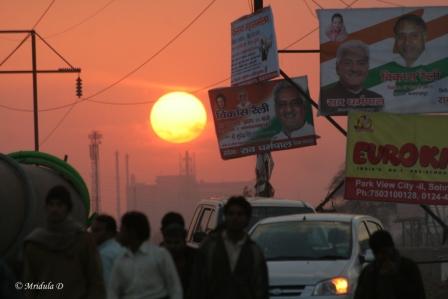 The sun also didn't care probably because the commuting path for it is not crowded at all. I wonder if it would set so beautifully if it had to negotiate the traffic that we face to reach home!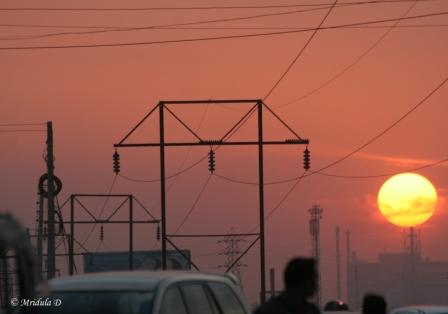 I am wondering how much nature can add even to the most drab surroundings! Otherwise I cross this chowk (roundabout) everyday and never ever give it even a second glance.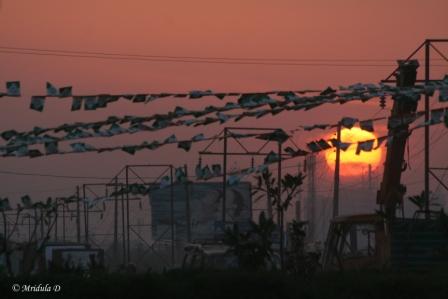 I had to cross the road to get this picture but you can imagine how much I am missing travel, specially the hills. I was tempted to include some political party's bills flying in the wind in my picture because it reminded me of Buddhist flags.
I hope you agree with me that the sun truly didn't care about its surroundings yesterday! It probably never does?