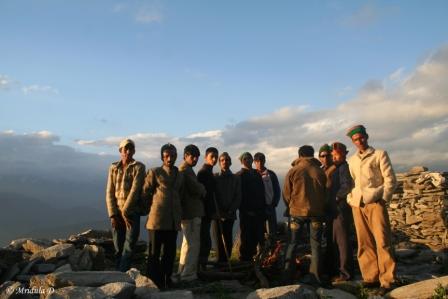 I clicked this picture of our support team at Dhundi campsite (I typed website instead of campsite and then deleted it!). This time our effort was to climb up to a lake called Saru Tal but that was not to be. We had to turn back because for our skills the weather was too inclement at Talhauti.
But our entry to the trekking region was no less dramatic. The first thing about trekking is that you have to really travel long from Delhi to reach all the decent mountains. Our first stop was Sankri, a small village (that has a GMVN guest house). Now Sankri is 250km from Mussoorie and my bones were rattled when we finally reached there, well almost reached there.
It must have been 1.00pm and we were nearing Sankri. On this trip I had a friend with me and she was trekking for the first time. At one point we got down and realized that the road ahead was blocked by a landslide. We were trekking this time with Juniper Outdoor and they had a local contact in Sankri, Bhagat Singh.
As Bhagat was aware of our arrival they were waiting for us at the landslide. They said we had to cross it on foot. The good thing was that it was night and we did not know how steep was the incline where we were suppose to step. I told my friend that she is really special because in my last 7 years of trekking I never entered a trek via landslide!
It was then these men stood at every step, held our hands, and crossed us through. Then they carried our luggage and crossed the landslide!