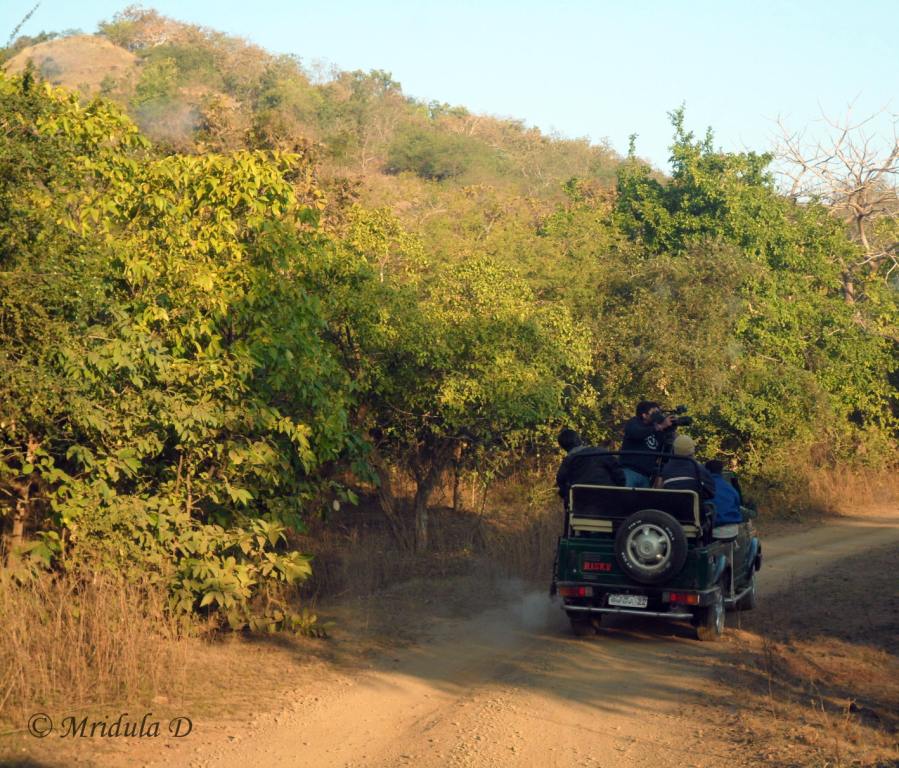 If someone had told me before the Gir trip that one day I would appear alongside a SUV in a national park and the video would be made by the National Geographic and showed on the television, I would have laughed my head off. Well, can't do that anymore! As they say life is full of surprises.
When I went for the Gir trip, the first two days we were involved with the press conferences, a scary thought at that point of time but thankfully not anymore. Then the next day at Gir was a good one, we went on safaris and had a great time and delicious food. There was also some discussion about the Nat Geo shooting the next day.
It is only then it dawned on me that they intend to shoot me as well along with the Yeti and the park! That night sometime before dinner I asked Mrinalini, "What if I vanish now?" and pat came the reply, "Don't worry, we will find you." It also dawned on me quite late that the brave folks at Skoda Yeti team intend to put my face as one of the faces along with the vehicle on TV! Whenever I told Mrinalini that she is brave,  to even think of putting a non-model, common face (read me) she had a pet reply but I am not sure how will she react if I quoted it here, so mum is the word.
Then came the day when the Nat Geo team arrived (they actually interacted with us on day 1 at Gir itself but the shoot started the next day) with their equipment and there were more than one such jeeps. The first half went in the park with the focus on wildlife and the car shots. It was also the morning of  the best sightings of my life, lion cubs at very close range, it took a Skoda and a Nat Geo team to break my jinx with the big cats. I had been to 4 national parks before in India but no sightings of big cats prior to this trip.
But as soon as we returned from the jungle I was told it was my turn to face the camera. I have to say I am not the most comfortable person when it comes to facing the camera. But that is probably a story for another day. The lady directing the show asked me, "Will you put on some lipstick?" And I replied, "If that has to happen one of you has to put it for me because I just don't use lipstick, I was just going to put some moisturizer." If she felt disbelief she didn't show it, she just said, "OK even that would be good."
Then I went looking for my room keys and someone said I could use their room and the moisturizer and comb and all. Another discussion started, "Would you put on sunglasses?" I said no as I am uncomfortable wearing sunglasses and I didn't had one on this trip. Then came the next suggestion, "How about a hat? That would make you look wild." Another member replied, "Let a bird tweet and she will run to look which bird is it, and that is wild enough, let her be." And that is how it was, I combed my hair, put some moisturizer and faced the camera.
Also, at no point there was an emphasis on bringing in Skoda Yeti onto the camera, if you notice I just say I participated because the contest sounded very promising.  In fact when the Nat Geo team took the footage there was no Skoda member around, only the Nat Geo team was there.
As I say they are brave folks, they put my face, a face they had not even seen before the day of the launch in with their launch video! So next time if someone told you that it is possible for you to appear in a video made by a car company and a TV channel without any makeup and designer clothes, believe her!