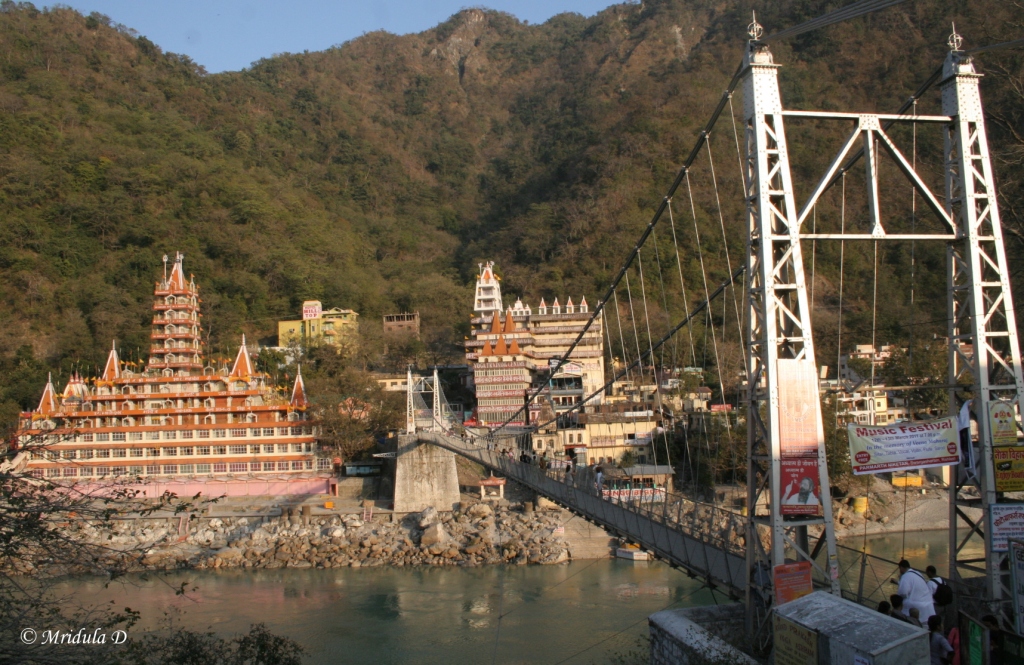 This time we stayed quite close to Laxman Jhula at Rishikesh, so we were in the middle of the city. As usual, we had not booked a room beforehand. I often thought we would not dare to do that with Chhavi around but then some habits are very difficult to change. So, when we took a tempo from Rishikesh bus stand to Laxman Jhula, it was still quite early in the morning. And we were completely clueless as to where would we find a room. But before that I have to tell you the story of getting down from the train at Haridwar.
The arrival time for our train (AC Express to Dehradoon, at least we gave up sleeper class travel for Chhavi on this trip) at Haridwar was 4.00 am. I set the alarm in my mobile phone for 3.45 am. Our boarding time was 11.55 pm. So we of course were hard pressed for sleep. I feel asleep very quickly and then woke up with a start after what felt like half an hour or so. The train was standing at a station and the people in our coach who were supposed to get down at Haridwar were not on their seats. I wonder if I conveniently switched off the mobile alarm in my sleep. I have become prone to doing it these days and then wondering why the alarm didn't ring.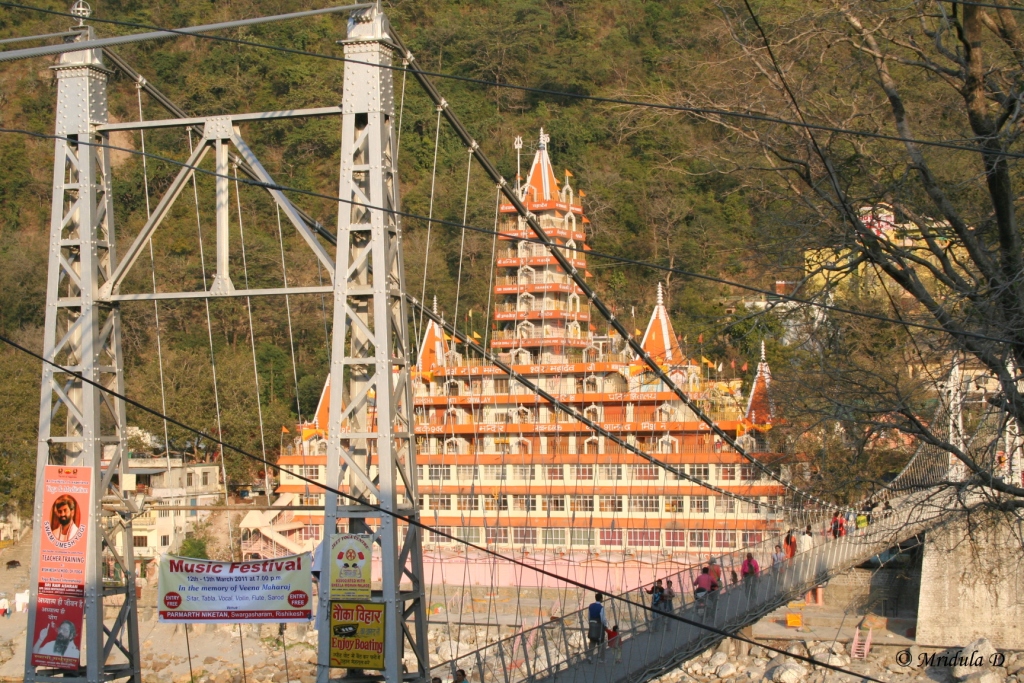 I woke up Seshadri and he said he would check out. In less than a minute he was back saying it was Haridwar indeed. We got off as fast as we could with Chhavi. Then we realized we had left Chhavi's shoes inside the train. Seshadri went in again and got them out. After all this drama we were just standing quietly, taking a few deep breaths when the train started moving again. We had avoided traveling to Dehradoon by a slim margin.
But as soon as the train started moving we saw a middle aged couple arrive at the door, they also had to get down at Haridwar, it seemed. The lady came down first, in her sari and almost lost her footing as she was not letting go of the door handle of the train. It was a bit scary to watch but the gentleman with him actually forced her fingers away from the handle and got down himself as well. I guess if we ended up in that situation we would have just gone ahead to Dehradoon instead of risking getting down from a moving train. Moral of the story? Next time Seshadri is going to set alarm in his mobile and not me. So, we almost missed arriving at Laxman Jhula.
In the next post I would tell the tale of finding a hotel after our arrival with Chhavi in tow. I have to admit she was quite good throughtout the trip even though our train timings were not the best ones in the world. She never protested about being woken up at odd hours or waiting to board a train late as night as well.