I have stayed with the Best Western hotels three times, once in Amsterdam, then in Modena and most recently in Lancaster. I found all of them quite good value for money (all were official visits so I was anyway not paying for the stay).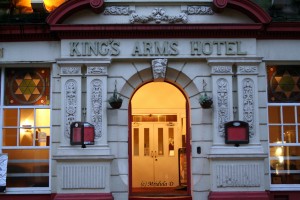 The Best Western King's Arms hotel is conveniently located in the city center, within walking distance both from the bus and the rail station. I still quite clearly remember my arrival to the hotel. I had a long long flight, first from Delhi to Dubai and then from Dubai to Manchester. I was not feeling too well and I was feeling dead tired. When I exited at Manchester, I expected a pre-booked taxi for Lancaster.  After we took the exit we saw no placards for us.
It was cold and windy November day, quite the usual for UK. A colleague was also with me and we walked around for a bit looking for the taxi guy. Then I decided it was time to use my Matrix phone. I called one of my UK colleagues on Sunday and his wife picked up the phone. She said he was driving but he would get back to me in a minute if we are the people from India. And he got back to us in a minute. He advised us to call the taxi guy and luckily I had stored his number too. The taxi guy said he would pick us up in a minute and we should stay where we are.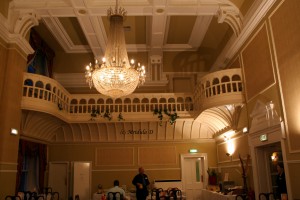 A while later we were comfortably seated inside the heated taxi and were speeding off towards Lancaster. I could recognize Trafford Center at Manchester when I saw it in a distance. Within an hour the taxi guy had dropped us at the hotel car park and it was drizzling. By now I was cold, tired, sleep deprived (I had watched 4 back to back movies in the flight not even blinking for sleep) and longing for a bed.
It was not be, we were told it will take half an hour for our rooms to get ready. I remember sitting in the lobby with my head on a table and trying to doze off, I was that tired. I think the room was ready in 15-20 minutes.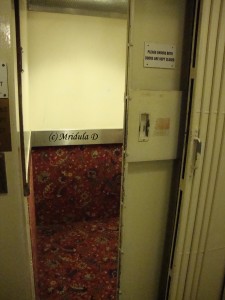 That is the first time I used the old style double door lift! You rarely find these lifts anymore so it was sort of fun to use it. As soon as I entered my room I was looking to crank up the heat. I found the radiator knob but it looked like it was not on. I called the front desk and they said it would be on after a while only. I told them I was quite cold and they promptly said, "Don't worry we will send you an extra heater." And true to their words, the extra heater arrived within minutes. I gradually adjusted to the cold but on that first day that extra heater was a really nice touch. It remained with me for the entire stay.
My only other interaction with the hotel staff used to be for breakfast and the young lad who would be there used to say "smashing" to everything I ordered! All in all it was a smashing stay.
* I sometimes review hotels after getting an invitation from them but I have written this post entirely on my own, Best Western in no way contacted me to write this post.