I am a hill person, I must have been born in the plains by mistake in this life. I am always happy to travel to the hills, even though it often means an early morning start for catching the Shatabdi Express train. My visit to The White Peaks at Gagar, Uttarakhand was no different. I got up at 4.00 am to catch the 6.00 am Kathgodam Shatabdi Express train. The White Peaks is a cozy cottage! It takes its name from the view of the White Peaks but I only got a glimpse of it as most of the time the weather was overcast. You can check out the rates here.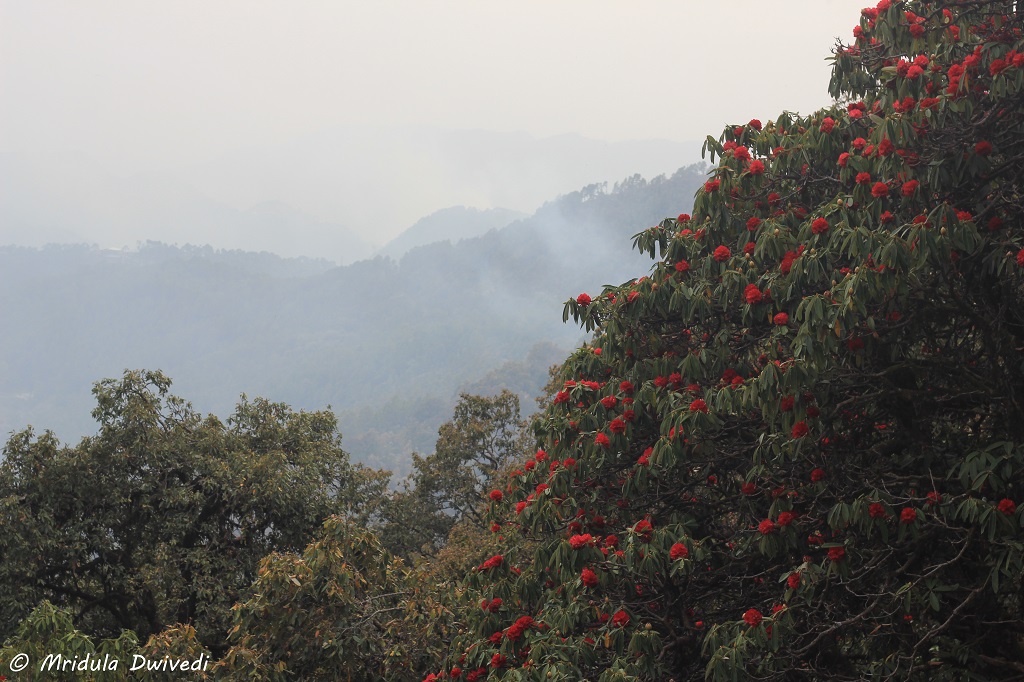 My plan was to sleep in the train after breakfast. But I was so busy chatting with Neeru and Gurjas (bloggers on the same trip) and a fellow passenger that none of us slept a wink! Travel is such an addictive topic. Due to avomine, I slept off in the car drive from Kathgodam to Gagar though. I woke up quite close to Gagar and I immediately noticed the Rhododendron blooms. Gagar is a small town a few kilometers before Ramgarh in Uttarakhand. If you want a peaceful holiday, it is the exact spot where you should stop.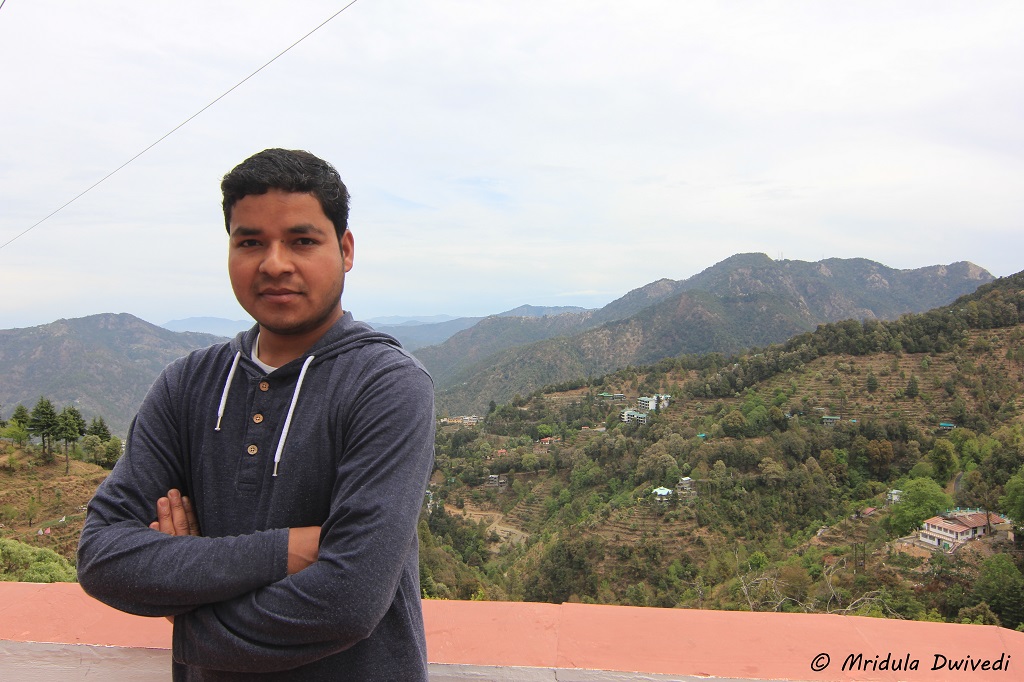 Mohan, the caretaker, the cook and the ever smiling chap, greeted us at the road. We walked a short distance to arrive at the White Peaks Homestay. The territorial dogs (safely tied in their homes) went mad at the sight of the strangers!
Mohan asked if we would like a cup of tea? Even though it was lunch time I said yes to tea. The weather was awesome, my room looked cozy. Mohan reminds me strongly of my guide Sohan Singh Bisht, also from Uttarakhand. You can hardly ever find people with such perfect manners!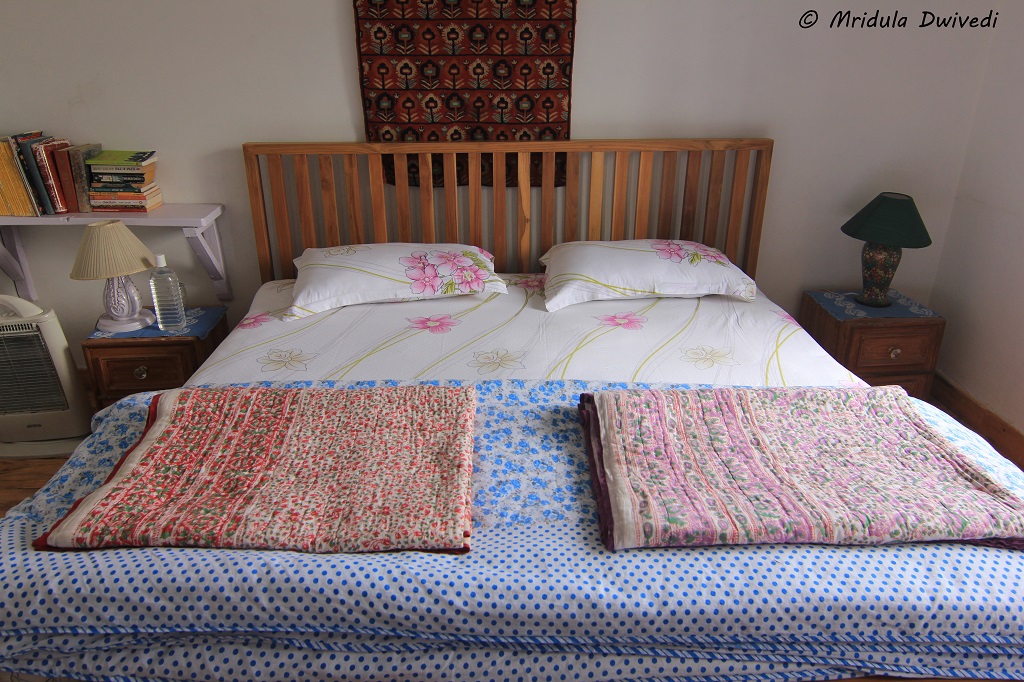 The White Peaks is actually a cottage with two rooms at the first floor and a cozy living area on the ground floor. My room was tastefully done. It had a comfortable double bed, a large collection of books, including back issues of National Geographic. It got ample sunlight and it had a view of the hills. My room did not have an attached bathroom. The bathroom was just outside my room. The other room had an attached bathroom, so the other bathroom is actually private. It was not a problem for me at all. The bathroom had plenty of hot water, just what you need in the hills!
There is a balcony between the two rooms which is ideal to sit and have tea/coffee. I noticed an ironing board in the common area on the top floor.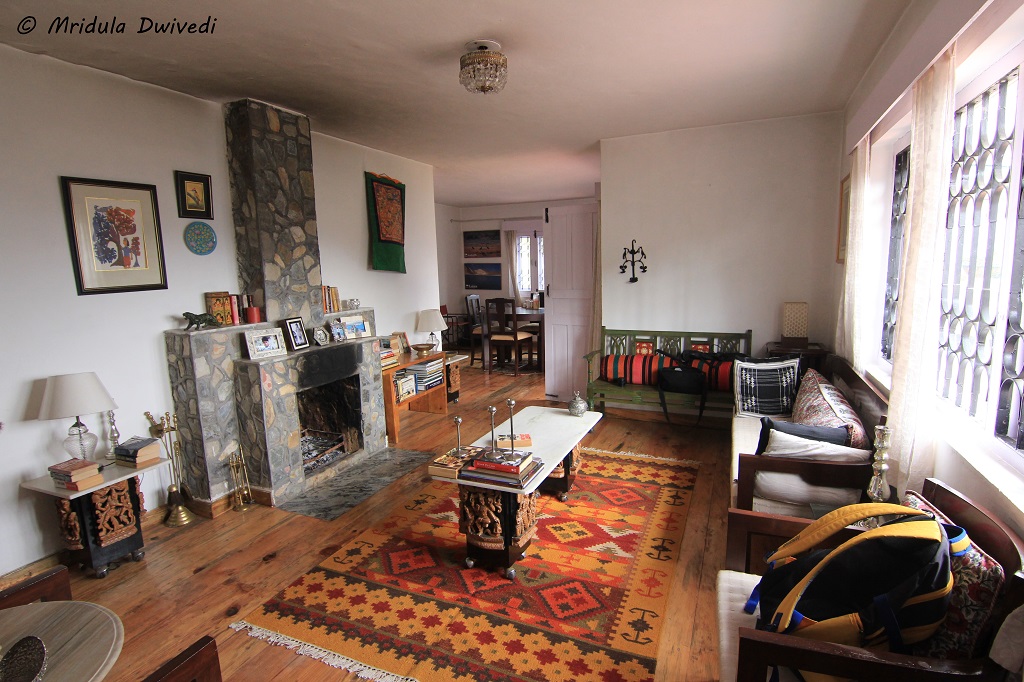 We spent most of our time in the balcony or in the living area of the cottage. The living room has a collection of beautiful curios and it has a real fireplace! The dining area is adjacent to it. The table can seat 4 comfortably. We saw a TV there but we never bothered to open it.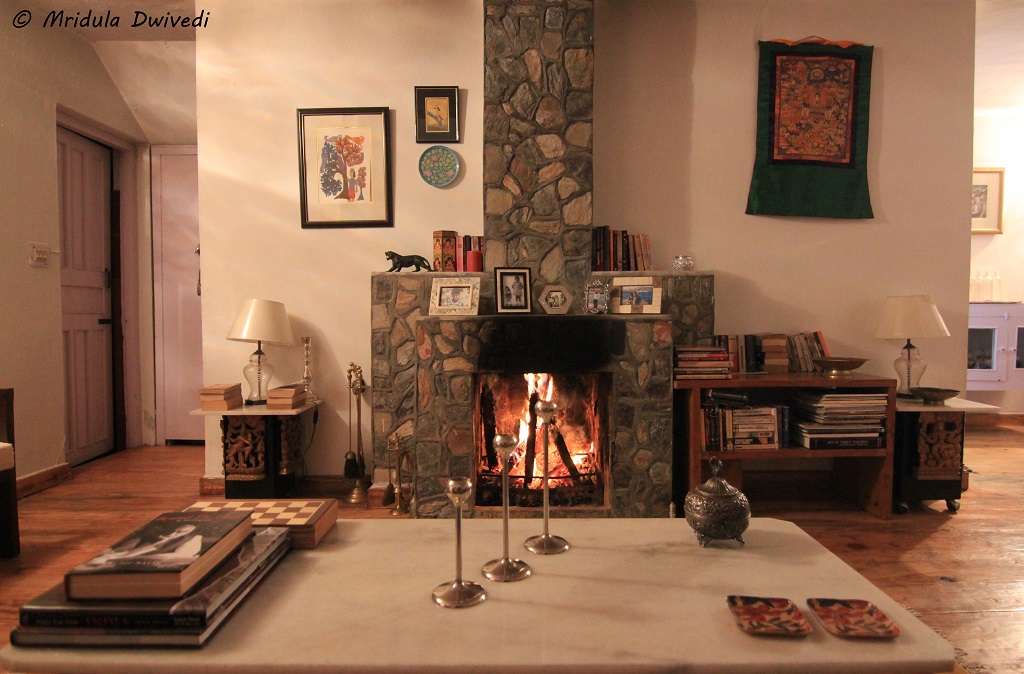 However most of my time was spent with a cup of tea or coffee, whatever took my fancy, on the terrace with a view of the mountains!
The Food at the White Peaks Homestay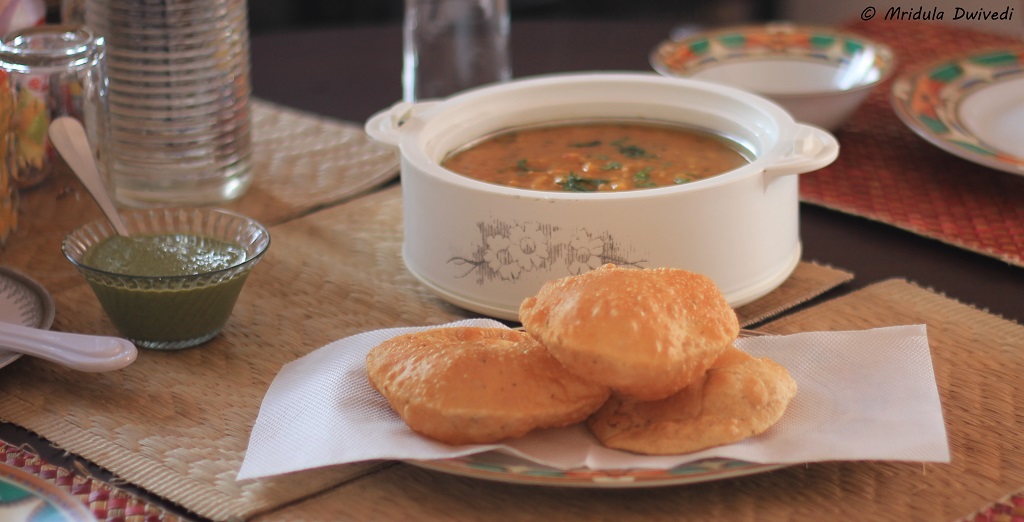 Mohan cooks some amazing food. He would ask you what you would like to eat and try to make it too. I immensely enjoyed the home cooked food, it was a luxury for me. All his dishes, be it daal, bhindi, bharta, rice, paneer were excellent. He would serve us hot chapattis and I was certainly overeating!
He made non-vegetarian food for Neeru and Gurjas and I think they liked it. But the best as the chai on the terrace with a cool wind and a wind chime tinkling away!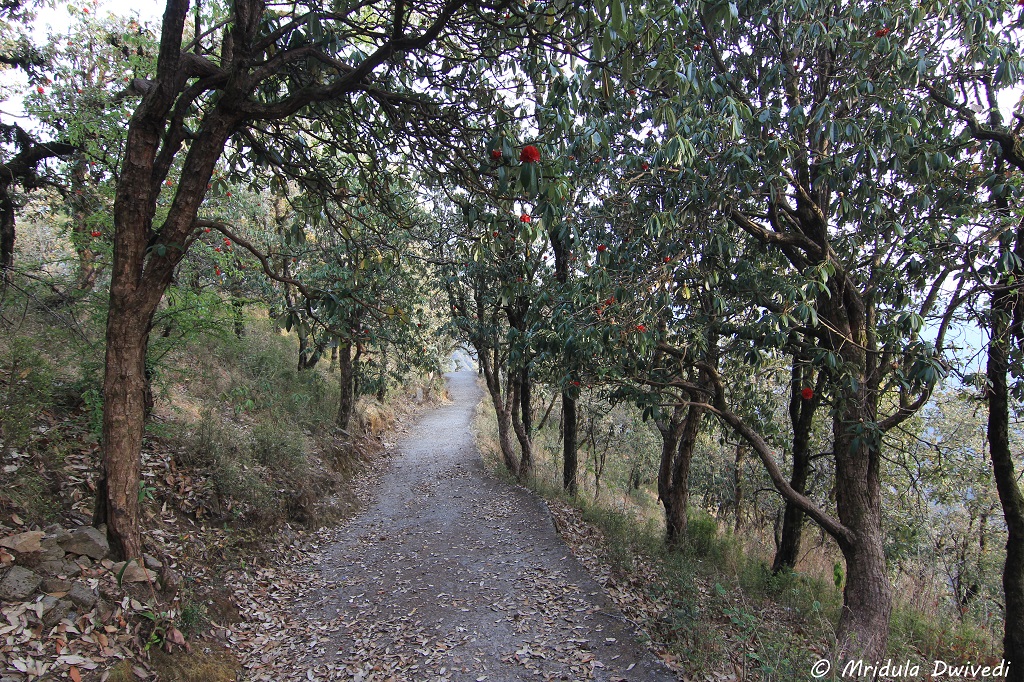 There is a small road going up, right next to the cottage. I asked Mohan where it would lead, he said it would go up to a small temple. I went on an evening walk on that beautiful road. The path is flanked by trees, a lot of them Rhododendrons. And they were in bloom. It was a joy to be among them and soak in their magnificence. I did reach a temple but it was not the temple!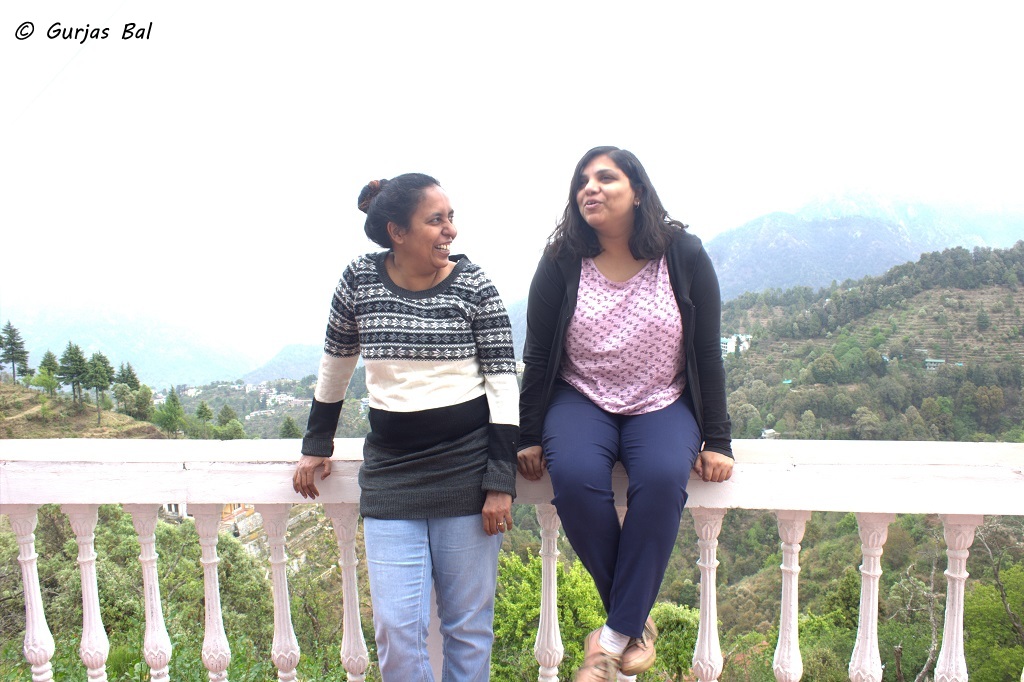 I am no longer a late night person. If I can have it my way, I like to be fast asleep by 11.00 pm. And yet on both the nights Neeru, Gurjas and I sat chatting late into night! It is a blessing to have such fellow bloggers on a trips! Both have a background in film making and I learned a lot by observing and talking to them!
The White Peaks is a beautiful cottage in the hills. Gagar is one hour away from Kathgodam, hence it is easy to access. And yet it is amazingly peaceful and relaxing place. It would work for you if you are looking for a homely place to stay, away from the big cities. I liked the area so much that I actually want to buy a house there.
PS. I was invited by the White Peaks Homestay on this trip.