I wanted to name this post 'the men and the stories from Narendra Bhawan, Bikaner' but I don't know why I settled just for stories from Narendra Bhawan! I was invited to the hotel in the first week of January 2017. I decided to write about the stories first, the usual stuff will follow soon.
The Food Tales
Food is an integral part of Narendra Bhawan and the fellow concern Suryagarh (in Jaisalmer). They do all kind of food, Rajasthani, Indian, fusion, continental, and they do it well. But what I remember them for is the number of courses they serve. Last time when I went to Suryagarh, it took me a few days to recover from all the overeating I did.
This time I was careful. At the first meal, the Bikaneri breakfast I told the young lad who was serving me that I as done, my breakfast was over. He nodded his head and I was pleasantly surprised.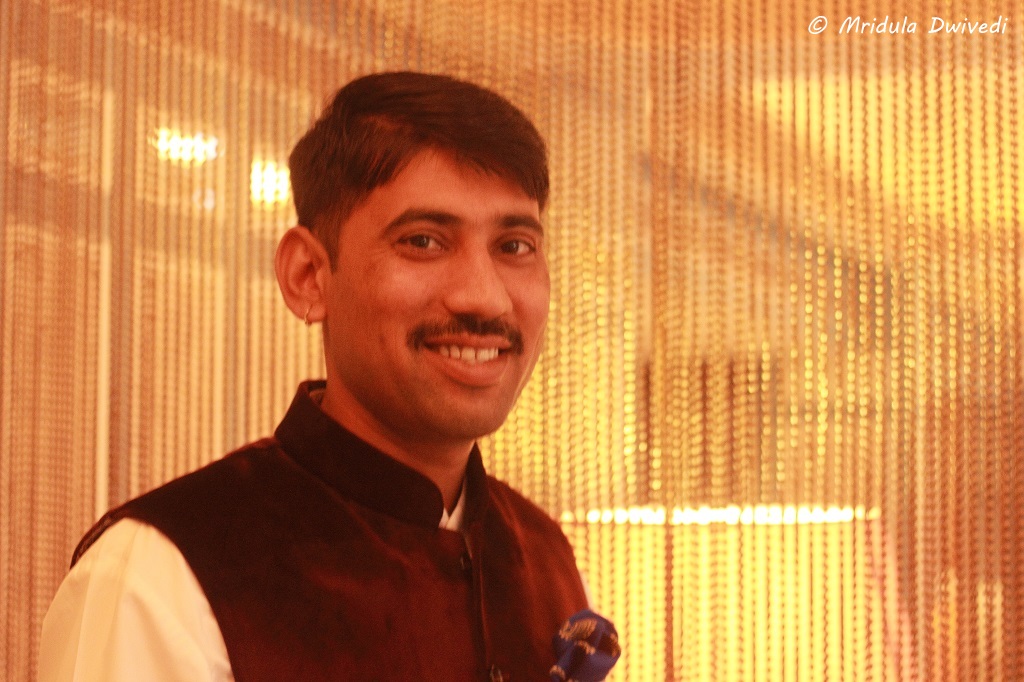 Look at this man, carefully, because he entered after I told his colleague that I was done with the breakfast. Balveer told me, "breakfast is not over till I tell you so!" He has left his best friend Sunil at Suryagarh, they are of the same kind. I once asked Sunil about the number of courses at dinner in Suryagarh, only to be told, "I have not counted them ma'am."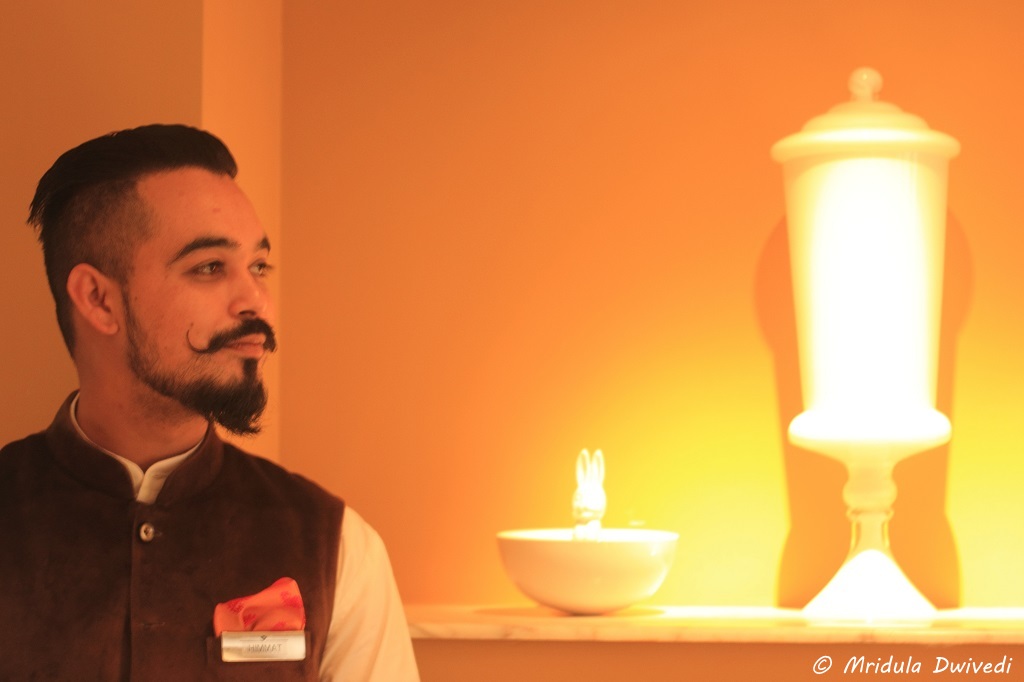 I met Himmat Singh at the coffee shop. On our last day he mentioned he used to work at Dublin, Ireland. When I asked him why he came back, he replied, "That is a long story ma'am." He makes wonderful coffee with lovely faces on it!
This time I saw Siddharth Yadav in a new role. He goes by the title of the Vice President. I found him present at the meals in a new avatar! He would declare everything healthy that he possibly could and urge us to eat more! He declared methi seed curry and bajre ki poori extremely healthy. He would declare kesar ki lassi healthy and he would do the same with thick badam ka milk.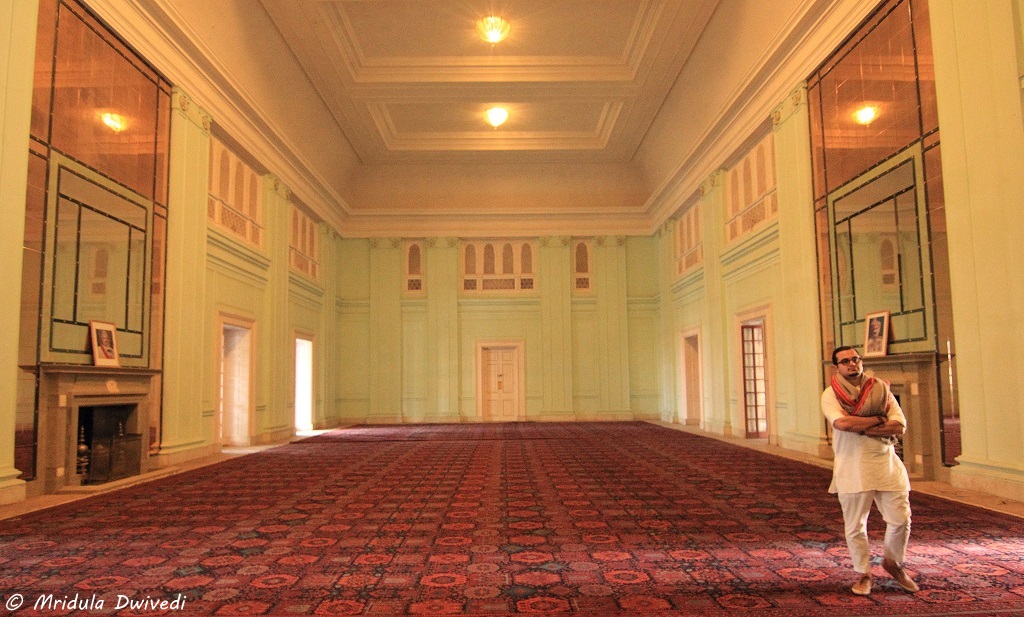 So many times he would stand throughout the dinner and help clear plates. I am sure it is not there in the job description of the Vice President. When I would ask why won't he sit down to have his meal, he would say the Chef needed help. Chef Sachit Jha, I always found running and producing one excellent meal after other! They both are running fit because I guess they run so much fussing about food!
The Haveli Tales
I met Ram for the first time at Narendra Bhawan. He took us on a merchant tour through the Havelis of Bikaner. He knows them like the back of his hand, maybe even better. In the lanes of old Bikaner, there are huge takhats in the open courtyards which are used for community gatherings of men. Ram told us he was moving around in the hotel Pajero to see how far the car would go in the narrow lanes one night. The people of the locality stopped him and demanded to know his business? Why, he an outsider, was going around at night in their area? He said they made him sit there but as he could speak the local language he was able to convince them that he was just on hotel work! Today everyone knows him and he weaves his way, with guests in tow, with ease!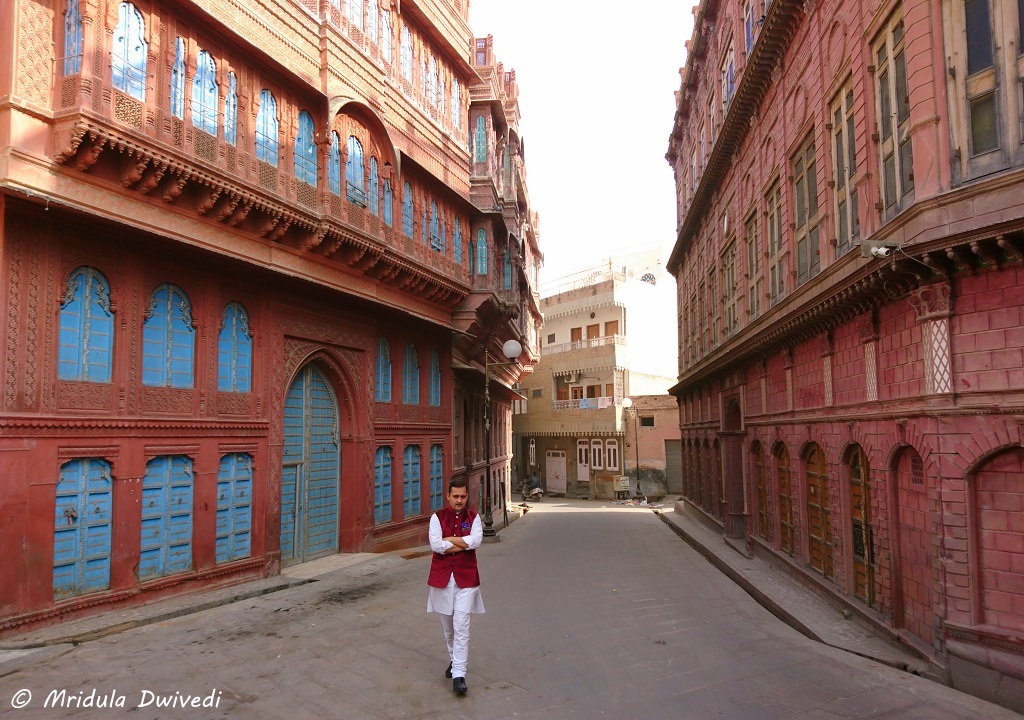 He told us another fascinating story about the opening of Suryagarh! He said that quite close to the opening so much furniture arrived that there were not enough people to get it in. So the MD himself picked up a sofa and started lugging it in. The entire staff joined and they were moving around sofas for a long time, till everything was arranged to perfection! He later moved out of Jaisalmer and worked at places.
When Narendra Bhawan was opening Ram got a call from the hotel to see if he was interested to join back? He got back within no time. I told Ram, "you must be incredibly found of lifting sofas because that is what happens when a hotel newly opens." We all laughed heartily and he totally agreed, "ma'am you are right, we did move a lot of sofas before the opening, everyone included."
The Narendra Bhawan Tales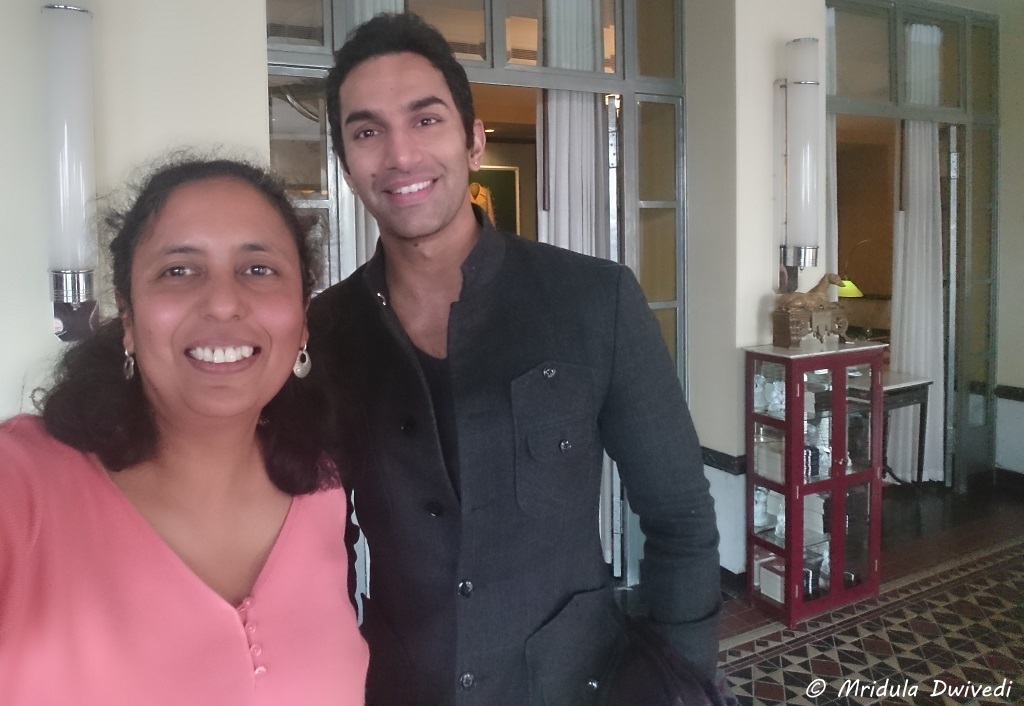 I had the pleasure of meeting Manvendra Singh Shekhawat (the MD of the group) again at Narendra Bawan. It is always a pleasure to meet him. He took us around the hotel and told us the story of Narendra Bhawan. Narendra Singh ji was the last King of Bikaner and Narendra Bhawan was his residence.
The original home had fuchsia walls, it was also home to 500 cows and countless dogs. The king would eat only after the cows and the dogs were fed! The hotel has been developed around the original home but rebuilt extensively. They have tried to match the personality of the king with the personality of the hotel. The coffee shop is called 'Mad Hatter' and the sofas and the chairs in the lobby do not match! The piano is bright red in color!
It was a first for me, to have a hotel that reflected the personality of the original owner! But then why not, after all homes reflect the personalities of the people who live in there!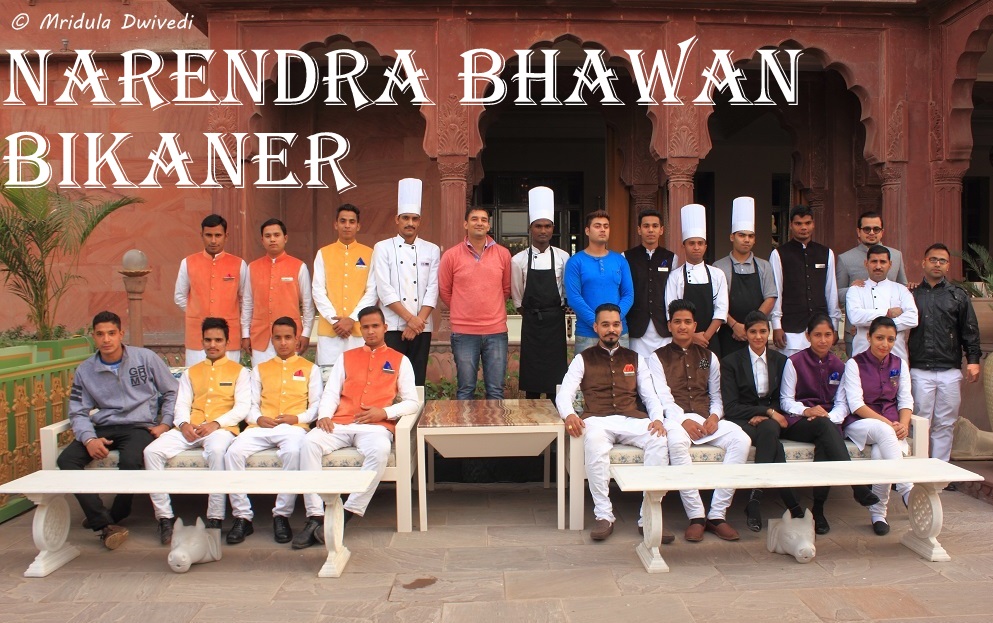 In all, this was my fourth visit with the group, I have been to Suryagarh three times and to Narendra Bhawan (newly opened) once over the last 4 years! I know so many people out there from my past visits. I always want to go home by the end of a trip but I have to admit I miss these guys and the overeating I did there!
PS. I was invited to visit Narendra Bhawan, Bikaner as a blogger.