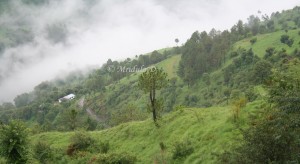 I took this picture at Naldehra in Himachal Pradesh. I was walking on a village road and took this picture looking down into the valley. It is the mist in the photograph that gives the illusion of the sky, otherwise on a clear day the picture would show green all around!
The words in the title of this post are from a Hindi song and roughly translated would mean- The sky is embracing the earth.
For more pictures of the sky please visit the Sky Watch page.