On my first trip to Malaysia I stayed at Seri Pacific Hotel, a truly comfortable place. It is a good choice for business travelers as the Putra World Trade Center (PWTC) is adjacent to the hotel. PWTC was the venue of our conference and being right next door to Seri pacific, it made the task of attending the conference quite easy.
I arrived early in the morning at Kuala Lumpur (same Malaysia Airlines flight). As the check outs were still happening and though my hotel room was vacant, it was not clean. The lobby had wifi connection so I was on the net while waiting to get my room. This though was no fault of the hotel as I was there much before the check in time. When I finally got my room it was quite big and looked like this. And it was still much before the check in time.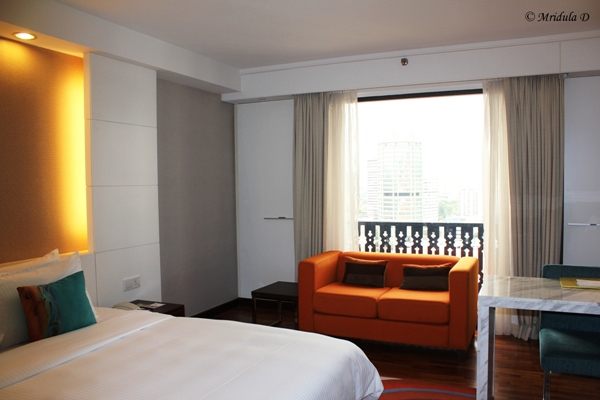 And when I click the hotel rooms and at the most wide angle of my lens I can't fit the entire room, a small voice in my head tell me "to hell with money and I should go and buy that wide angle lens". But I have successfully ignored that voice till date.
Coming back to the hotel, I liked my room, it was quite spacious. It had an internet connection and a mini bar (which I do not use) and all other things that you expect. The bathroom was lavish with a bath tub and good accessories.
I had breakfast at the hotel and conference lunch was also at the hotel. The breakfast spread at Seri pacific is huge and even if I would try I would not be able to sample all the vegetarian dishes. I had a lot of choices between continental and Malaysian food. They would find me vegetarian food at the lunch too.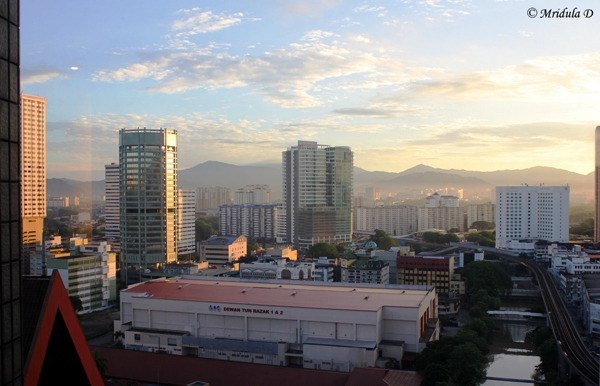 This was the view from my room early in the morning. The hotel is a high rise and I was on 19th floor I guess if not higher. There are Petronas Twin Towers view rooms as well but they obviously cost more. But it visible from the lift too. And when we saw the moon rising over Petronas Twin Towers, the hotel let us use their restaurant to click pictures.
Overall I had very comfortable stay, I wish I had more time to try out their swimming pool. I tried hard to think of something that could be improved but I really was a happy customer.