I was traveling to Noida (yes I am at my sister's place) on the Delhi Metro. I boarded from Rajouri Garden and didn't bother to inquire where was the train headed that was pulling in as I entered the platform. I got inside the women's only coach and at first did not find a place to sit but that was expected and quite OK.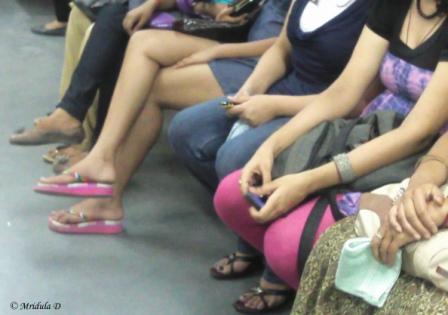 A little later I got a seat, took out the headphones and started listening to old Hindi Movie songs on my cell phone. I crossed Yamuna Bank and I was happy that I was not too far away now. I merrily told my husband when he called that I have reached Lakshmi Nagar. Then I crossed Nirman Vihar and Preet Vihar and still it did not ring a bell. Then through the songs I thought I heard a very funny name being announced as the next stop. I took out the headphones and heard the name Karkarduma for the first time in my life. I knew then that I was on the wrong route. but mere stations with names that end in Nagars and Vihars don't make any difference to me, it took a name like Karkarduma to wake me up from my slumber and realize that I was on the wrong route.
When I stared telling this story to others (my brother in law and a student as well) they told me the Delhi District court is in Karkarduma. What did I do after realizing that I was on the wrong route? I got down at Karkarduma, crossed over to the other side and took a train to Yamuna Bank. That is where the lines diverge, one to Karkarduma that ends at Vaishali and another to Nodia where I wanted to go.
Then I got into a train going to Yamuna Bank. I got down at Yamuna Bank and crossed over to the other platform to take a train to Nodia. All the while I was laughing at myself and the goof ups I make while traveling!
Hey but it was fun, otherwise I would not even know that a place like Karkarduma existed and had the Delhi District court as well. Why did the goof up happened in the first place? Because I entered the train in a hurry and the trains to Karkarduma and beyond and Noida come on the same platform at Rajouri Garden. I just assumed that the train was going to Noida when it was not. Usually when I come to the platform I read the display and leave the Karkarduma trains well alone. But this time I saw a train and just hopped in. Moral of the story? Laugh when you end up at Karkarduma and don't enter the trains in a hurry in the first place so you don't end up at Karkarduma.