Putrajaya is a planned city, the administrative captial of Malaysia. That means a lot of Government offices are in this area along with the staff quarters. It is 25km outside Kuala Lumpur. As I was invited to Malaysia for their 1 Blogger's Conference this trip was on our agenda. On our last day we had a high tea with the ministry officials and after that we left for Putrajaya. The Tourism Minister Dr Ng Yen Yen was also attending the high tea. I am actually quite impressed at the amount of interest the minister herself takes into social media and how much time she took out to be present at the conference on both the days.

Kuala Lumpur was quite choked when we started but people more or less stayed in their lanes so there was no chaos on the roads.  By the time we reached Putrajaya the lights were glowing everywhere. As I was coming from the high tea and before that I was at the conference I was not carrying my tripod, it just didn't occurred to me to carry it. And you know how it is at night if you do not have a tripod! So here was a beautiful city bathed in light and full of water bodies that gave excellent reflections and there I was without a tripod, struggling to click any decent pictures.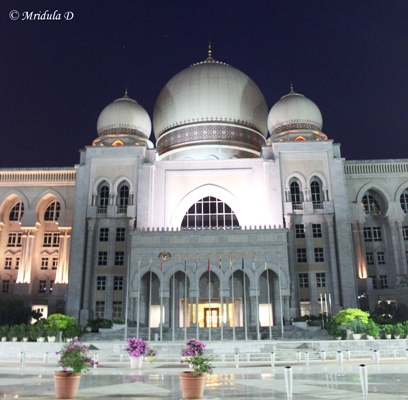 Stuck without a tripod I took some pictures in the flash off mode so that the camera would handle the setting automatically. But later I cranked the ISO up to the highest that I can on my camera. That is 6400 on my Canon 550D. For some of the pictures I used ledges of a restaurant. The bridge and the Prime Minister's office were taken after putting the camera on a ledge and using the camera timer to release the shutter. The picture of the Palace of Justice was taken handheld.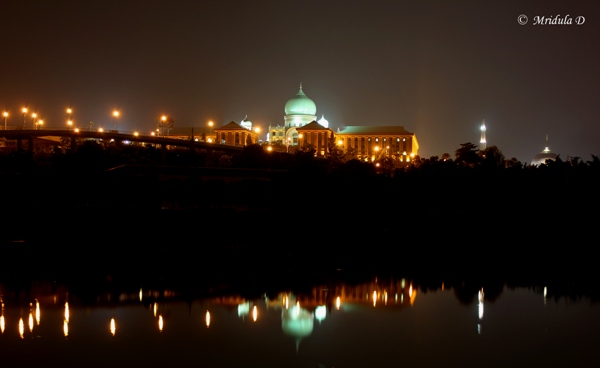 There were many people out in the town for photography. They looked local too as they had their skates and all also with them. One of them offered his tripod to me but we also were on a short visit so I politely declined. I have a rickety tripod, made locally but how I was missing it!
I was also told that because of the water bodies bird watching is excellent in the area. I was unable to make a day visit this time though. I was also told that the city was built from scratch roughly in 7 years! Now that is something!