I first read paraw sailing and thought it was a misprint for parasailing. But they are two distinct activities and both were there on my Boracay itinerary. Paraw Sailing at sunset in Boracay is a lot of fun. It was a first for me too.
Our guide Jun made a lot of hue and cry at the hotel about keeping keeping our cameras in polythene bags. I could not understand why. I used to think I am the only idiot who carried a heavy shoulder bag and so many gadgets. But it was reassuring that everyone in our group carried a lot of camera gear. I anyway carry a polythene for a rainy day, my cameras quickly go inside it. I don't think we took  Jun's advice seriously.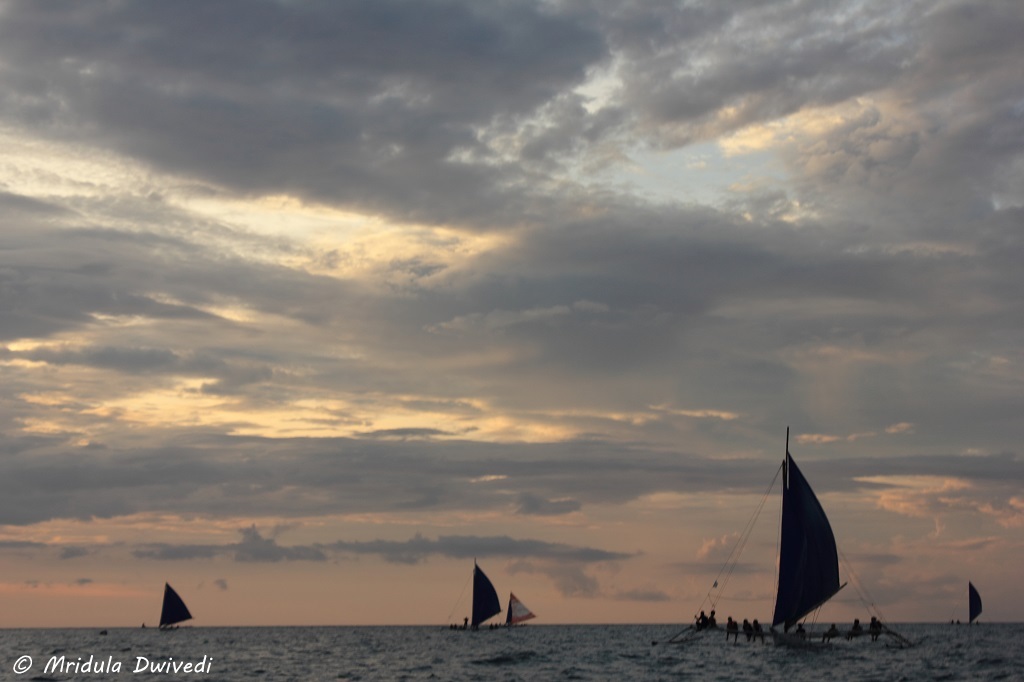 A paraw is a local sailboat with two sails and two outriggers. The boat has a really narrow body. The guests sit on the outriggers and get splashed all the while. The captain of the boat sits in the middle. Traditionally the boats were used for fishing and transport.
Within five minutes of the paraw ride, I understood why Jun was fussing over keeping our cameras dry! In the picture above notice where people are sitting. All paraws have similar seating arrangements.
Our boat was pre-booked for us. However you just need to turn up at the the White Beach Station 3 and bargain around. I was told that on a shared boat you can go for 300 pesos. You may get the whole paraw for 3K pesos for one hour sunset sail. You can bargain in Philippines. You are expected to bargain actually.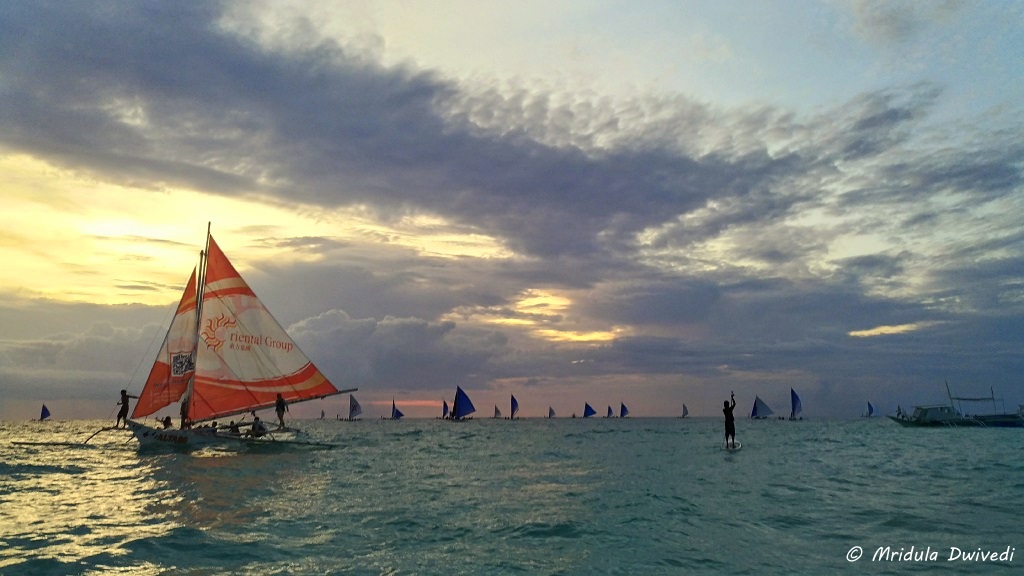 I took out my polythene to carry my cell phones, SLR and Gopro, someone pointed out that the polythene had small holes in it! Jun took out a brand new polythene for me and I carried all my stuff in it. Believe me, you need a polythene or a dry bag to carry your photography stuff on a paraw. Otherwise there is a probability that whatever is not water-proof might get spoiled.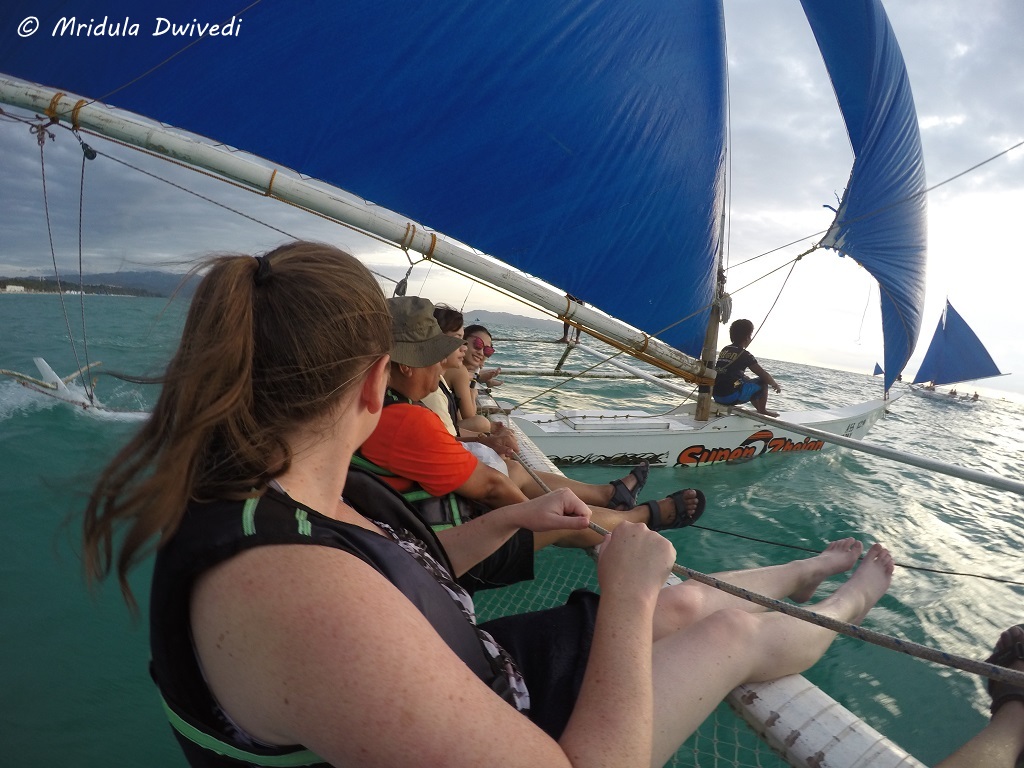 We went out to the sea for an hour at the sunset. To get on to the boat we waded in knee deep water. When I reached near the boat the outrigger as too high. The boatman asked me to put my foot on his thigh first and then to climb. I hesitated for a second but there was no other way to go up. Even after getting the leg up, I barely manged to crawl onto the platform.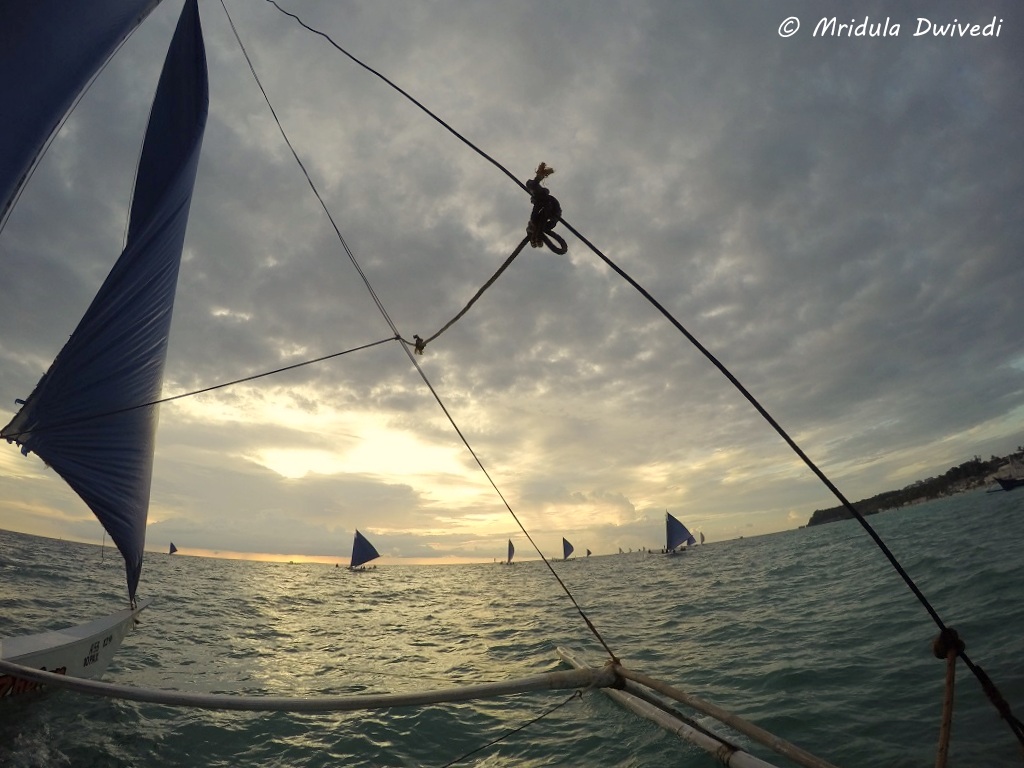 But it was a lot of fun after that! We all were given life jackets in case we fell out of the boat. None of us managed to achieve that feat. After a few minutes I was itching to take out my cameras. I took out my cell phone, SLR and of course Gopro at various points. The safest was the Gopro because of the waterproof casing. But I was new to it. With hindsight I can say it is not too wise to use cell phone or SLR because one unexpected drench can cause damage to them. I was lucky nothing happened to my gear.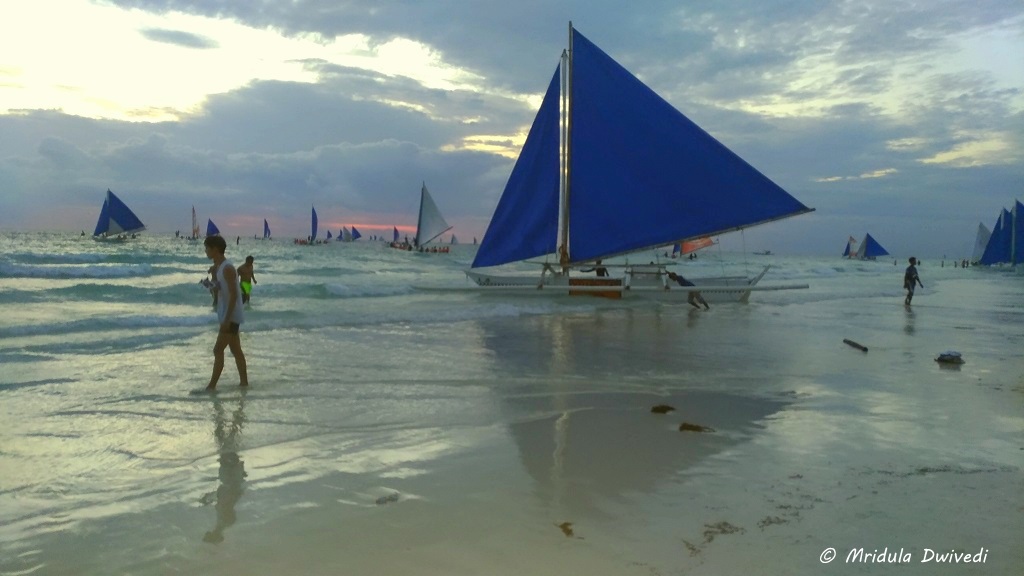 The paraw sailing at sunset in Boracay is a popular activity. The sea is dotted with sails running in all directions at the sunset. When we got the first big splash of water, it was a surprise. Then it became the norm. I actually took out the SLR and cell phone in a calm stretch. And they went back to the safety of polythene quickly. The next day I bought a dry bag for my stuff!
Paraw Sailing is a fun activity in Boracay, Philippines. You should try it out. To enjoy it thoroughly take a waterproof camera and leave the rest, or at least take everything in a dry bag. I want to do it again because the first time around I was just too dazed! I am sure second time will be more fun!