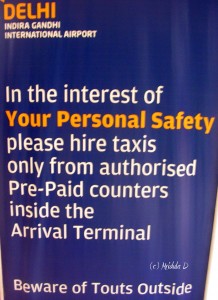 I think this notice is new at the Delhi Airport. Not that I go to airports quite frequently but I cannot recollect seeing this before. Maybe it is because of the forthcoming commonwealth games that they have put it?
The best piece of an airport scenario (though this was at Chennai airport but I can assure you Delhi airport would be no different) by a foreigner that I have read is at Indiamike-
Imagine Michael Jackson arriving at an airport with thousands of screaming fans being held back by ropes, all shouting things, all trying to touch him, add to that the heat, humidity, smell, and the fact that it was about 3 in the morning, that's what was outside.
Read more entries at That's my World.