I was recently invited to dine at Thai food restaurant- Neung Roi Radisson Blu Plaza in Delhi. After seven trips to Thailand it was a treat to eat good Thai food closer to home. So if you are craving for Thai food in Delhi/Gurgaon, you can check out Neung Roi at Radisson Mahipalpur!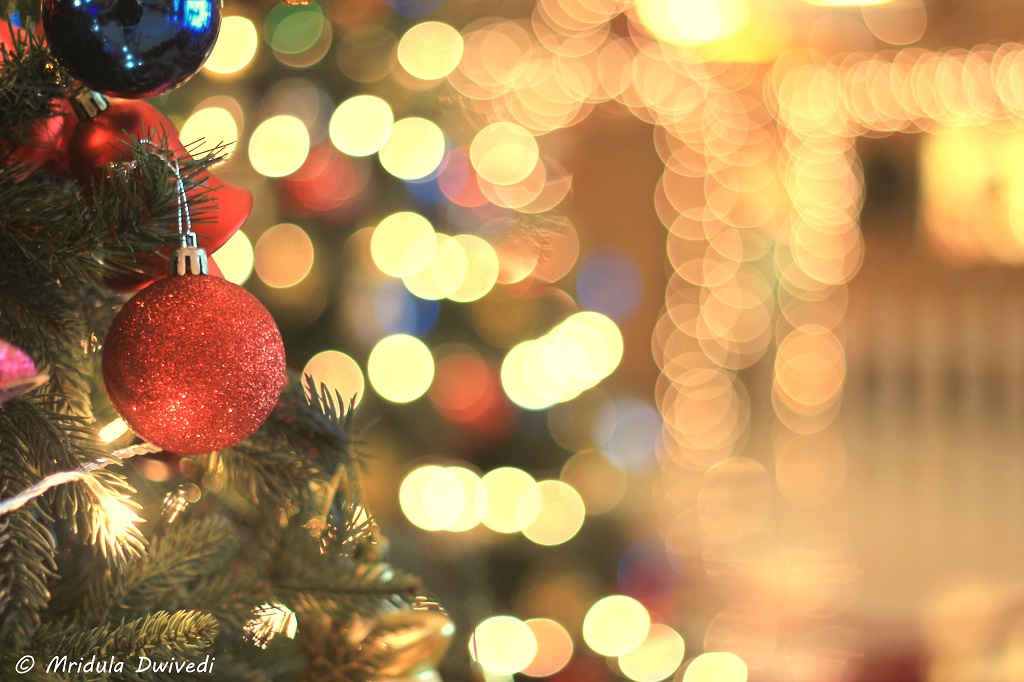 When I visited the lobby had lovely Christmas decorations! Neung Roi means the numeral 100 in Thai. It has been named after the 100oC East longitude line, which runs through Thailand. The restaurant caters to food from all the four regions of Thailand- the Lanna, Isan, South and Central Plains!
It Started with Miang Kham
When I saw Miang Kham (beetle nut leaf with small bites of lime, peanuts, and other tasty bits) the first thing on the table, I knew my day was made! I tasted it before in Bangkok and I remembered it fondly. My second encounter with Miang Kham was as delicious as the first!
The Appetizers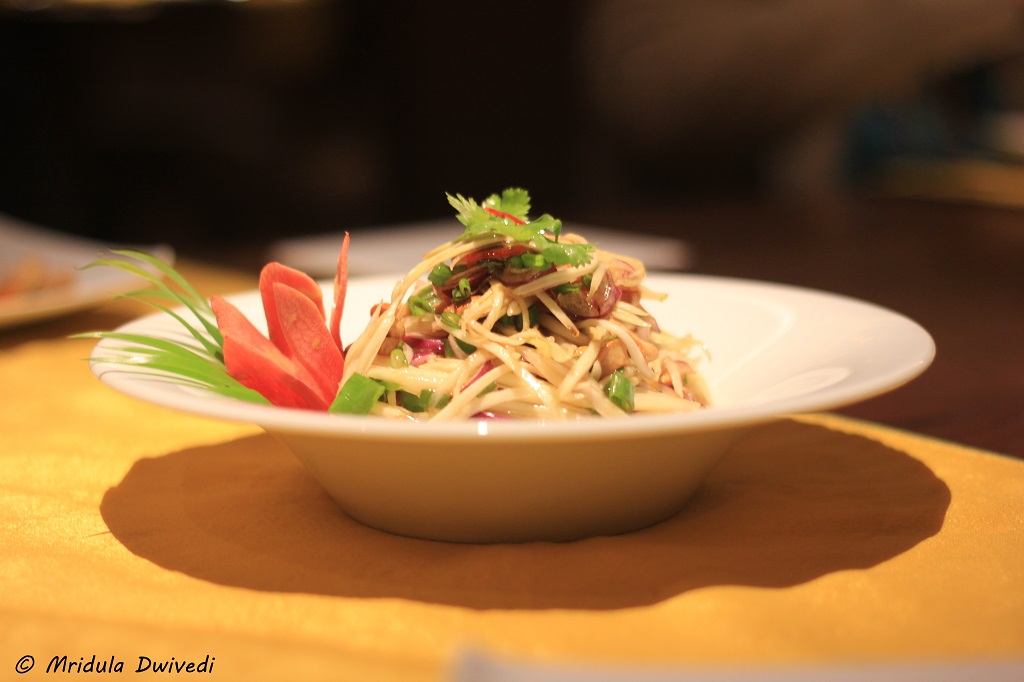 The appetizers were Phad Tuea Hrong (wok fried tofu, bean sprout & chives with soya sauce), Yam Som-O (pomelo salad with crispy onion, garlic & palm sugar tamarind dressing) and Yam Mamuang (raw mango salad with cashew nut).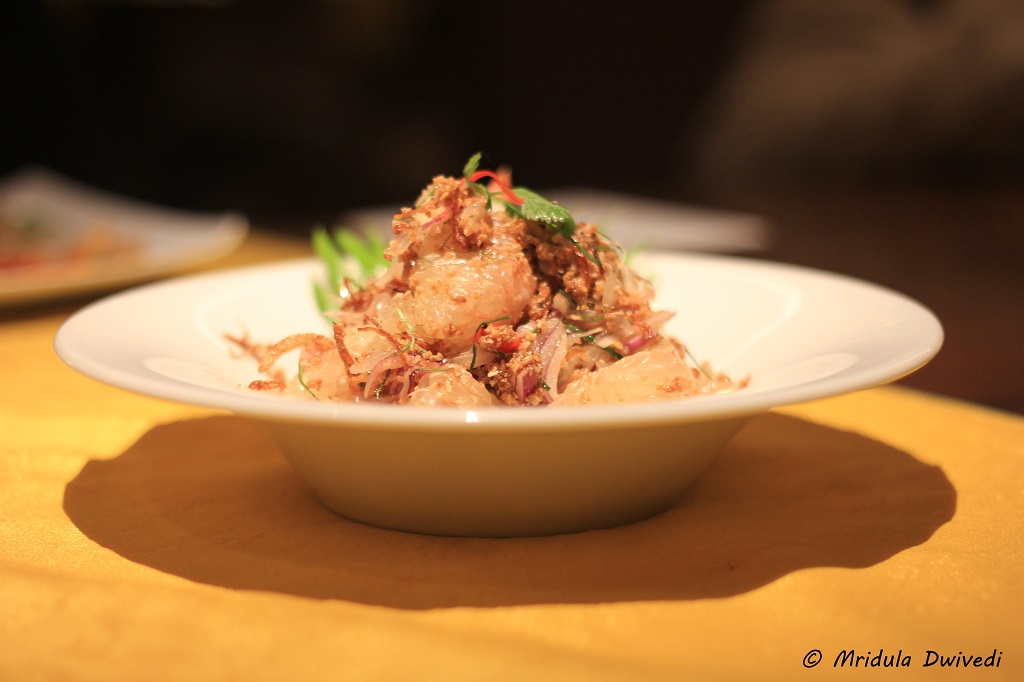 I am usually not a big fan of tofu but this one was so fresh that I quite liked it with the bean sprout. Both the Pomelo and raw mango salad were in competition with each-other. In the end Pomelo won for me by a very thin margin! Both were delicious! But the Pomelo one was truly wonderful!
The Soup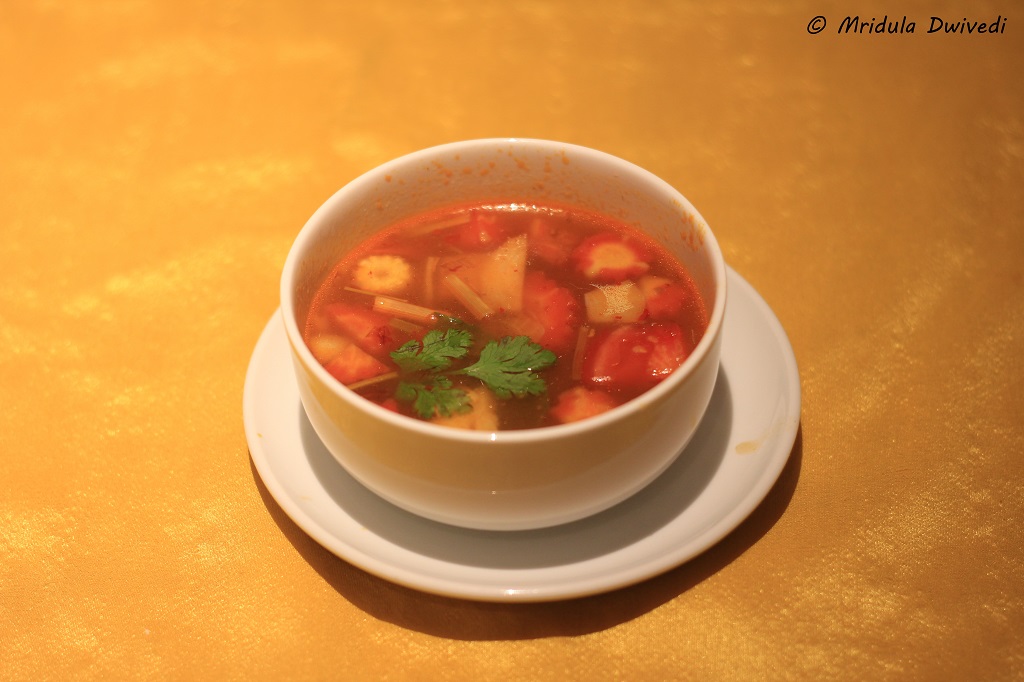 The soup was the popular Tom Yum Soup. It is a spicy & sour vegetable soup with lemongrass, kaffirlime and galangal. I like mine with mushrooms. The soup was excellent.
The Main Course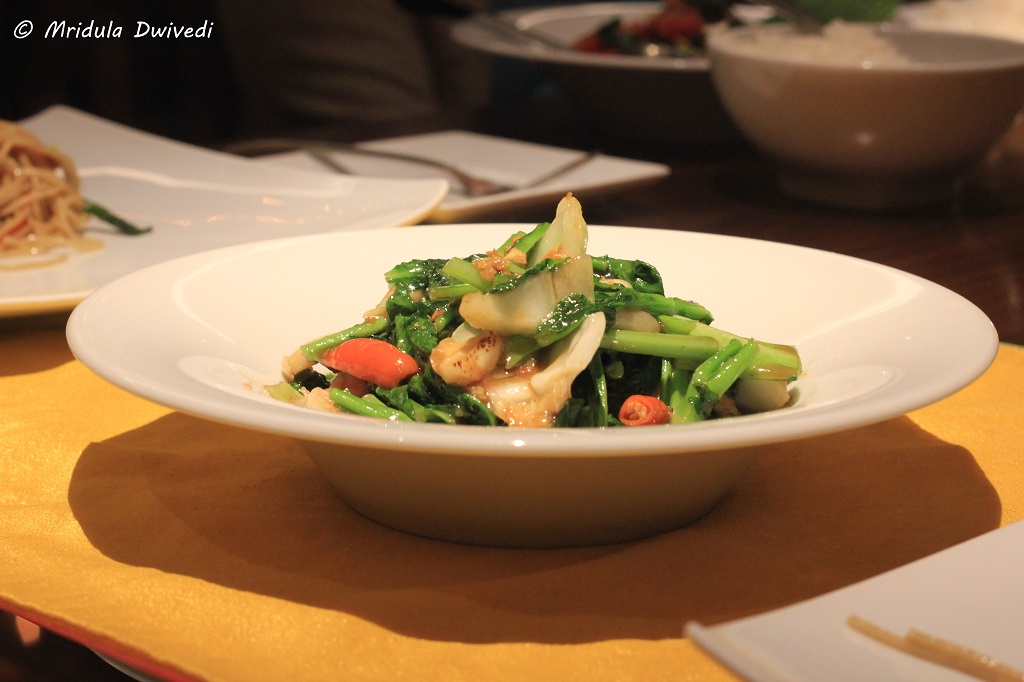 The main course consisted of Phad Pak Kaprow (stir fried vegetables with hot basil, chilli & dark soya sauce), Phad Pak Kiew (stir fried kale with morning glory, pokchoy, soya bean sauce, garlic & pepper) Gaeng Kiew Wan Pak (mixed vegetables in Thai green curry), Mee Spam (stir fried noodle with black soy & pokchoy) and what I like most, the Phad Thai (flat Rice Noodle with tofu, bean sprout, chive, tamarind, chilli & peanut).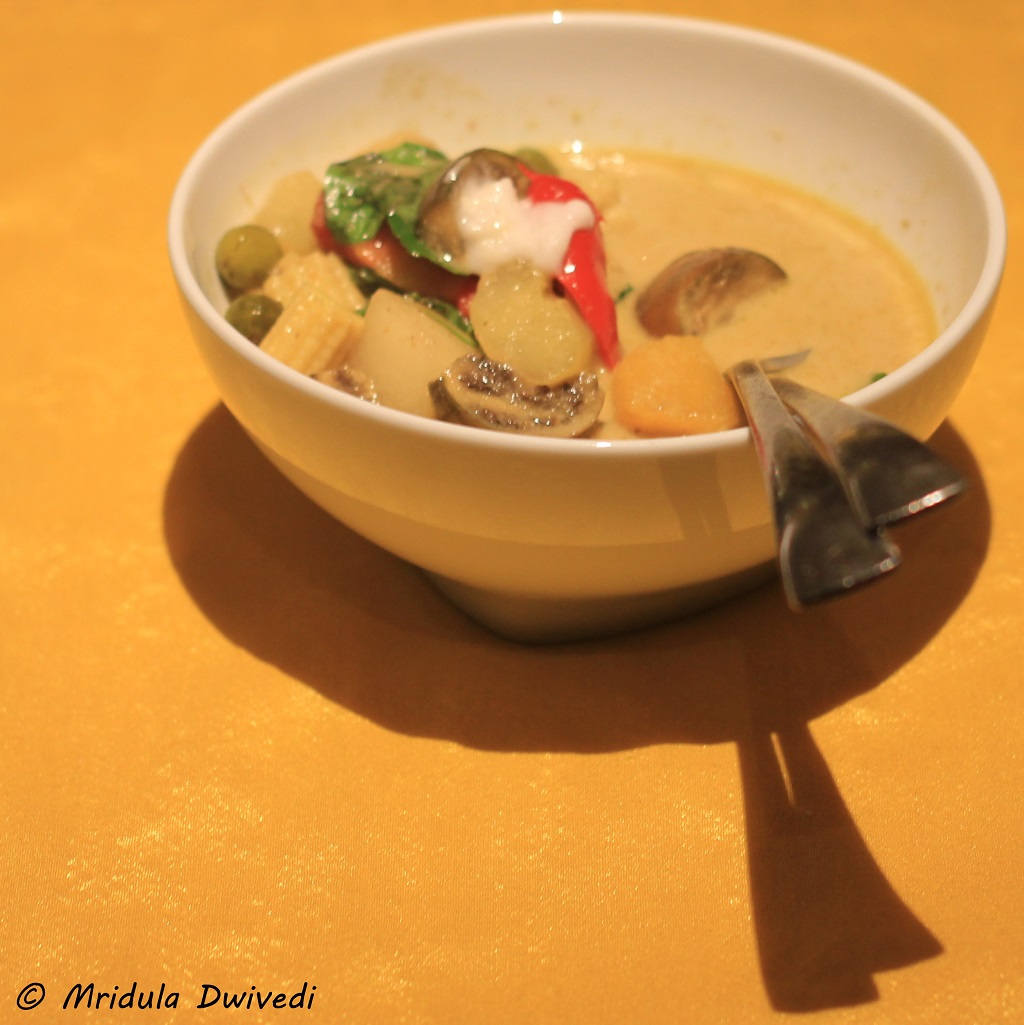 Apart from the noodle ones, the vegetable and curry dishes go well with rice.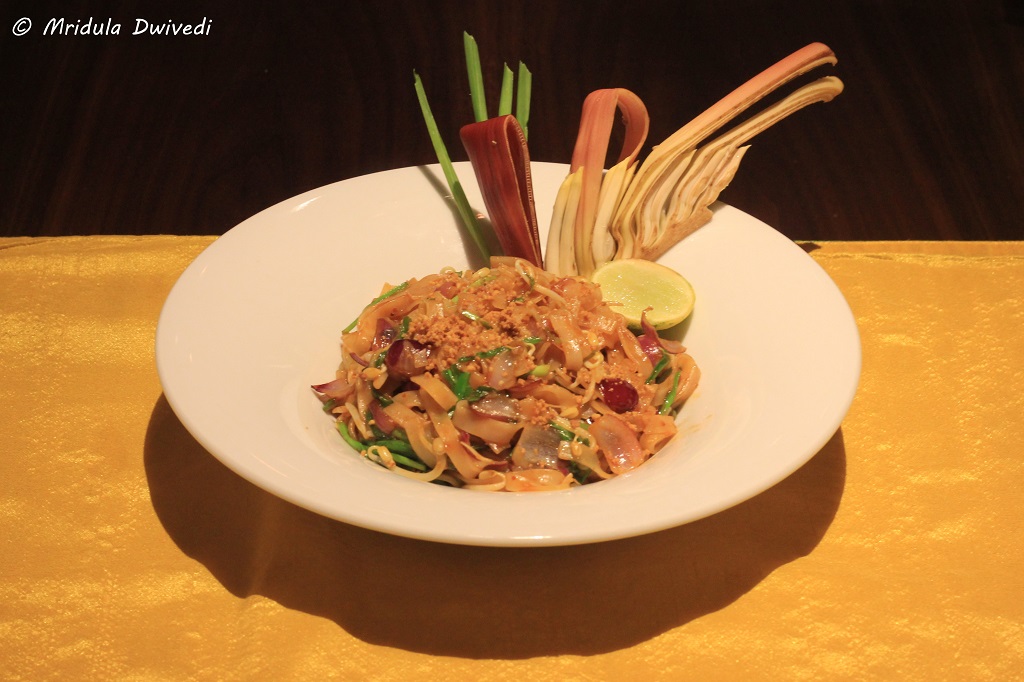 The Phad Thai was excellent! I am a fan of the morning glory dish and I liked the green curry too! As there were so many dishes I ate everything in moderation! At times like this I wish I was a big eater!
Desserts
The dessert was Tub Tim Krob (water chestnut in coconut jasmine syrup) and Kanom Tom (jaggery stuffed pandanus glutinous rice dumpling with coconut).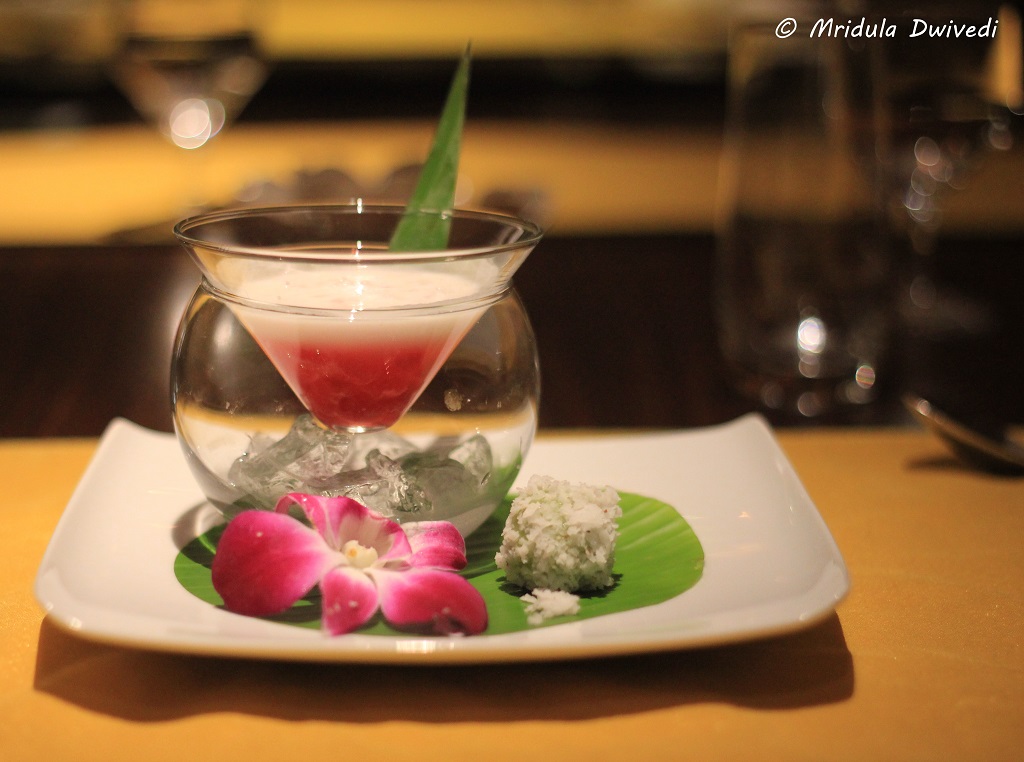 Kanom Tom is eaten whole! The water chestnut dish was superb. I have a big sweet tooth and yet there was something about the portion that I was not craving for more! I have to say it is very rare in my case!
You can see it was a heavy lunch. But as most of the Thai dishes are stir fried, it was a fulfilling meal rather than being excessively oily! If I compare the food at Neung Roi with what I eat in Thailand, it tastes exactly like Thai food should! A lot credit I am sure goes to Thai Chef Yenjai Suthiwaja.
So if you are craving Thai food in Delhi/Gurgaon in a fine dining restaurant, Neung Roi at Radisson Blu Plaza will suit your needs perfectly.