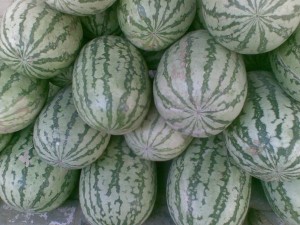 I recently discovered My World Tuesday. And I decided I too wish to take part.
In Gurgaon (quite close to New Delhi, India) summers are quite harsh, the mercury has already touched 46 degree Celsius. At the onset on summer you will find vendors sitting on the road side stocking water melons and tender coconuts filled with delicious water.
This Saturday I went to give my car for servicing. While coming back I decided to stop by the roadside and buy a water melon. We do not buy the ones that have been cut because they will gather a lot of dust and quite possibly cause illness. But buy a whole one and chances are things would be fine. And of course I polished off the water off a tender coconut. And that is quite safe as nature has packaged it quite well!