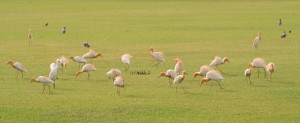 Most of the time all I get to see is construction and dust around me, after all Gugaon (quite close to New Delhi) is a growing city (though quite unplanned). And yet I manage to catch a lot of birds around me!
And as the greedy me tried to inch closer, they decided to fly away a little further! Seeing so many of them just made my day.
For more pictures and stories from around the world visit My World Tuesday.