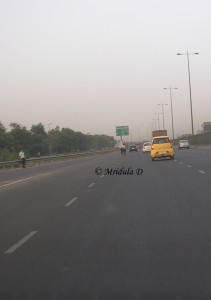 I had a class in the morning today. On class days I am extra conscious so that I am not stuck in traffic and get late, I hate reaching late to a class. It rarely happens. So, today morning I started ahead of my normal start time, given the record of the past week's traffic. All was well till I reached the Gurgaon Expressway. A little before the exit that I take, I felt my car veering in one direction. I guessed that there was a flat tire. And I cannot change a flat tire because I cannot open the nuts to take out the tire, whatever I try they never budge.
So there I was with a class to take and a flat tire that I could not change. I took the exit and parked my car.  I requested a tempo driver to change it for me, he gave me an ugly glance and asked me to get lost! I won't blame him, if I drive a car, I should know how to change a flat tire.
I drove a little further and saw a cluster of auto drivers and decided to try my luck with them. Two of them asked me to park the car properly they would change the tire. I helped them with whatever little I could do and soon I was on my way. They didn't ask for money but I gave the guy who did most of the work 100 rupees. He thanked me quite profusely and I thanked him quite profusely.
After I had gone 20 meters ahead I looked for my cell phone. It was not there where I keep (I bought a new cell phone yesterday but that was at home waiting for a sim card, I am ditching Reliance after 8 years, because of the limited choice for CDMA handsets) it usually. My CDMA handset is not working because Chhavi has thrown it to the ground multiple times. I was using my dad's set today. To my horror I realized that while I was helping others in changing the tire I had kept it on the roof of the car!
I braked to the side once again, parked my car and got out. I looked at the distance from where my car was parked while changing the tire and now. I thought the distance was quite small and I could scan it easily for the cell phone. Then I looked at the roof! And there it was, still on the roof. A young lad was walking on the footpath, we both laughed and I got inside the car and drove away.
And I had left so early that I was still not late for the class!