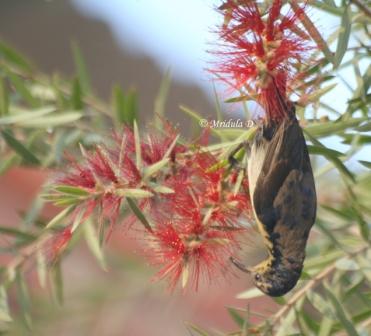 Yesterday was a good day. As soon as I started on my bird round I saw a lot of parrots making a huge racket. But they were really far away and I had no way to get closer to them. Then after a while, when I reached my bird lane, I saw this purple sunbird which remained unaware of my existence for quite sometime.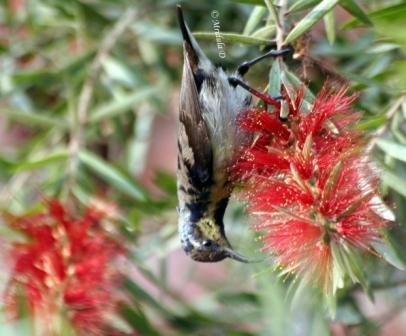 So, I managed to take around 20-25 shots before the bird decided that enough is enough and flew away. I went a little ahead and realized that the bird has come back. But when I started going closer it flew away at once.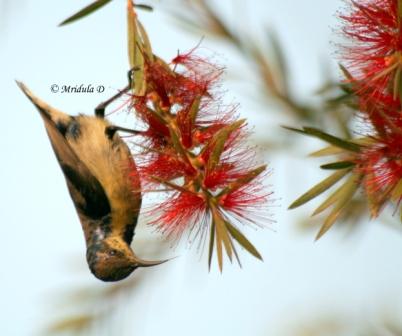 The trick was that the bird would not sit still for a long time, but thankfully it kept moving on many of the lowers that were in open view. I have quit a few times waited on them when they just keep hiding on inner flowers and then fly away.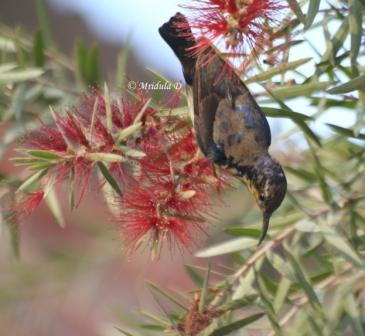 I am waiting for the time when these birds don there bright purple plumage. Let us see if I then get them on red flowers. I have seen them many times on flowers in their purple plumage but never managed to click them with flowers.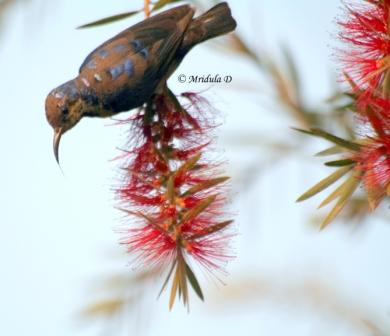 I usually do not post so many pictures because I just manage to get one shot before the bird flies away but not with this purple sunbird. Yesterday I sighted Indian Grey Hornbill but unfortunately no decent shots, it flew away before I could do much.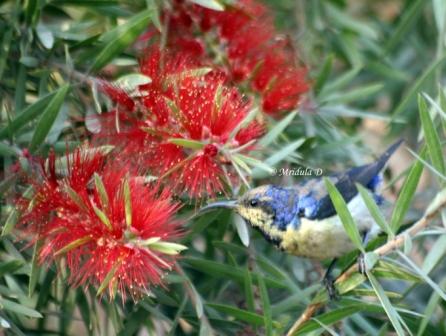 I want to go out again today but it is so cold and grey that I am afraid to venture out. Hopefully an hour or two later the sun will struggle and come out.