The occasion was special. Khun Runjuan Tongrut, the Director of TAT New Delhi was heading back to Thailand after completing her stint in India. I wanted to take her out for lunch. We settle on the Indian Accent Restaurant by Chef Manish Mehrotra.
I am sure a lot of their clientele will not take the metro to reach there, but like me if you want to, Lajpat Nagar on the Violet Line is the nearest metro station. The auto drivers know the name of the hotel, The Manor, much better than the name of the restaurant.
I reached the venue a little ahead of time and I was seated comfortably in the lobby area. They gave me the drinks menu but I decided to wait till Runjuan ma'am arrived.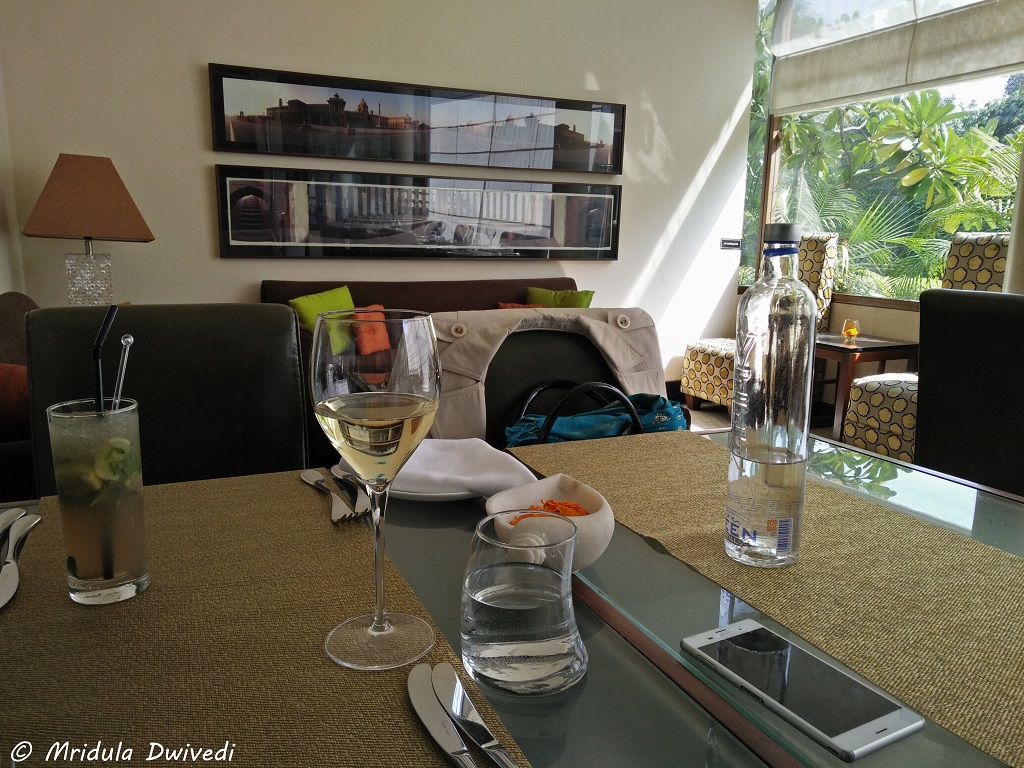 With a little help from our server, we decided to go with the Chef's Tasting Menu which is a six course meal. Looking at the menu I now realize that each course has its own half glass wine (price extra) but we took our drinks separately. Ma'am went with Mojito and me with white wine.
The ambiance of the restaurant is peaceful, you can happily sit there and chat for hours. There is an indoor seating area and there are a few tables on the porch too. We took the porch as it was a bright and sunny day.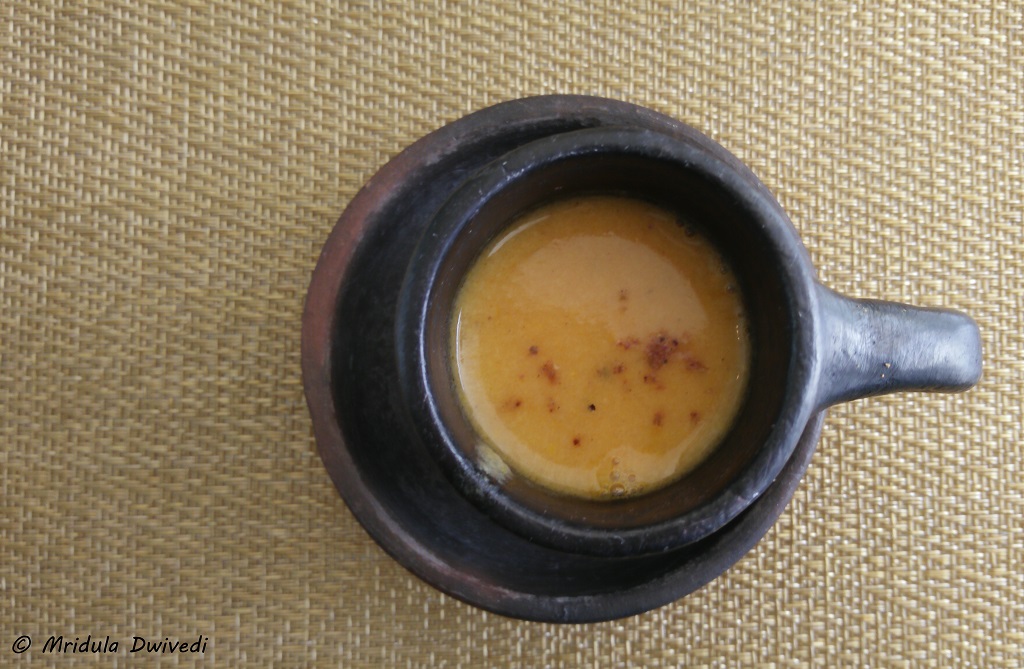 We started with a small serving of soup and bread. Both were excellent. We actually protested that six courses would be too much for us but the staff convinced us that the portions were small and we would enjoy it. They were right.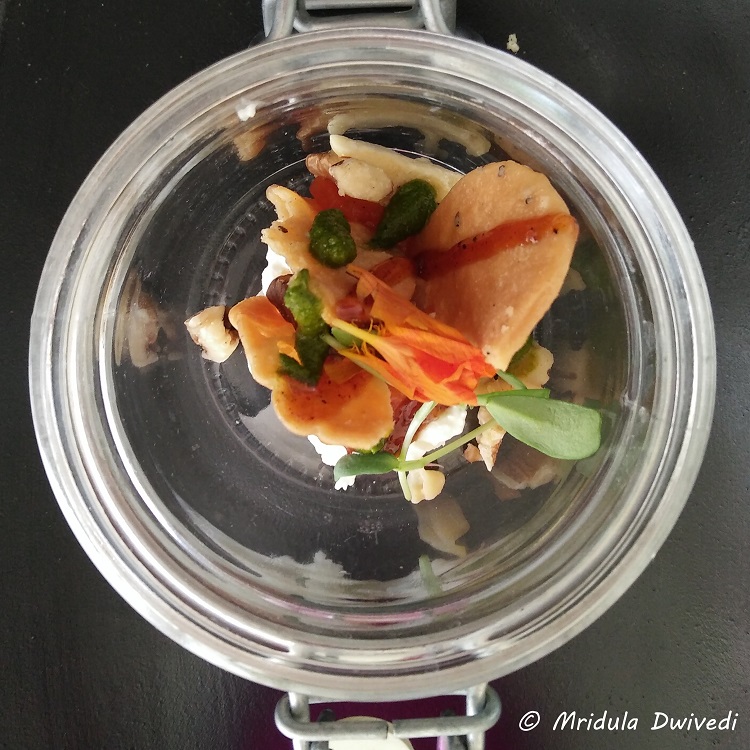 Soup was followed by burratta papdi chaat which once again tasted out of this world. The twist of cheese in chaat worked well for me. The presentation of the food was excellent too.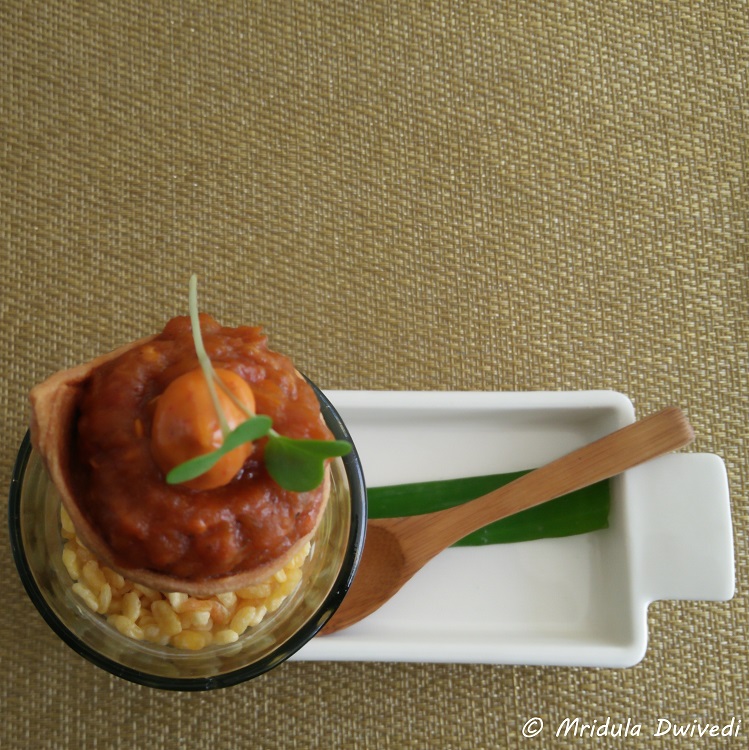 That took us to the next course, baigan bharta cornetto and moong daal. This was the only dish in the entire meal that I am not sure of. I was warned about the baigan bharta beforehand and yet I decided to go ahead with it. It was alright but it was not wow like everything else.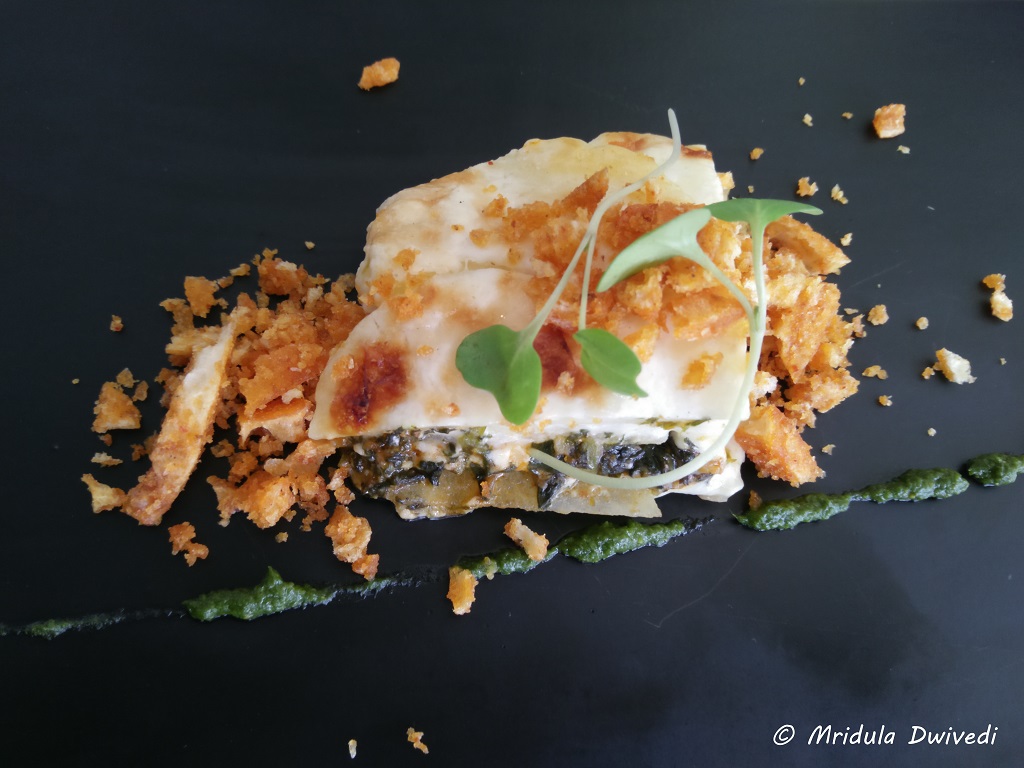 Baked aloo methi chilla came next. That too vanished in no time. It was only later that I wondered about the calorie count and then decided that a few hours later it was too late anyway.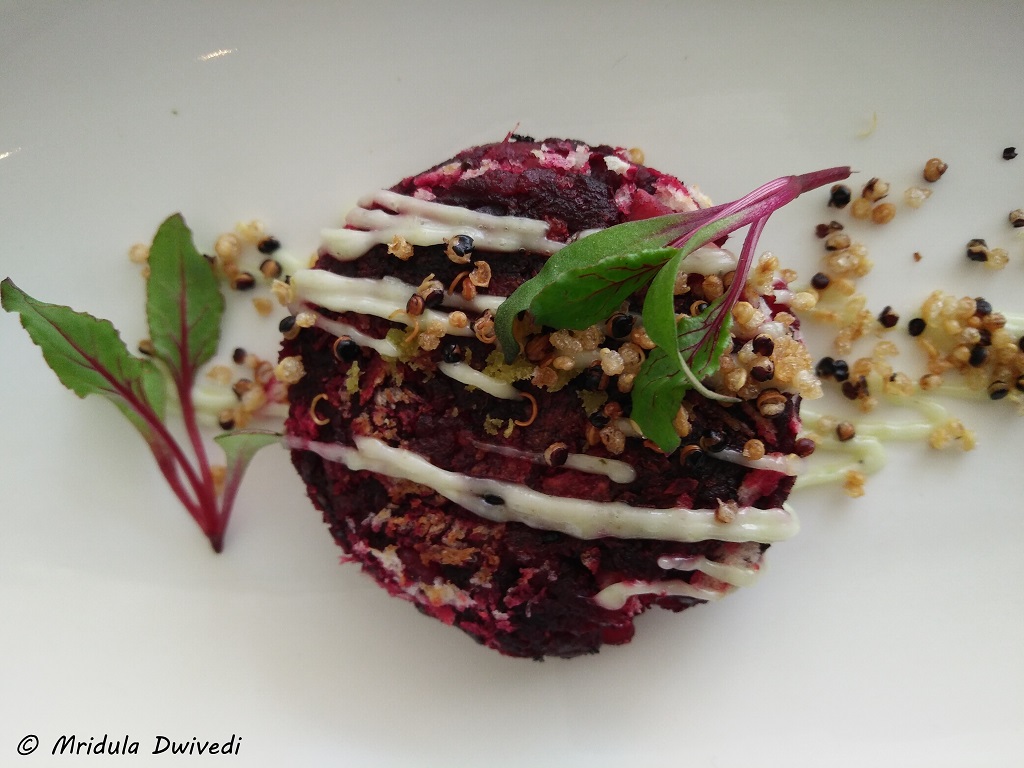 Then came something that once again I am not fond of, beetroot. But the beetroot and peanut butter tikki was awesome. It was right there with the burratta papdi chaat.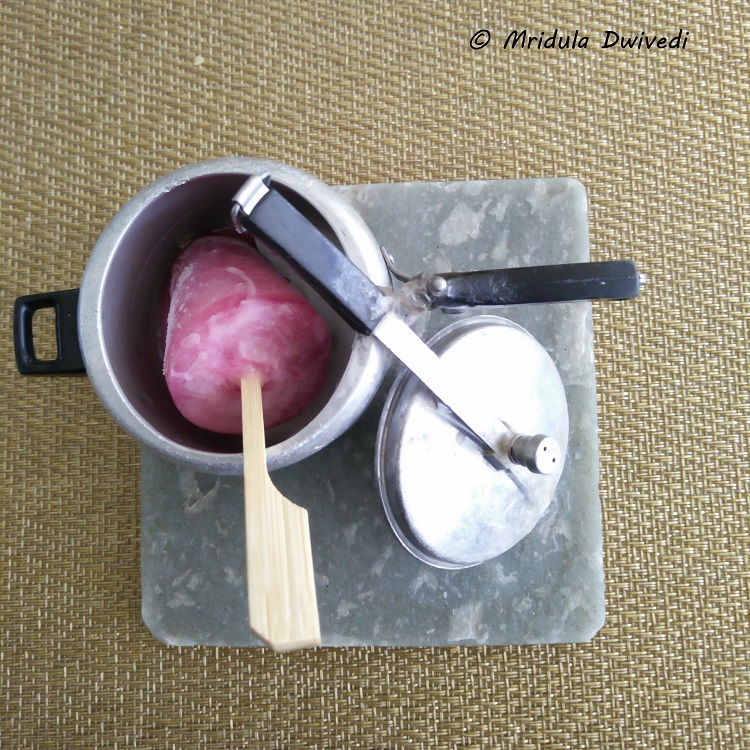 This was followed by kulfi sorbet. The presentation was great and I liked it.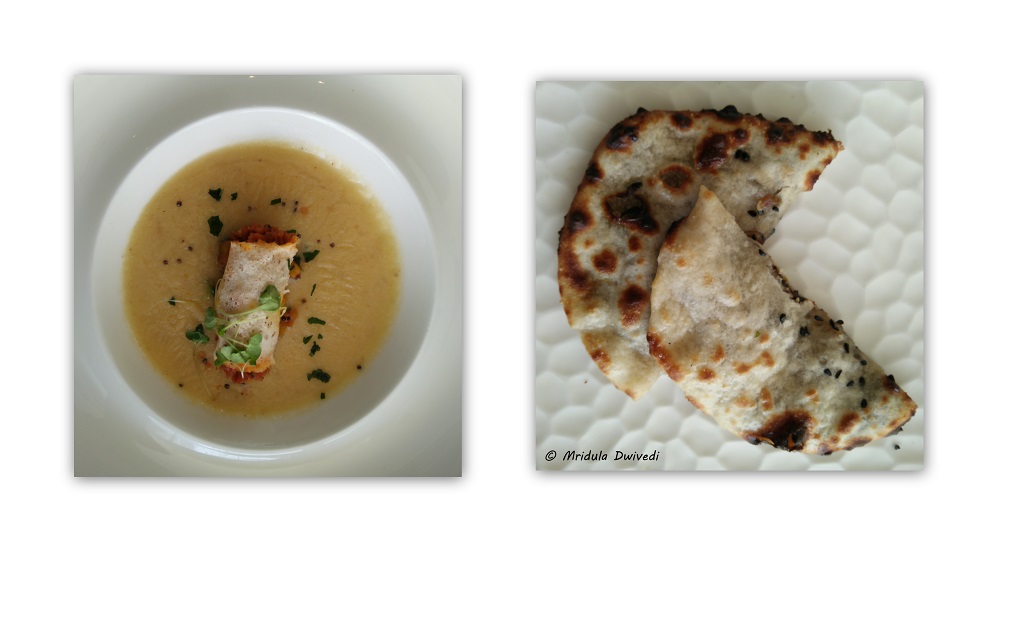 Then came the main course of kathal podimas. It was served with wild mushroom kulchas, daal and raita. By now I was truly stuffed but the dessert still remained. The wild mushroom kulchas were amazingly good.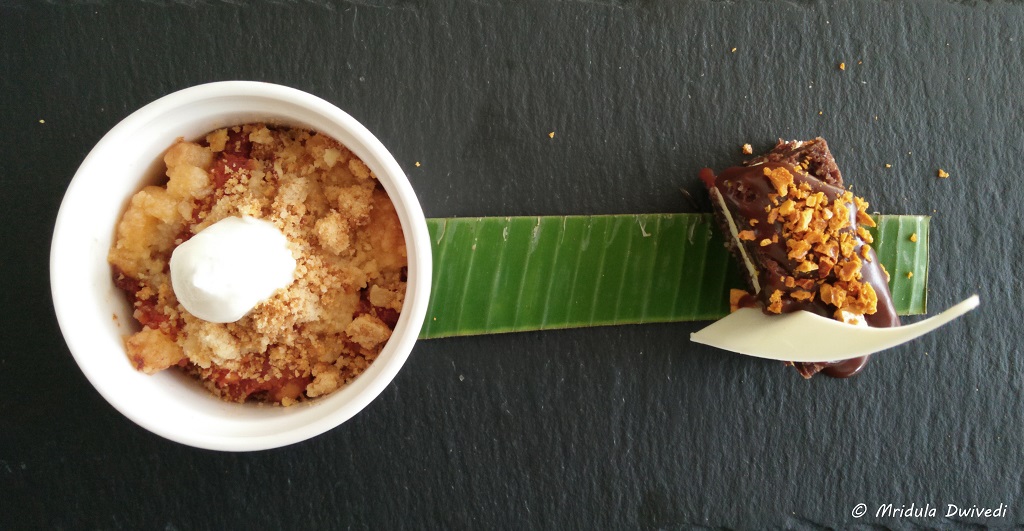 We had gajar halwa crumble and walnut chocolate brownie. For once in my life I could not finish the desserts!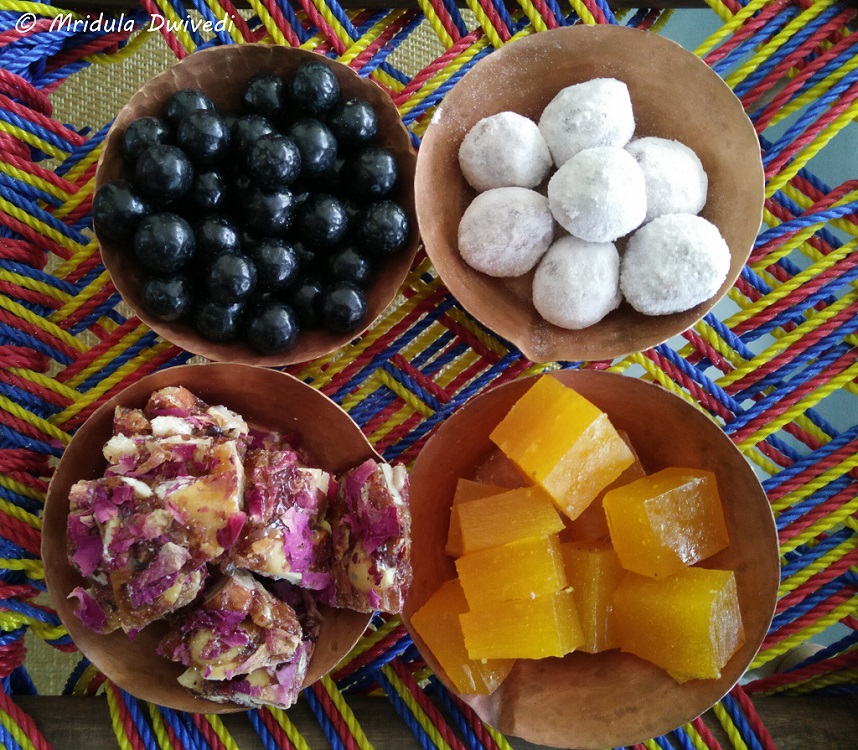 The mouth fresheners looked and tasted amazing too. They strongly reminded me of my childhood!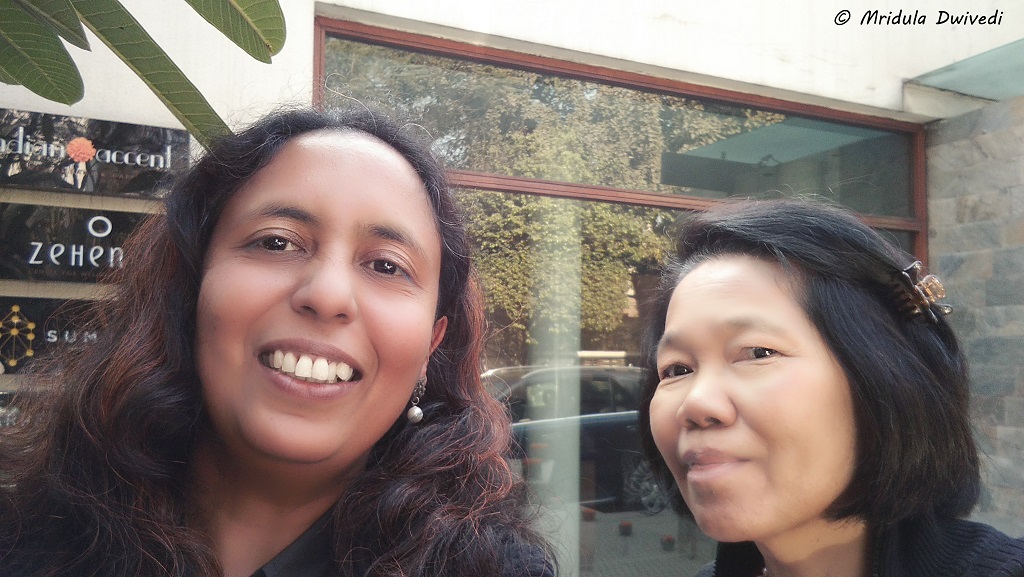 It was my pleasure to take out Runjuan ma'am for lunch and to see that she enjoyed it!
PS. The price ensures that I can go to Indian Accent only on very special occasions!
PPS. The entire photo shoot happened with OPPO F1.