If I were answering the question 'How do I save my money?' before I quit my job in May 2015, my answer would be very different than today. While I was never superstitious about money, neither do I care about planting money plants at all but I was not a smart investor at all.
While I was working I had a very simple plan for saving. I would not spend too much and accumulate money. Being a business school professor I was not enamored with brands.  I read too many case studies to spend my hard earned money on some fancy label. Some things I would buy branded, like my camera (Canon) but for others like my clothes, I was fine with whatever looked good. My love for travel would cost me money but then my blog ensured that a lot of my trips were sponsored!
For me saving was always important as both of us worked in the private sector. We wanted to have a few months (or years) worth of salary saved as it provided stability in an uncertain environment.
So I would get my salary (six figure for the last few years, there, I said it) credited on a particular date of the month. I would take care of my monthly expenditures like petrol, mobile bill, some sundry expenditure and that was it. Like any salaried person I would invest in tax saving instruments too. I have a DMAT account where I have invested a small portion of my money. But a large amount of my money simply sat in my savings account.
When my savings account balance went above a limit, I would take an international vacation! That was my indulgence, my vice. But then I left my job, not only I left my job, I left it without any plans. As I said before, I have about three years' worth of salary saved. That is my pot. And I have a husband who is extremely supportive of my decision and he works full time!
Suddenly there was no more salary getting credited. But I still let my money sit in the savings account. It is a decent pot for my medium term needs. I am earning a bit from freelancing which takes care of my monthly expenditure. Earning from freelancing is not a problem, but getting paid on time is. But that is a story for another time!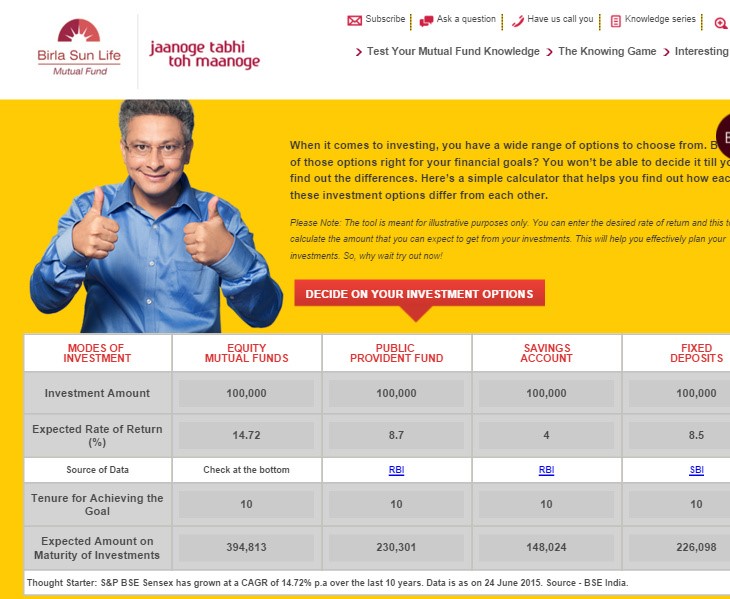 Then I visited the website of Birla Sunlife and it was really like #JanoTohMano. I saw the expected returns on various options. And guess what, the savings account gave me the lowest rate of interest! And yet for all my working years a large portion of money was simply lying in my salary account. Even now half the money of my pot is in my savings account.
Now I am someone who has only a moderate risk appetite. I can't put a major portion of my savings in stock market directly though I have some invested.
A few months back I shifted a large chunk into fixed deposits. That gets me more interest than my savings account. But I pay tax on the interest!
I have nothing invested in the mutual funds or public provident fund. At the moment my dire need is to invest in mutual funds given my risk appetite. They fetch higher returns. Once again being risk averse I would put only a small pie. But being a prudent investor I want to have a diversified portfolio and I wonder why I missed out on mutual funds completely for so many years!
If you also have a lot of money lying in your savings account, switch it to something that will fetch you higher returns. The younger you do it, the better it is for your health. Even a FD is better than savings account. If you wish to start small start with a SIP. I knew it all along but I was too busy earning and traveling till one day I stopped earning a salary! I now feel I should have diversified my portfolio years ago! However, it is never too late. So I am actively doing it now!
To sum it up, I feel happy that I saved. It let me quit my job with some amount of peace of mind! But now when I look back I feel I should have looked at the rate of returns earlier on! Sometimes just looking at a chart can provide so much food for thought. And I am going to be after the life of my nephews so that they start saving early, and much more smartly than I did!