I usually have a very normal stay (and thank God for that) whenever I travel. This year in March I was in Goa and I was staying at what I am sure was not your typical Goa budget hotel. Don't get me wrong, I have nothing against budget hotels in Goa or for that matter budget hotels anywhere in the world! I am actually quite a big fan of budget hotels. It is just that this one time I was staying in a bigger hotel with two swimming pools and a very beautiful garden. They also had a lot of birds at the premises.
For the story I am going to tell, the name of the hotel is not so important and I am going to leave it out. I was staying alone and I had a big room all to my self. The room was clean and for most of the part I had no complaints at all. I was anyway not eating at the property; after all if you are in Goa and particularly in North Goa you have a lot of beach shacks to choose from.
I had jolly good time clicking pictures at the beach too. And I did a lot of touristy things like para-sailing and such water sports stuff.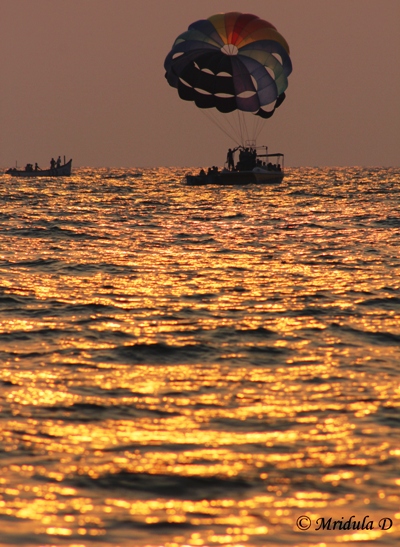 Goa, India
After an early dinner I crashed and I had a good night's sleep. I was up in the morning much before I heard that knock on my door. I was very surprised as I was part of a large group where people usually called each-other on the cell phone rather than go knocking on the doors. I also saw no reason for house keeping to visit me so early in the morning, after all I was checking out later the same day.
I anyway went and opened the door to see a complete stranger, who clearly was a foreigner to India. I thought he was high on something as well but I can never be sure! He said something which I did not understand. I only raised my voice slightly and told him he was knocking at the wrong room! He immediately retreated apologizing to me. Later through some conversations I realized it was common for some people to come back to their hotels in Goa at 8.00 am and in a state that made it difficult for them to locate their rooms! But then it was no fault of Goa Hotels if their guests decide to spend the night out and the days inside the hotel! I wonder if they explicitly take this factor into account particularly in North Goa!