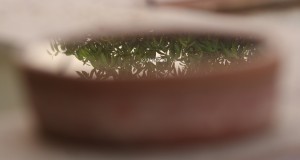 It all started with a bowl of water yesterday. It was Sunday and I was sitting in my room.
On your joint railing our neighbor keeps a pot of water that I also fill when I see the water level going down. It is just too hot in Gurgaon at the moment. I wish I could click the pot along with the tree reflections but with my SLR I somehow manage to focus only on one aspect and from the point and shoot, the picture didn't come out too well.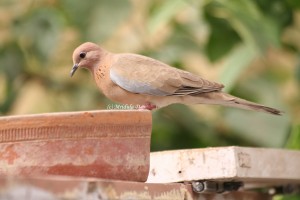 Of course, there was purple sunbird too which made a brief appearance but then my luck has not changed, I could not clicked it. There was no problem however with this Laughing Dove.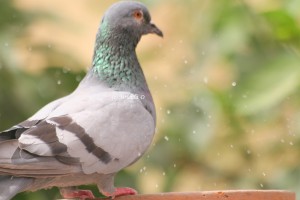 And then there was this pigeon splashing a little water. Now I bought a clay pot myself today. I have to find a good spot for the birds to place it as well as a discreet one, so that I can take pictures to my hearts content.