I woke up to my birthday at Phakding (2652 meters, 8700 feet) and I was turning a decade too! But anyway that was a very minor happening on the larger scale of things!
In the mountains as I hit the bed by 7.00 pm or so, I wake up bright and fresh. I had an early breakfast at the Beer Garden Lodge and we were ready to start again. I had been warned by people about how steep the steps to Namche Bazaar (3440 meters, 11286 feet) were so I was expecting it. Someone also said their group could not go beyond because one of the members had upset her stomach on something she ate in the lowlands. That didn't sound too good. Then on top of it at the breakfast I met a person who said he had to turn back from Tengboche (the next stop after Namche) as he found the climb to Namche too much and could not adjust after that. Coupled with my thoughts of the previous day all this didn't sound good at all.
The Milk Run till Lunch and a Little Beyond: Deepak had told me that we would eat an early lunch on the way. I am quite lax about food in the plains but I do not dare to miss a meal on the trek or to be casual about my liquid intake. After all these are small things that I can do from my side to ensure that the trek goes smoothly.
I was fine on the walk and a little perplexed as well, the walk for quite sometime went relatively flat. That doesn't mean I would not get tired. But whenever I would start venturing anywhere near self pity it was not difficult to find people carrying unthinkable loads!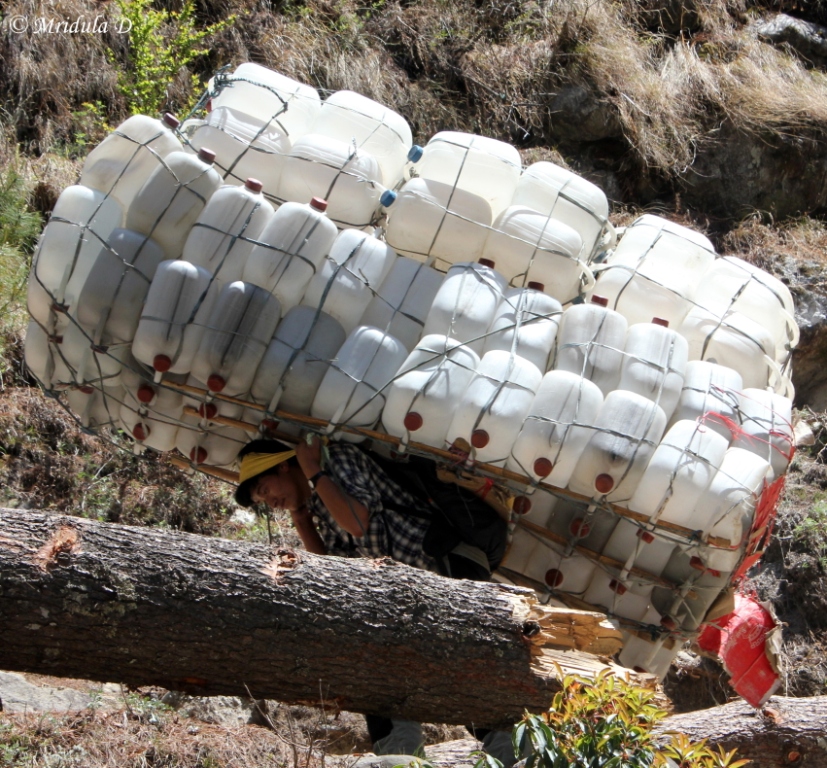 I was told these were empty cans but still! And on self pity, I anyway paid good money to do this trek and I like to call walking from early morning to late noon (and many times even more) a vacation as well so there was really no scope for self pity! It was still without any real struggle I reached the lodge where we halted for lunch. I once again had Dal Bhaat but by now I was not liking the strong smell of spinach that they customarily served in all vegetarian dishes.
After lunch we walked along the River Dudh Kosi and we crossed many bridges. My cell phone was working and I got calls from home and friends. It was good to be able to remain in touch with people back home. Soon we crossed this last bridge that had prayer flags all over it.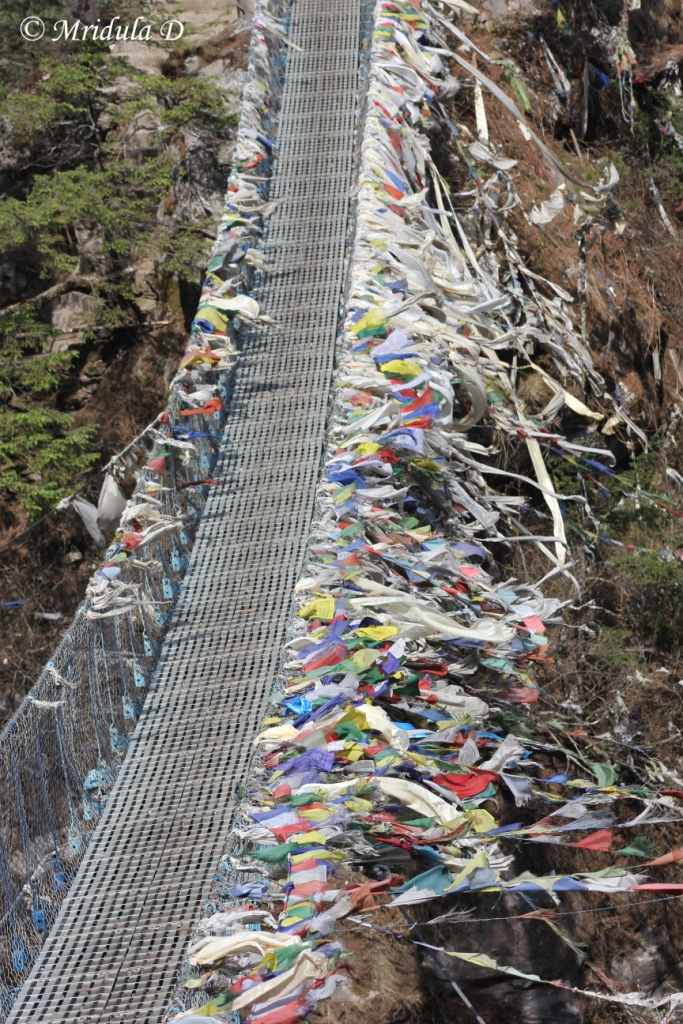 Once we were on the other side, pretty soon it was time of reckoning. The dreaded climb to Namche Bazaar started. As I was expecting this, I was fine. Only I didn't like the hours and energy we had to spend to reach here, I knew about the climb but didn't know that even to reach the climb I had to walk for a few hours!
The Climb to Namche Bazaar: What to say about the climb? It is pretty much the same, what you get to read and hear about it. It just keeps going up. I was banking on Day 3 to recover as we were staying at Namche to acclimatize. After a climb of an hour I met two people who looked Indian. We chatted and one of them told me, "It was four of us who stared and we are now two." We grunted about the climb for a while and then I moved on. They were from West Bengal.
I walk incredibly slowly but I can walk for long hours. And till date I have never said no on a walk. I have got tired, I have been miserable but I never say that I will not walk any further. So on and on it went one spiral of climb after another.
For me the worst part was not knowing how far the place actually was. I like it a lot when I can see the place where I have to reach. No such luck with Namche Bazaar, all I could see was the next curve and the climb.
I could have asked Deepak but I was worried that I would get the standard pahari answer, "Thoda door aur hai" (it is just a little way ahead).  And I hate that answer. Tell me that at my speed it would take 4 hours and I am fine but don't tell me it is round the corner because it is not! It is only later I realized that Deepak would give me correct answers if I asked and not 'round the corner' one. And for that I am so thankful to him. But this was just the second day on the trek and I was not aware of this fact.
So after walking for ages I concluded that Namche Bazaar would never come and I need to eat a chocolate (the chocolates bought in Malaysia were put to good use on this trek). So I took out a chocolate and Deepak, Gokarna and I ate big chunks of it. And a few steps after that we reached the Namche Bazaar check post. A permit to trek is required in the region and we had to show it at check posts. That meant finally Namche Bazaar was round the corner!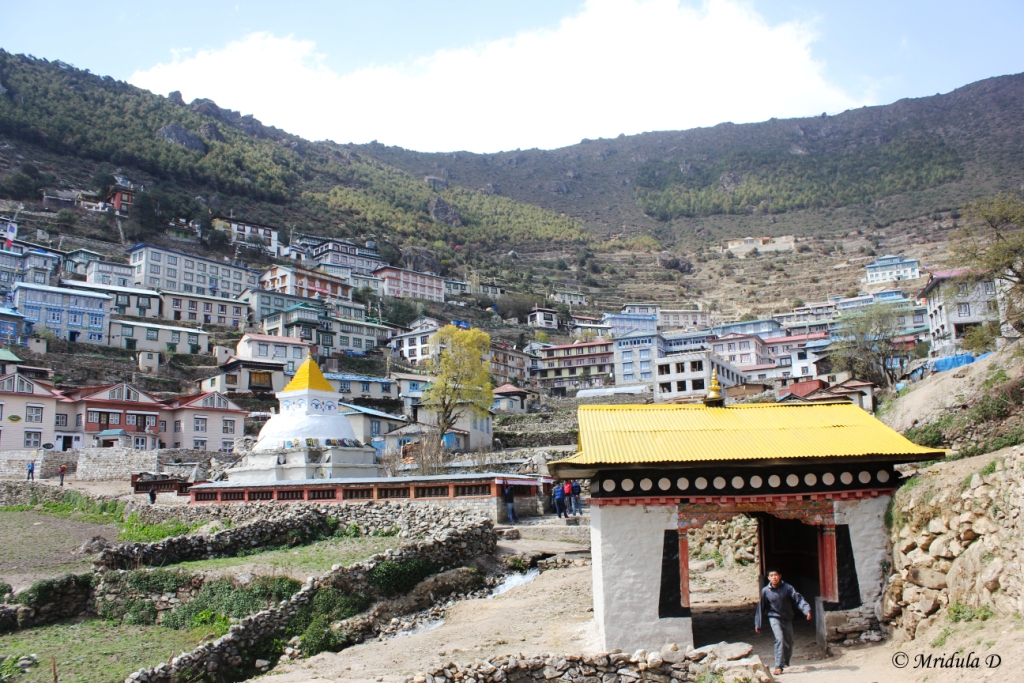 The small gate in the front to the picture is the entry gate to Namche Bazaar and it did not take long in coming into the view. You can see that homes and lodges start from the lowest terrace but Deepak and Gokarna (Diana's guide) had a penchant for choosing the lodge on the last ledge of any village. So we walked to the Everest View Lodge at the upper ledge and soon I had a room with an attached bathroom again! I did what I am good at, crashing for a few minutes immediately.
Of Birthdays and Medical Schools: I met Diana in the dining hall of the lodge and I mentioned that it was my birthday. I asked at the lodge if they had an apple pie but they didn't. I settled for rice porridge (kheer) and tea as my birthday bash!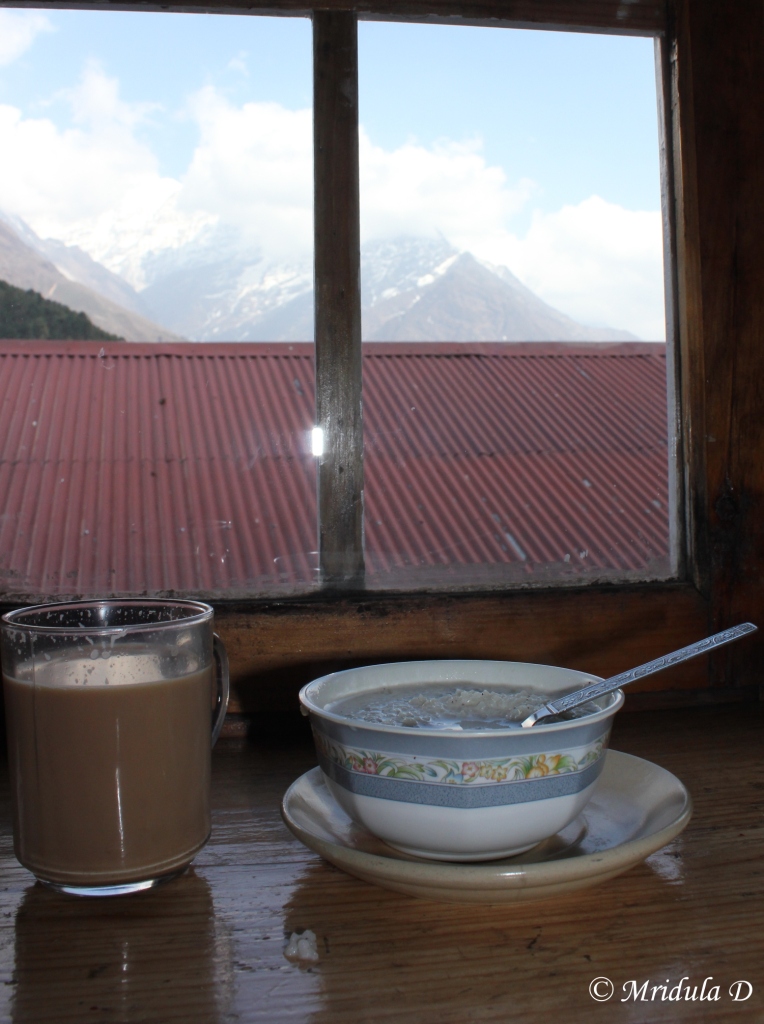 In return Diana told me that she was waiting for the results for Medical School which would come out on 15th but as per Canadian time.
I drank a lot of tea (I find it easier to gulp tea than water to maintain the liquid balance) and ginger tea was my favorite. After lunch it was time for nap and then a 6.30 dinner.
I usually like to get out and take pictures in the evenings but in the mountains there was not a single day when the clouds didn't rule and that was the end of sunset and evening light.
Day 3, Rest and Acclimatization at Namche Bazaar: The day 3 brought the good news at the breakfast that Diana made it to medical school! After a leisurely breakfast Deepak offered that I should at least walk up to the Military Museum to acclimatize. I agreed to do so. Diana was going up much higher.
After we reached the museum area very casually, in a very normal voice, Deepak pointed out, "Look at that peak? It is Mount Everest." He said it so casually and without any excitement that I thought he was joking. I asked him if he was serious? He laughed and said yes. Then there was a sign board as well that said, 'Everest View Point'! So I told him, "If you say it is Mount Everest so softly who is going to believe it?"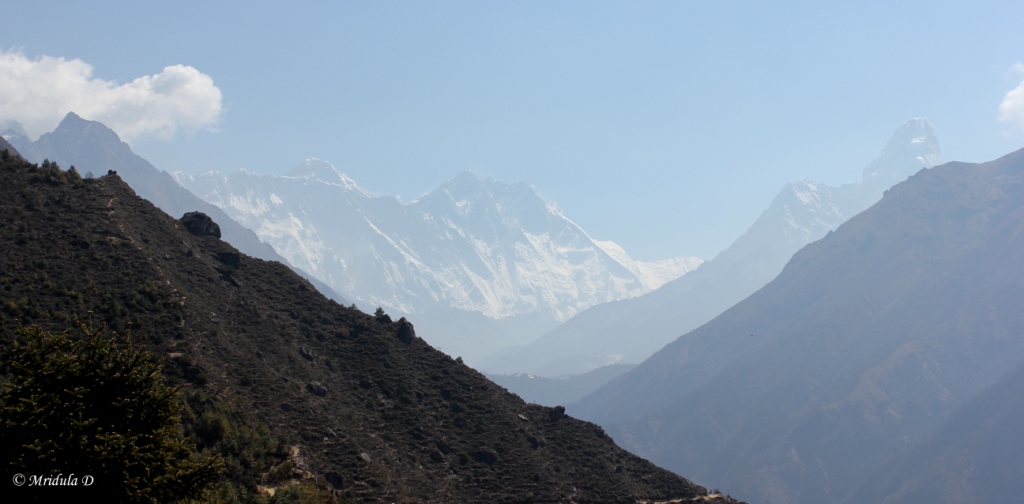 Can you see the cloud on the left in the picture? Look at the first highest peak after it. That is Mount Everest peeping out. You still do not believe me? Well here was a group of trekkers having a go at it and the only person who looked disinterested is the guide.
After this I checked out the museum too but my head was full of altitude so I came out after a while. We headed to the lodge. The lodge had a great collection of T-shirts, flags with quotes on them. This was true for many lodges on the way. I met that Indian gentleman from West Bengal once again who was trekking in a group of 4 that got reduced to 2. He informed me that he was now alone on the trek! His friend gave up after Namche Bazaar!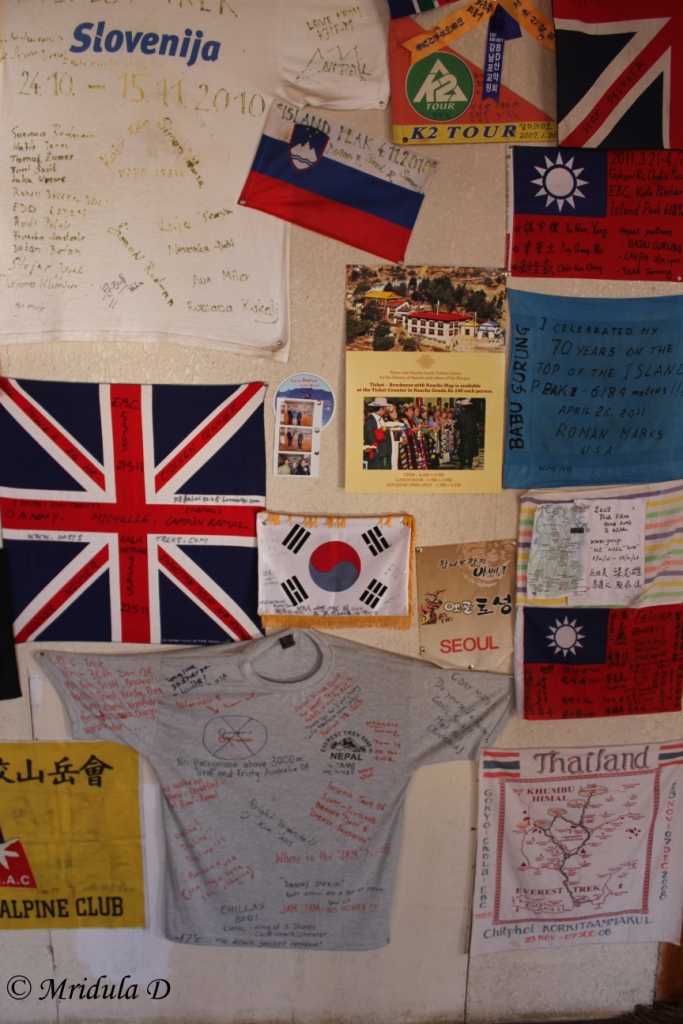 Once I reached the lodge again it was tea, food and relaxation. At this height I was not having any headaches or breathlessness at rest and all those other dreaded symptoms of Acute Mountain Sickness (AMS). I also met Pankaj on this trek who wanted to climb up to Island Peak. He had been to Everest Base Camp last year and we shared many stories on the next few days.
Namche is a stunning place to be! It has a bazaar and a big one (by trekking standards) at that but I had no energy to explore it.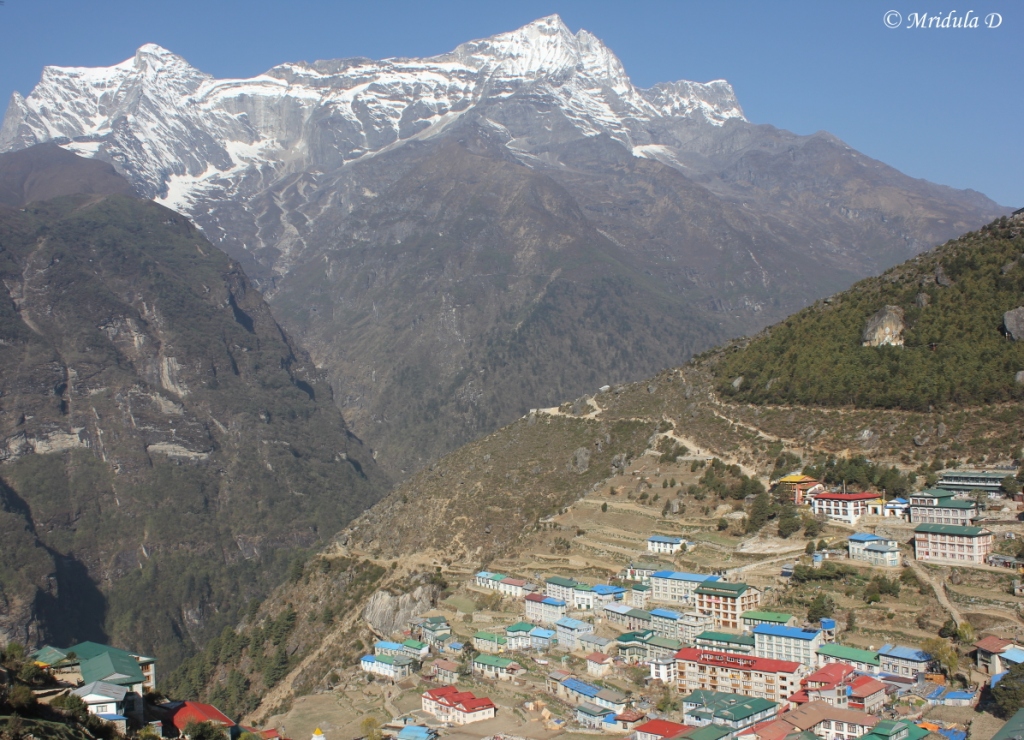 The next stop on this trek for me was Tengboche and I didn't even had a warning for what was in store for me.
You can read the account of the other days of the Everest Base Camp Trek too-
Day 1 of the Everest Base Camp Trek: Kathmandu Lukla Flight, Lukla Phakding Walk
Day 4 of the Everest Base Camp Trek: Namche Bazzar to Tengboche
Day 5 and 6 of the Everest Base CampTrek: Tengboche to Dingboche, Rest and Acclimatization at Dingboche
Day 7 of the Everest Base Camp Trek: Dingboche to Lobuje
Day 8 of the Everest Base Camp Trek: Lobuje to Gorek Shep, Gorek Shep to Everest Base Camp and Back
Day 9 of the Everest Base Camp Trek: Gorek Shep to Kala Pathar, Descent to Pheriche
Day 10 of the Everest Base Camp Trek: Pheriche to Namche Bazaar
Day 11 of the Everest Base Camp Trek: Namche Bazaar to Lukla