Have you ever wondered that it is really difficult to find a budget hotel in India that is clean? I am talking about 1500 rupees per night kind of places. They only come your way if someone recommended you a clean one. After my 10 hour of ride to Joshimath, I stayed at Kamet (name of a prominent peak in Uttarakhand as well) Hotel which was recommended by my guide Sohan Singh Bisht.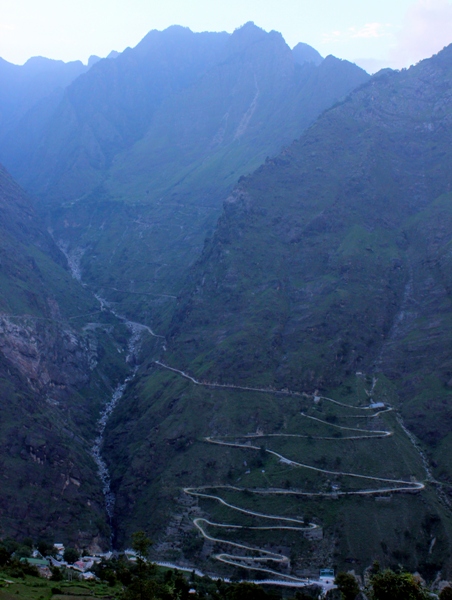 While going for the trek I stayed in their lower priced rooms and while coming back in the more expensive ones.The hotel is reasonably clean and the more expensive rooms have hot water too. When I reached I was just too tired. Kushal (the caretaker) at the hotel brought lunch to my room and after that I switched on the TV. But I could not keep my eyes open! I woke up around 7.00 pm and I walked about a bit, then it was time for dinner.
After that I watched TV and read an Agatha Christie novel in ad breaks. I though I would read just a few pages. But I finished it at one go! That meant I had no more books to read!
I woke up late the next day and had Aloo Paratha for breakfast. In monsoon I don't know why flies take over every place at Joshimath. But I had to eat, so keeping my fingers crossed I just ate and I have lived to tell the tale.
After that it was a lazy day of watching TV and doing nothing. I was thinking I actually need to take a holiday like that, where I have nothing planned for a week! I watched The Mask of Zorro, The Proposal and countless other TV programs.
In the evening Sohan Singh ji came and we discussed a bit about the trek. It sounded quite doable. I offered Sohan Singh ji even to carry my own rucksack. After all, after Everest Base Camp how difficult it could be?
The story continues …
You can check out the entire trip account day wise from the following links-
Traveling to Rishikesh and Joshimath (Day 1 &2 of the trip)
Trekking from Govinghat to Ghangaria (Day 4 of the trip, day 1 of the trek)
Trekking from Ghangaria to Valley of Flowers (Day 5 of the trip, Day 2 of the trek)
Trekking from Ghangaria to Hemkunt Sahib (Day 6 of the trip, day 3 of trekking)
Trekking from Ghangaria to Govindghat (Day 7 of the trip, day 4 of trekking)