Since Chhavi came into our lives Seshadri and I have been travelling separately more than together. Recently Seshadri tried to trek to Jamadi pass and he combined it with his earlier trek to Deo Tibba Base Camp, both in Manali region. He offered to do a guest post and here it is.
Deo Tibba Base Trek
By Seshadri G
The deo tibba base camp trek is a very popular route and I had attempted this route twice before albeit unsuccessfully. In 1997 , the year I passed out from college we were here in early May and Chika was completely snow bound and we didnt reach even till Seri. In 1999 I came here with my brother and his college group in October. My brother made it all the way till the chota chandaratal , I made it till the base camp.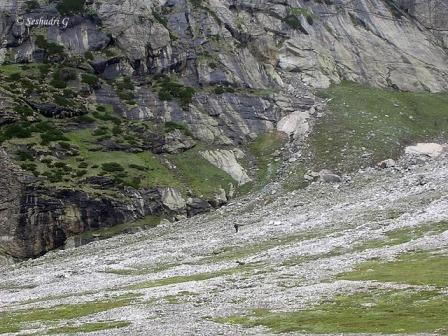 After all those years finally in 2010 it was trek time once more and I decided to visit this place by myself. This time after reaching Manali,
instead of going to a hotel and doing the rounds to a trekking 'agency' I straightaway boarded an auto and went to jagatsukh. This is a small
village and is the starting point of the trek. I knew that any agency would hire guides from this village and why not skip the agency entirely
by doing a bit of investigation first? After a 10km trip I was dropped off there and I trudged to a tea shop with all my baggage asking for a trekking guide. And voila! Of course I could get a guide. I sat down for a tea and soon enough these 2 chaps came down from somewhere. I told them of my requirements and established a reasonable cost. I guess I wasnt really haggling, I didnt mind spending some of my corporate salary for Jagatsukh's economy.
I asked to be boarded somewhere and my new found guide took me to his house instead!! I enjoyed their hospitality for a day was off to trek the next day. I had with me a pony man and these 2 chaps who usually trek together, as guide and cook.
We were off to Khanoul the next day. There's a construction project going on there and needless to say a lot of the natural beauty is dug up
and concretized there. We discovered a lamb that had lost its way and it became a fellow trekker. A day after I was off to Chikha. There's a
Gujjar hut there although it seems like it is privately owned now. I camped there amidst a herd of buffalo who were constantly tripping my
tent wires. The day after was a long climb of about 5-6 hrs to Seri.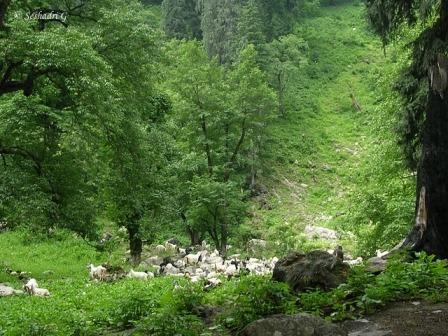 Seri is breathtaking in its appeal. A flat plain surrounded by the rising mountains its extent is that of many football grounds. As far as the eye can see.. And in the distance the river which constantly accompanies you falls down from a great height. Truly one of the magnificient sights of a lifetime.Seri is quite cold and windy I had to pull together my down jacket to keep warm. The guide and the pony man tried to feed the lamb and I made some funny videos of this. The lamb would get into my tent and start nibbling at the tent ropes.
The next day's climb was to the base camp. We decided that instead of camping there, I'd trek up and return the same day. Its a long and steep climb to the right of the waterfall and you reach a similar plain like Seri just beyond it. Words cant explain the size and breadth of these 2 plains one above the other. It was like a hallucinating video game art. We had to cross the river twice once at Seri and again here, and there are flag posts on the ground indicating the shallowest portion to cross it. I waded through it with a pounding heart. The climb to Chandra Tal was again clearly impossible as it would become late to go back. Notbeing a strong trekker I had taken about 6 hrs just to reach Deo Tibba Base once more and didnt have the energy to climb all the way up. So I got back to Seri after a brief pause soaking in the bleak and empty landscape.  I came back to Chika and then returned to Jagatsukh. Needless to say I enjoyed my guide's local hospitality once more before I made my way down.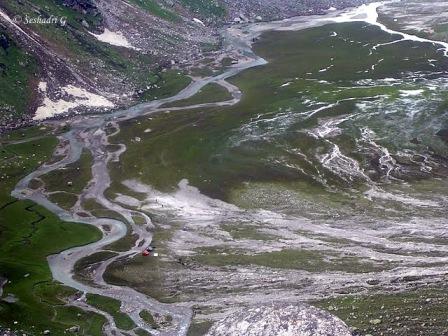 This year in 2011 I planned to do a quick 1 week trek again near Jagatsukh. I was to cross a pass called Jamadi Pass , but the pass was completely snow bound. However I enjoyed myself, camping out in the heaviest snowfall I have ever experienced. My tent collapsed with the weight of the snow and I had to share floor space with my guide.
By next day morning my tent was barely visible underneath all that snow . I had a great time trudging up the snowy path for a few hours and came sliding most of the way down in barely half hour.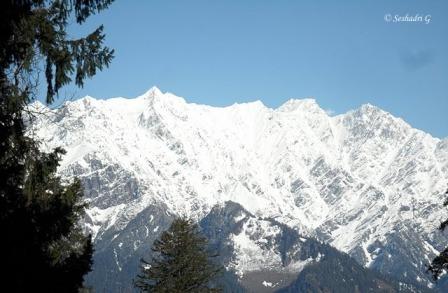 If you plan to explore trekking options in this region you can get in touch with Ramakant the trek guide directly. Here is his website with all contact details.