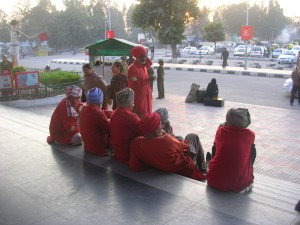 I took this picture the last time I was in Chandigarh. In fact the last visit to Chandigarh was my first time inside a court room too. I had never been inside a court before. This time we were appearing towards completing the legal procedures towards the adoption of our daughter. It takes more than one court appearance to  get everything done.
The first thing that stuck me after getting inside the court premises was the sheer number of people. Even at 10.00am the court was teeming with people. The second thing I remember is the 'no photography' sings and I dutifully didn't click any pictures! Another thing I remember is the canteen of the district court, it was quite decent and we thoroughly enjoyed many cups of tea within the premises. This visit was in winter hence, tea was more welcome. Inside the court room we were just spectators it was full of people, and once we were asked to sign a document and that was it!
Let us see when we need to appear again.