I recently managed to spend a few days at Bhubneshwar. My primary aim was to meet my friends Ritu and her husband Anurag from my Ph.D. days. They also like to travel as much as I do. So we visited the usual suspects, Chilika at Barkul and Konark.
But the find of the trip was Mangalajodi. The credit of this trip goes to Anurag who researched the place and made it possible. I just kept telling him that I know people at Indiamike had also recommended it to me. But I am not sure if I could have done it on my own as it is in a remote location.
If you are a bird watcher chances are you have heard of Bharatpur. Mangalajodi in Odisha is alluring and much less crowded. The landscape is marshy and flat for as far as the eyes can see. It feels like you could keep traveling forever and beyond the horizon, you would find the end of the world! It is a part of the Chilika Ecosystem.
The best time to visit Mangalajodi is from October to March as that is when the migratory birds also start to arrive. Mangalajodi is the residence to more than 300000 birds in the peak season. Some of the commonly seen birds are Kingfishers, Egrets, Shellducks, Morehens, Herons and Ibis.
I am sharing a sight with you that was completely mind blowing. There is a bird at the site called Black Tailed Godwit. And look at how many there are at mangalajodi! I promise there is going to be a detailed trip report about this but till then you can read about it at Vaibhav's Blog and at Indiamike.
Let me just show you the pictures of the swarm of Godwits.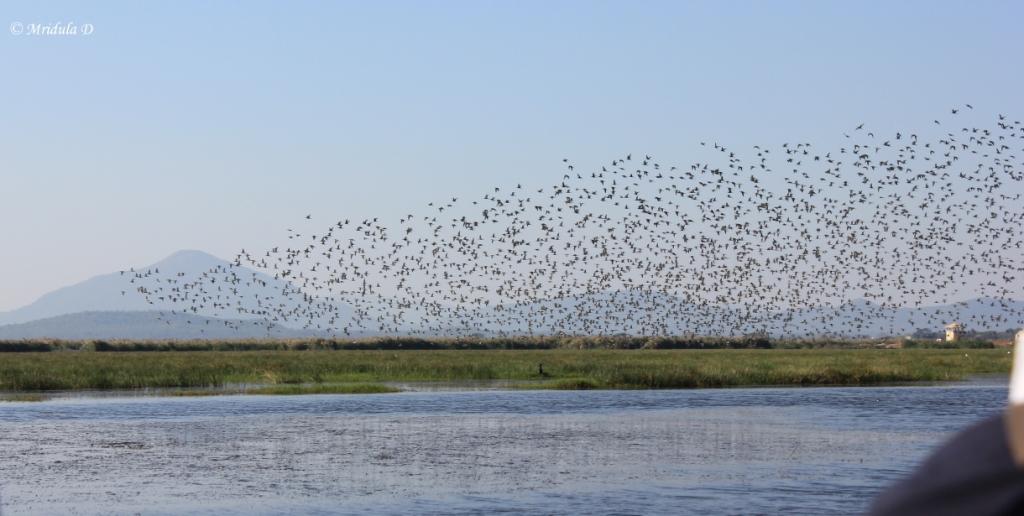 The preferred mode of bird watching in the area is a local boat. Bird watching around Mangalajodi is around the interlinking water channels. The boat is a fragile looking structure, some boats have a covered top to keep out the heat. The boatman will row it with a long bamboo pole. You can rent binoculars and hire a guide as well. If you observe around you, you would see local fisherman going about their daily business in these water channels without any fuss.
OK now that you were able to count the flock above, tell me how many are are in the one below?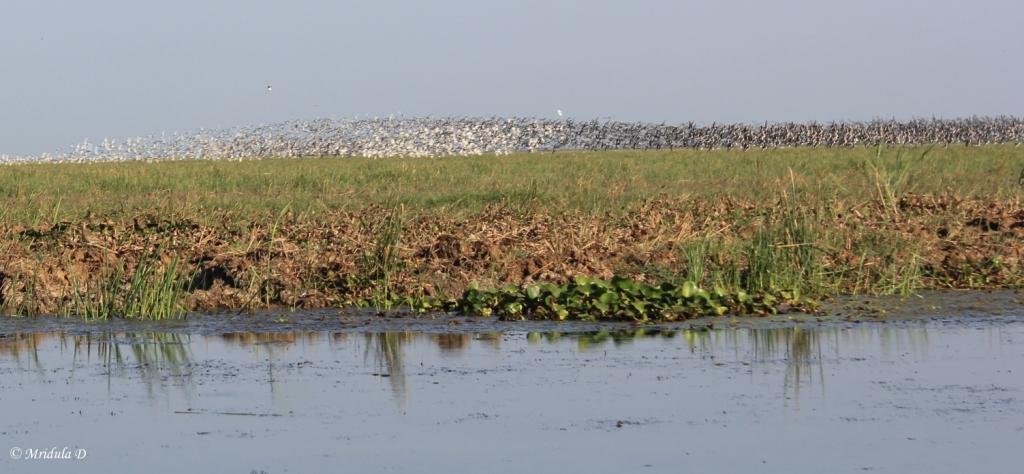 And now that you have finished counting this one one too, try the one below.
Mangalajodi was not always a safe place for birds. The villagers used to kill the birds in large numbers. It is over the years with the involvement of many NGOs that the place saw a turnaround. If you talk to a person there now, they will proudly tell you, "sari duniya se log hamra gaon dekhne aate hain." Mangalajodi tourism is community driven. It is not so mainstream at the moment, so now is the perfect time to go and discover it. Even if you are not an avid birdwatcher you visit Mangalajodi as a village retreat.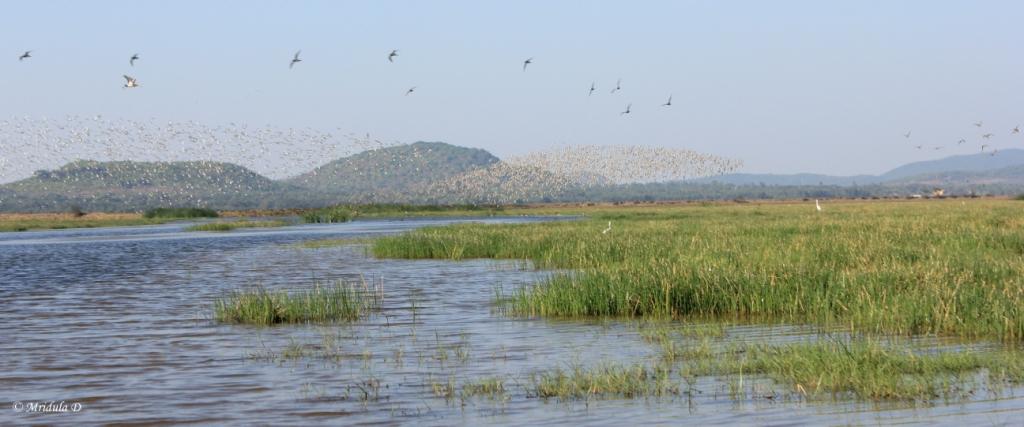 How to reach: Mangalajodi is 75 Kilometers away from Bhubaneswar towards Behrampur. You can take a public bus and get down at Chandpur Tangi. Then you would need to call the people at the NGO Mangalajodi Ecotourism and they will send an auto for you which will take you to the Mangalajodi Village. If you have your own vehicle, ask for the detour to Mangalajodi at Chandpur Tangi.
Where to Stay: Unless you wish to talk to a village elder after arrival and stay with them, the only place to stay is the Mangalajodi Ecotourism Complex. They have cottages as well as dormitories. As the rooms are limited it would be prudent to book beforehand. They provide simple food which is delicious. But do not expect fancy stuff in the middle of the village.
I have never seen so many birds in my life at one place. So when are you heading to Mangalajodi?