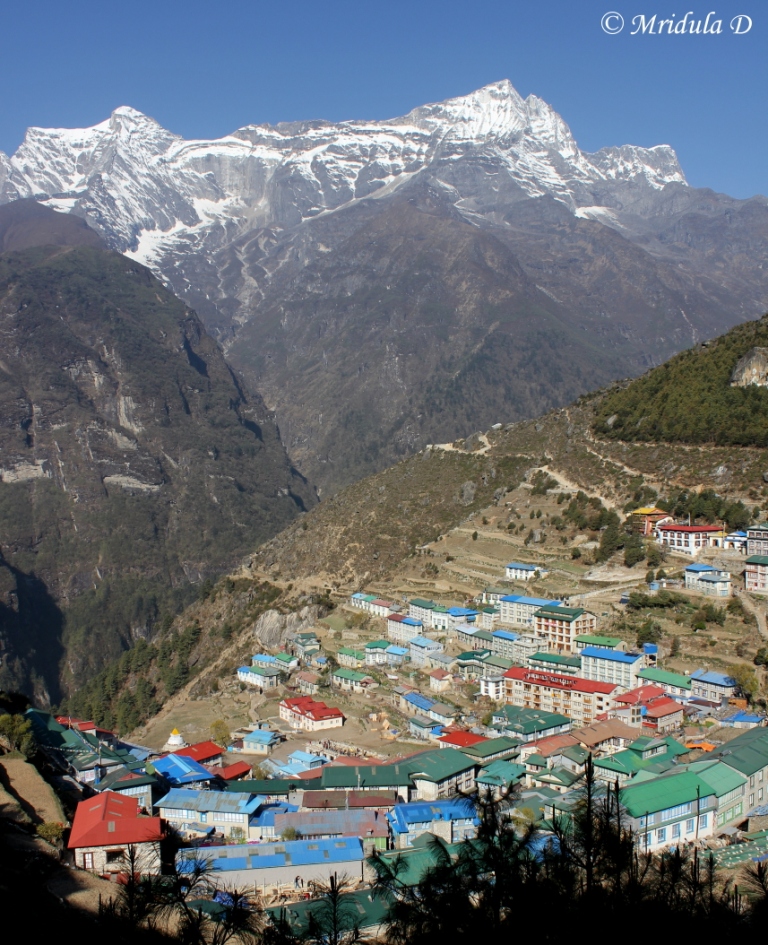 There are so many pictures to choose from the Everest Base Camp trek and so many things to talk about that my head spins. I will start off with this picture of Namche Bazaar and 10 things from the top of my mind!
10. I was so tired on the trek the day I walked from Namche Bazaar to Tengboche that I noted down on a paper- "Beat me with a stick if I ever talk of trekking again, that is what I want to tweet right now." But this too has passed! I am already planning my next trek!
9. I am so thrilled that I could do Everest Base Camp and Kala Patthar both. But for the Kala Patthar the credit goes to my guide Deepak. He said, "We will start at 3.15 am in torch light." And that is what we did. I could see nothing beyond a few feet and by the day break I had covered so much ground that it would have been a shame to give up at that stage. If I would have seen that distance in plain daylight I would have refused to walk that much or so I think.
8. I was so busy managing my reaction to the altitude that photography took a back seat.
7. Before starting the trek, on Thursday I was in Malaysia, on Friday at work in India and on Saturday in Nepal. My brain was a mush and I was dog tired at the start of the trek. But I recovered.
6. It was a blessing to sleep in a lodge room rather than a tent, that way the cold was so much more bearable.
5. The Himlayan View guesthouse at Pheriche has the best apple pie on the entire route in my opinion.
4. The climb to Tengboche is as killing as Namche Bazaar.
3. On the last day the tune 'in the jungle the might jungle' kept going on and on in my head.
2. It was a tough trek for me. In the mountains people say it is the mountain that decides whether you can come to them or not, I am glad they decided in my favor. Still on some days I felt like a hobbit in midst of all those tall peaks and vast empty spaces.
1. When I got back home yesterday my father gave me flowers for having completed the trek!