It was a beautiful sunny day that we spent island hopping in Krabi. I should have been tired. But I was looking forward to an evening in Krabi. I wanted to go out and walk alone. The trouble with me and walking is that I have no sense of direction! So, I had to keep things simple. I would walk in direction of the sunset. The plan was click a few pictures and then come back to the room. The dinner pickup to Ao Nang was at 8.00 pm.
Mercifully it was a straight road I was walking on. I got out of the Krabi Front Bay Resort, took  a right and kept walking straight. I saw a few patches of sand and open space but they looked like work places. I guess I could have gone in and clicked my sunset but I decided to walk on.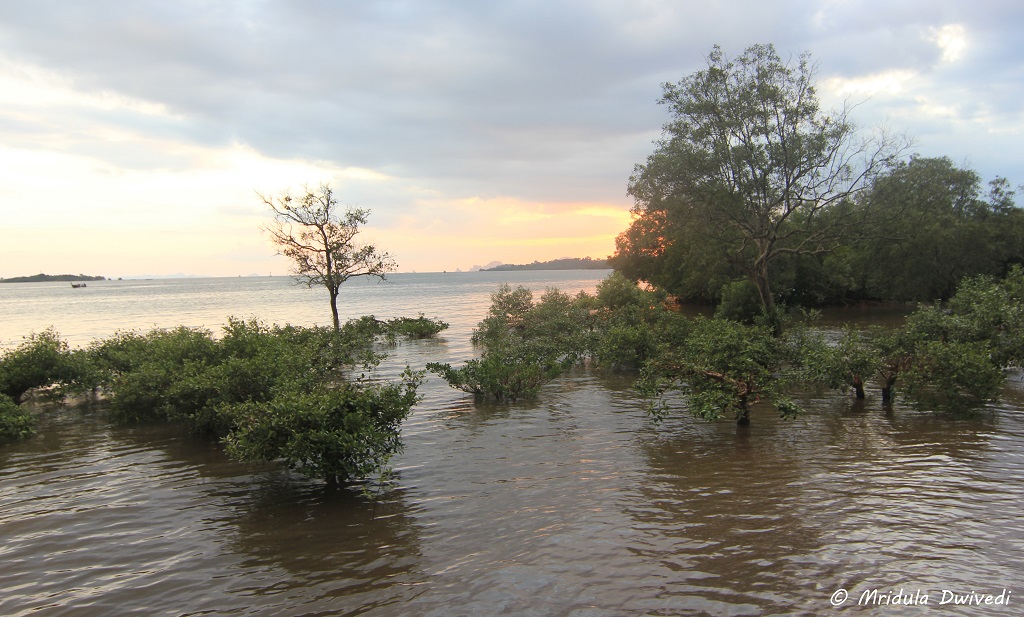 At the end of the road there were a row of local restaurants. They looked  bit overwhelming because I speak no Thai (other than hello, thank you and good night) but more because I eat no sea food. But the view from the place was fabulous. I hopped in and decided to try my luck. I walked to the last shop and put my bag on a chair.
The attempt to communicate with the proprietor didn't yield much. He gestured to wait and walked out of sight. He got out with a young girl in tow. Now we could talk in English. I asked for coffee and french fries, not because I am a fan but because it was vegetarian. The girl told me they were out of french fries! I asked if they had mushroom or eggs? She offered to make a mushroom omelette for me!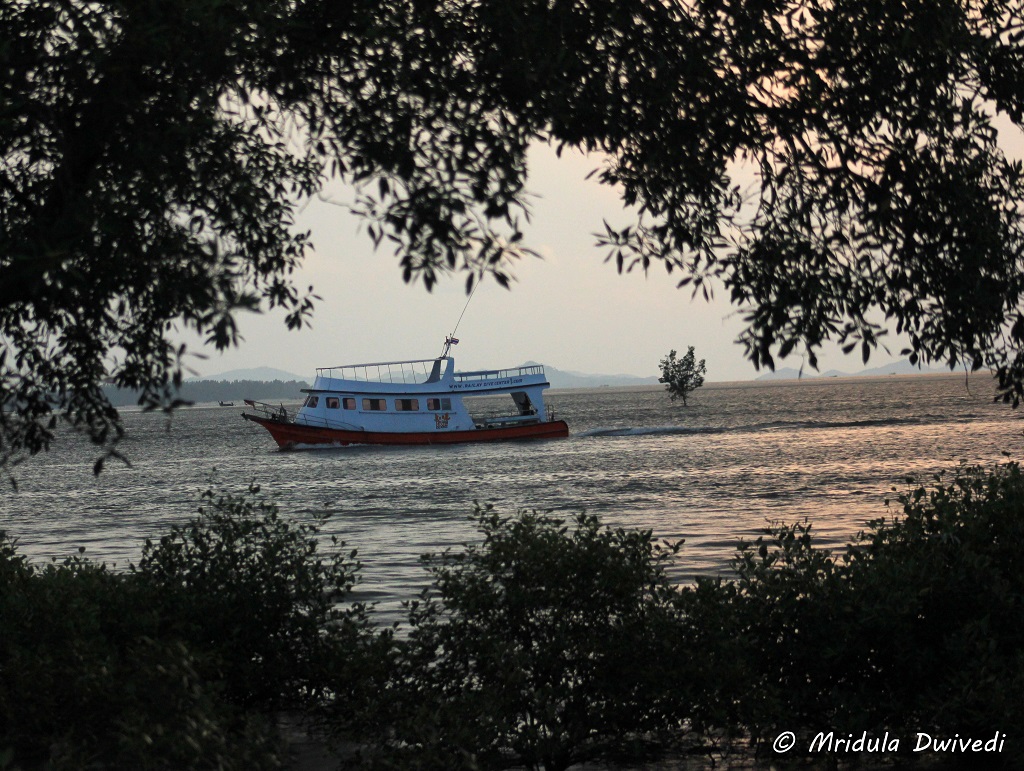 I will be honest, I stopped there only because it offered me a good vantage point for clicking pictures. I asked if they had a pint of beer but they had big bottles only. A big bottle by myself is a bit too much, so I settled for coffee only.
My coffee and omelette arrived. The proprietor was quite concerned that I did not take any rice with my meal! After clicking a zillion pictures, I started craving tea. I had a fabulous day beach hopping, and now I was watching a fabulous sunset.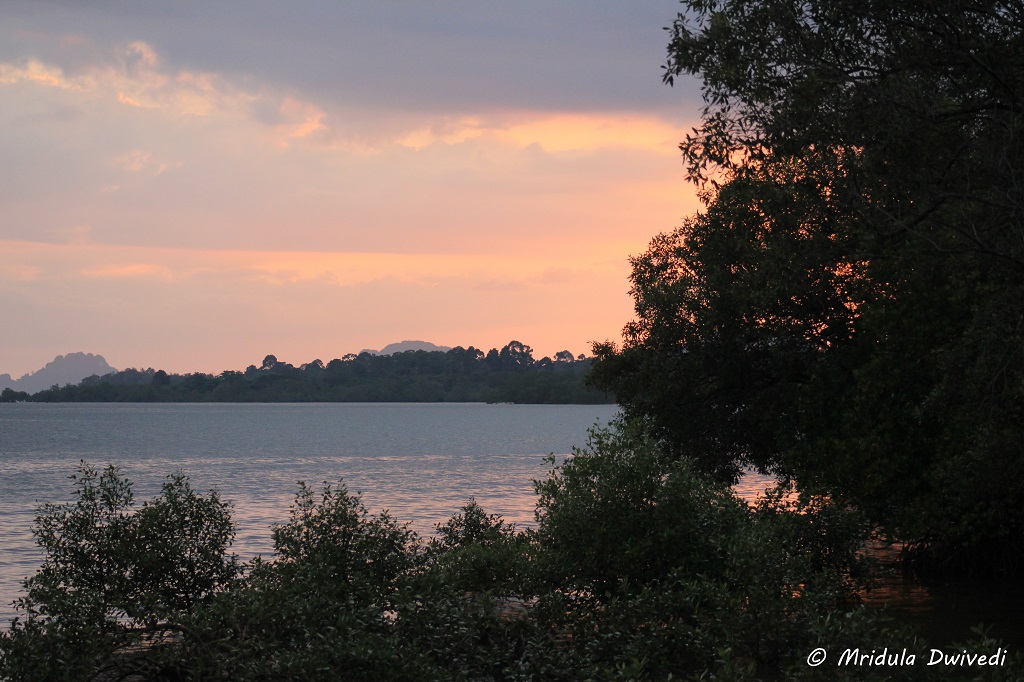 I asked the proprietor if they had tea. He gave me the blank look. I said 'chai' and 'cha' thinking something would click. Tea was not written in the menu so I could not point it out. I still tried my luck because mushroom omelette was also not written in the menu!
After struggling for sometime I told him, "Aah give me coffee." And magically he said, "Oh you want tea!" I wonder what made him understand that I wanted tea when I finally asked for coffee!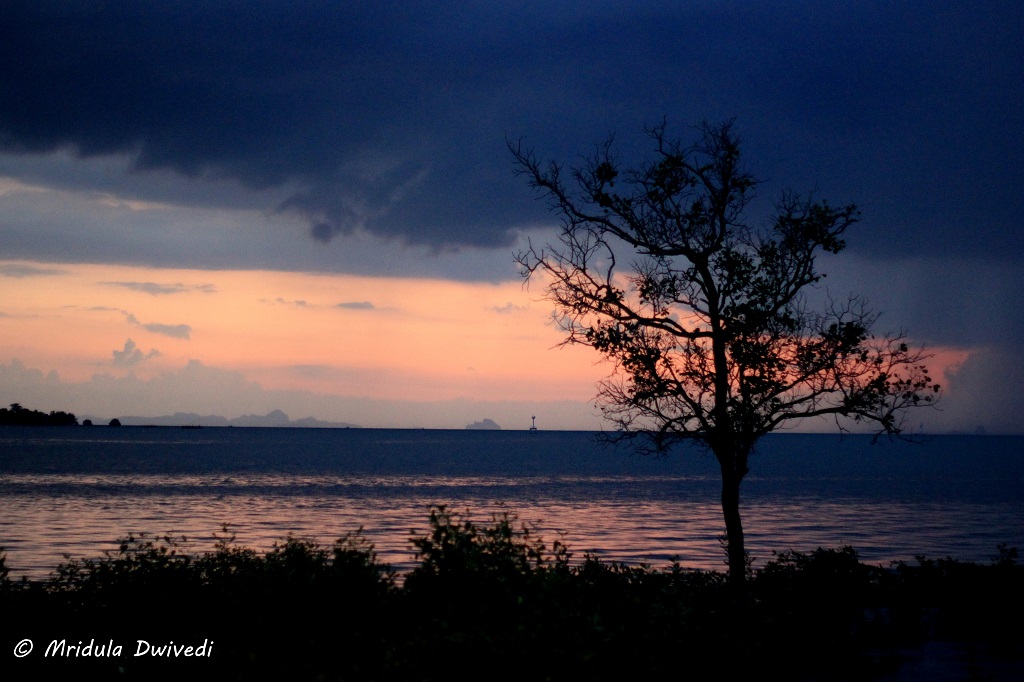 He served me a pot of Jasmine tea. I enjoyed leisurely all the three cups it contained! By now it was trying to get dark. I got up to pay. He gave me the bill. I pointed out they forgot to add the price of the tea! To which he replied, "Oh no it is free!" You see, it was a blessed day indeed!
PS. My trip to Thailand was in Collaboration with Byond Travel.