I have been cribbing a lot that I am not going out anywhere in February at all and my wishes (thanks Akhila for adding the weight of your wishes as well) were granted, well sort off. We had to pick up Chhavi's adoption papers from Chandigarh and we did not wish to get it by post for the fear of the post getting misplaced. Her birth certificate formalities still remain and that would involve a few more trips to Chandigarh in future.
So, I started off for Chandigarh yesterday morning. I left home at 6.45 am and reached back at 11.15 pm. If I would have gone in just one direction for that amount of time I would have reached Manali! I reached Chandigarh at 2.15 pm, went to the adoption office straight from the bus stand and took a bus back at 4.00 pm. So, the highlight of this trip has been spending 15 hours in the bus less than two hours at the destination!
I managed to get a Volvo to Chandigarh from the Gurgaon Bus Stand itself. These days there are two Volvo buses in the morning, one at 6.15 am and the second at 7.15 am. I am glad I took the 7.15 one as there were just 5 passengers in the bus, 4 women and one grandfatherly figure apart from the driver and the conductor. But the bus got at least 3/4 full from ISBT Kashmiri Gate, New Delhi.
I was originally not given the window seat but when I saw there were only 5 people I promptly shifted to the window seat and remained peacefully there till the end of the journey. My aim was to look out of the window but pretty soon I fell asleep and woke up only for small periods of time. A young girl was sitting next to me, she was quite nervous as it was her first trip to Chandigarh. She was going there for an interview.
I woke up for the first time when the bus made the mid way halt at Panipat and the place Skylark was pathetic. The tea was bad and the idli-sambar I had was bad. I realized that I should have gone for paratha and not idli as chances are that a North Indian dish would be much better but then what to do. After the uncooked idli and tepid dip tea I boarded the bus again and fell asleep within minutes again. I woke up only when we were almost reaching the bus station and then I had a small chat with the girl next seat.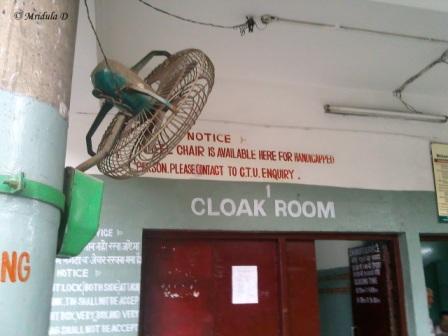 As soon as I got out I realized that if I wanted to reach back to Gurgaon even by 11.00 pm I would have to drop my idea of visiting Sukhna Lake and the Rock Garden. I went around the bus stand to find out the inquiry office. The people at the ticket counter do not give any information even if there is no queue. That way bus conductors are the best, they pass on relevant information easily. After making a few inquiries I realized that my best bet was to get the documents first and then worry about a bus back.
So I came out, took an auto and went to sector 16D and back. It is not just Delhi auto that overcharge. The guy asked for 100 rupees for both ways and I was in no mood to argue so I agreed. Work quicly done, it was time to look for some food and head back then.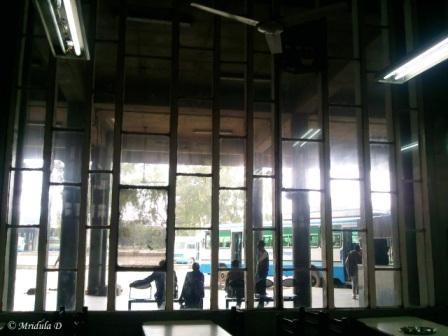 The restaurant at the Inter-State Bus Terminus has an old world feel with high ceilings and lots of glass. I tried my luck with paratha here but they said it is served only for breakfast. After my morning two idilis it was 3.00 pm and my stomach was certainly protesting. I went for a masala dosa but these guys made it well, even though they also served the tepid dip tea. I asked the person at the counter as to why they don't give real tea any more? He said they would like to but the "government wants transparency." I was way too hungry and didn't ask to elaborate.
Then came the bus time. There was a Volvo to Delhi at 5.15 pm but chances were that I would not get a connection to Gurgaon and that would mean someone picking me up from ISBT. I thought I would avoid it if I can. Then I saw an AC bus which was about to leave for Delhi soon. I inquired when would it reach Delhi and I was told by 9.00 pm. That meant I had a fair chance to make the Delhi Metro connection to Gurgaon and I decided to take my chance.
The bus journey once again was uneventful. I slept for part of the way and after a phone call I kept listening to songs on my cell phone while looking out of the window. Unfortunately the mid way halt was once again at Skylark and I settled for a vegetable sandwich and coffee. Even that took some effort as there was no power and the electronic cash register would not work, neither would the microwaves.
Then while entering Delhi, there were traffic jams and I reached ISBT finally around 9.45 pm, but the Metro connection was still on. I walked as fast as I could to the Metro Station, bought a ticket and asked about which platform to go from the person at the counter. I was quite scared that the person would snap and ask me to go to the inquiry but he pleasantly told me that it was a direct line from platform 1.
I do not use the metro much and surely not alone at a late hour. So, I decided to board the ladies coach. And then I was in for a surprise. The coach for sure did not look like a ladies only coach! I was told that after the security staff vanishes the coach becomes like this.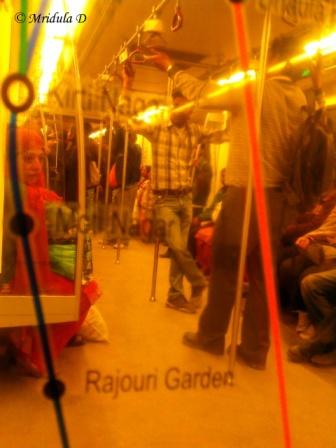 I still had a largely peaceful journey, only I changed my coach after a point, as I was the only lady in the ladies coach! The next interconnected coach had much better behaved passengers. I was promptly greeted by Sesha at the ticket barrier on exit and I gladly sat in my car and looked forward to a late dinner. The picture below sums up my journey well, I was most of the time hungry and I was sure in a hurry.