When Chhavi and I came back from our lunch my younger nephew asked, "So where did you go?" I said, "It was a sports bar." And he asked, "So did you go to the Underdoggs?" Looks like the place is really popular with youngsters! When I got the invitation for a lunch from them, I was asked, "So who would accompany you?" I said only my daughter is available and you have guessed it right, Seshadri has gone trekking now! So it was Chhavi and I who went today to the Underdoggs at Ambience Mall, Vasant Kunj at New Delhi. The lure for Chhavi was the Cola she would get to drink which we otherwise don't give her as far as possible.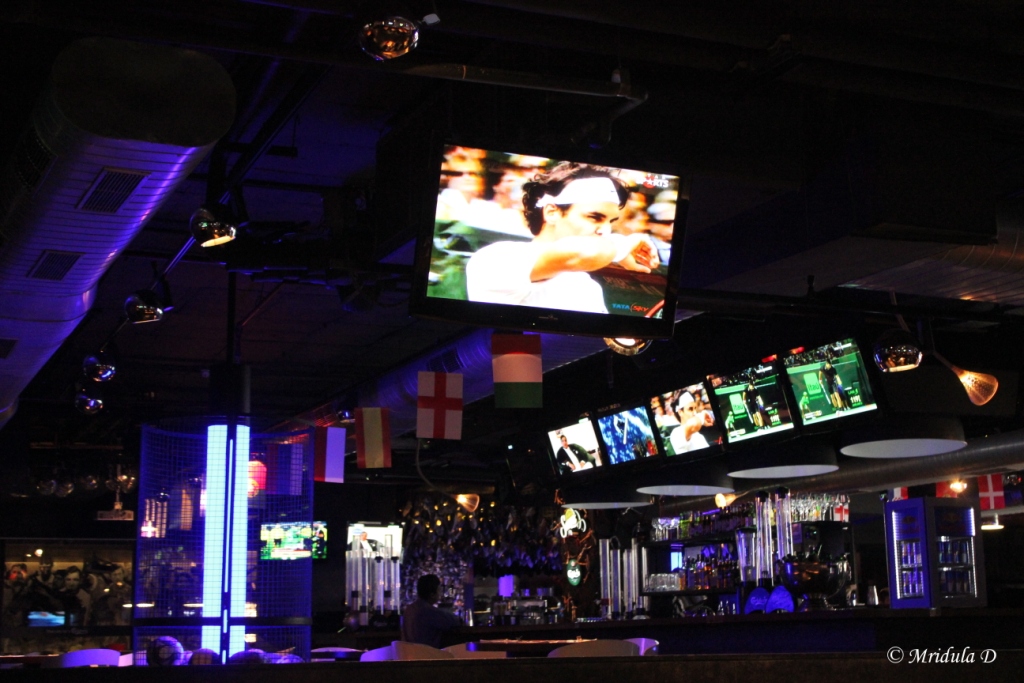 The first thing to notice at a sports bar are of course the TV screens and I liked what I saw, quite a lot of choice of sports channels and Chhavi was sufficiently distracted to let me watch peacefully some tennis for a while. On the screen behind me badminton going on and she knows I like to watch it. So she pointed out, "You should watch that" but she got busy with her promised Cola quickly.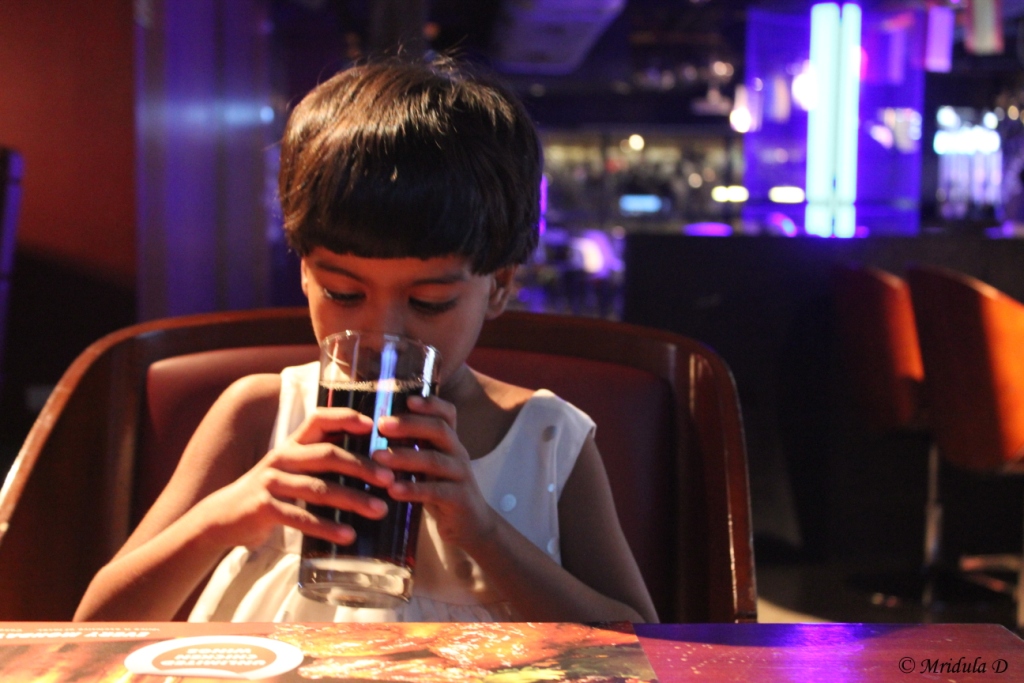 When we go out sometimes Chhavi can completely cling to me but not at the Underdoggs. She ventured a bit on her own and went with the manager to get a board game to play as well. When she came back from one corner she told me there was a bicycle at the other end. I was talking to Simrin at that time and she was explaining how they had started the place. So I asked her, "Why is she saying there is a bicycle there?" Simrin told me there was a mountain bike on the wall! Simrin said we should have come in the evening as that is when the crowd is there. She added, "Growing up in the city I know how important it is for girls to find a safe place. We have bouncers from 6.00 pm in the evening." I asked if they would telecast the Euro 2012 night matches live? She said they have the permissions in place and do play the 12.15 am matches as well.
Soon it was time to order food and I asked for a Berry Berry smoothie with Dahi ke Kebab and Pizza. Chhavi already had her cola and was quite happy with it. Now that she has learnt saying "cheers" (blame her father) she clinked her glass with mine quite a few times! I had a straw in my drink so she too wanted a straw and she got two! If you have not tried Dahi ke Kebab till now, you have to, it is one of my absolute favorites.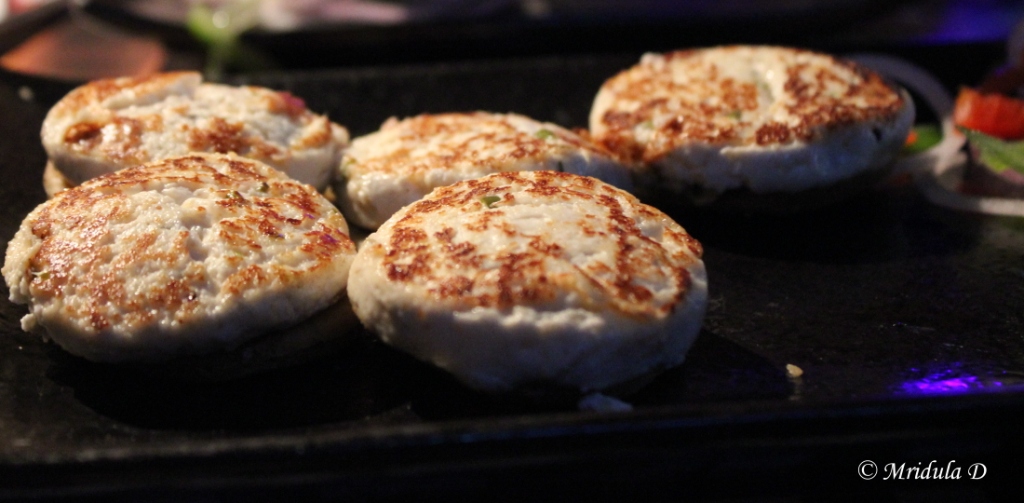 Chhavi refused to taste it which was a pity but I managed to almost polish off the plate by myself! The Kebab had a hint of ginger in it and that made it even more divine.
Then our Pizza arrived and once again it was a pity that the two of us could not finish it off. I once had a slice of pizza in Venice and that had been my standard against which I measure every other pizza I eat. I have to admit this one came very very close. It had the same thin crust and the right amount of cheese with a lot veggies.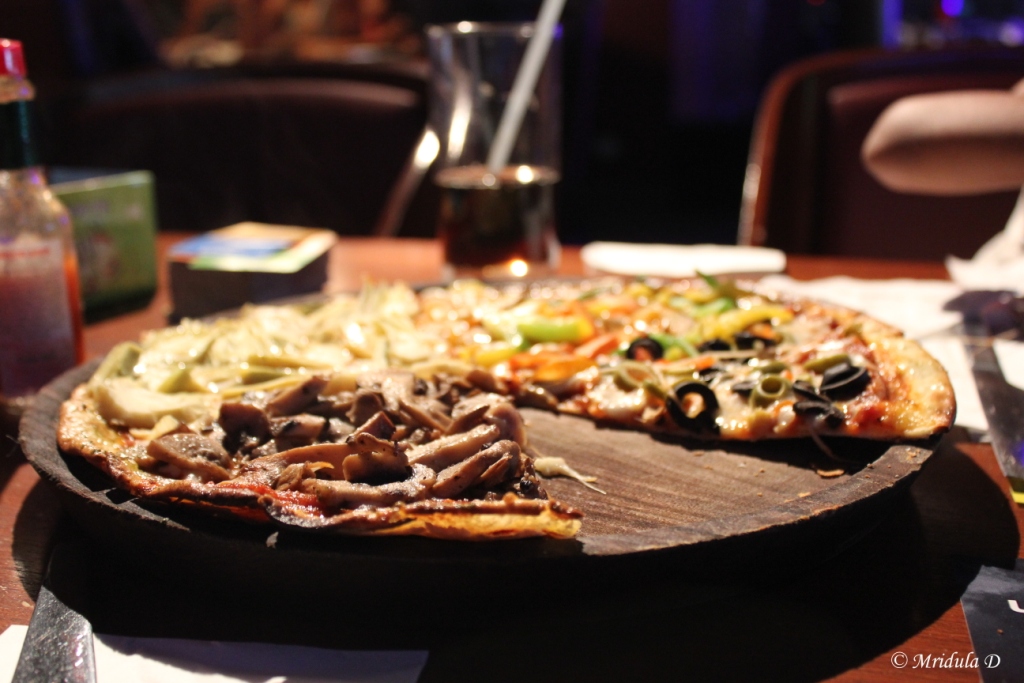 Chhavi ate a lot of veggies and some pizza and soon went off the table again. She had found a game where she could slide a peg on a board and she had a great time doing so. Afetr a while I told her I was going to sit on the table and she said, "Tikh hai mamma" (it is OK mamma) and she messed around on her own. Actually there were some people trying to play that game but everyone let her meddle around and have her own way!
Then I had a word with the Chef and complimented him on the food. So he said, "Your daughter can have her ice cream but why don't you try our berry pudding?" With such good food already tucked inside I sheepishly agreed, after all I have a big sweet tooth. I said, "Please make it small. Pat came the reply, "It is a small dish actually." And this is what I got!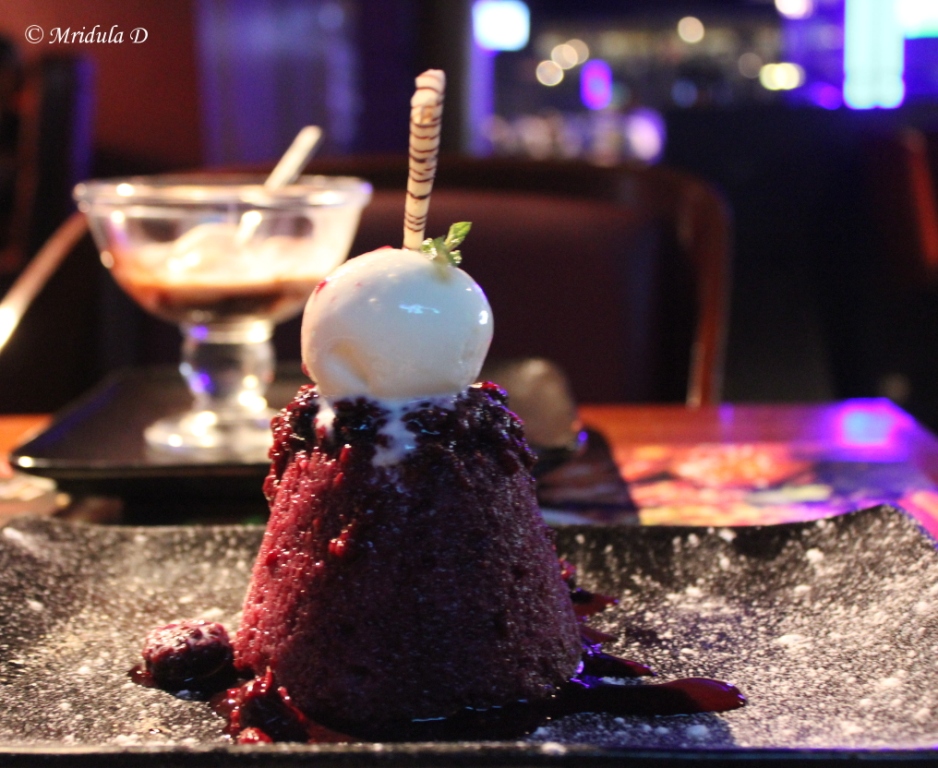 It was by no stretch of imagination a small dish. But I was able to finish it all with a little help from Chhavi. We didn't even realize that we had already spent two and a half hours there. So before we got out Chhavi took me around to show the mountain bike and I clicked these shoes hanging in a dense bunch from the ceiling.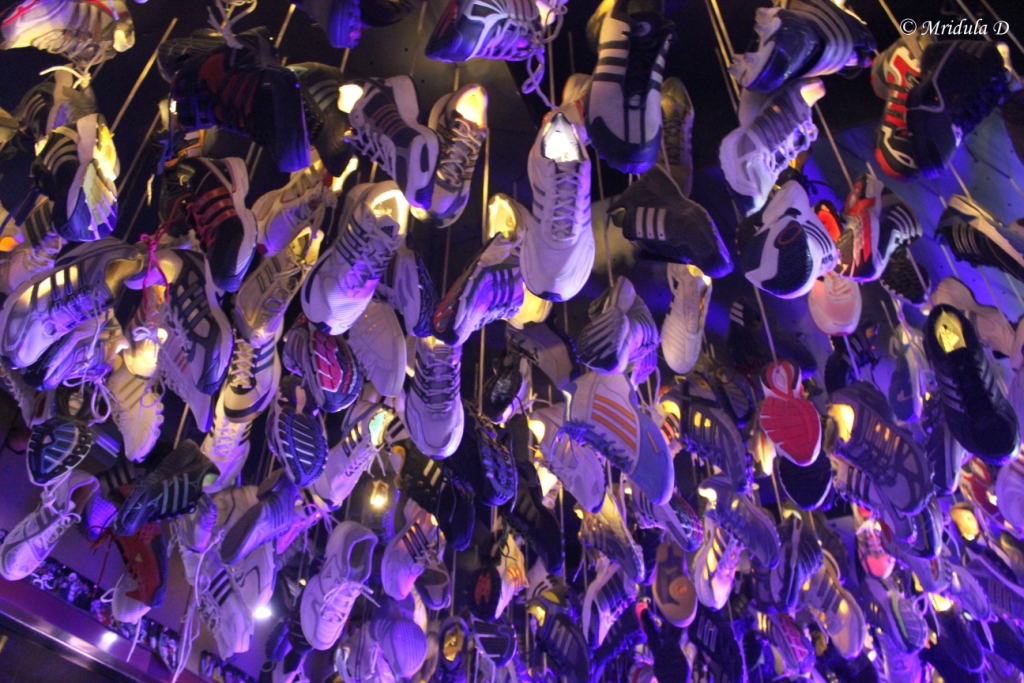 Both Chhavi and I had a great time at the Underdoggs!