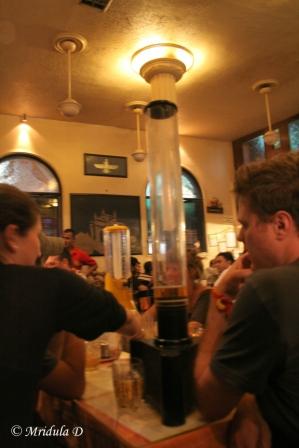 On one of my recent visits to Mumbai, I had a dinner at Cafe Leopold. When I came back home and told this to Brat 1 (my elder nephew) he immediately remarked, 'Shantaram.' Wikipedia also confirms that there are extensive references to Leopold Cafe in the novel Shantaram by Gregory David Roberts. When we went there the cafe was absolutely packed. We were suggested that we may try and find a place upstairs. So we went up and gave it a look but we didn't like what we saw, the place was quite dark and cramped. My nephew said that in the novel Shantaram this cafe is used by characters from the underworld to hold their meetings. Not sure if any of it is true or not. But by the time we came time, we were led to a table for four. The seating space is cramped but part of the charm. What I found particularly fascinating was the tall beer pitchers that I saw on the next table, that tall glass like structure in the picture above.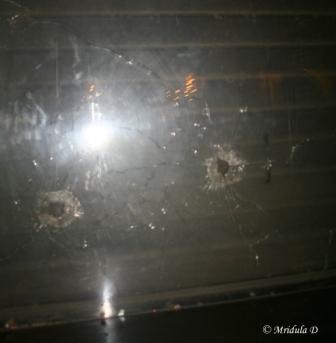 And then there were these two bullet holes, the reminder of the attacks on the cafe during the November 2008 . We were seated right next to these holes, not a very comfortable position to be in to enjoy your meal!
And food? We were three vegetarians and only one non-vegetarian on the table. So we ordered two main and a side dish amongst the three of us. And the portions were large, we were not able to finish even two main dishes even though the food was quite good. We went with Chinese (with me around there are high probability of that) and I enjoyed everything that was on the plate. We also ordered a mocktail  but next time I think I will avoid it. I am not much of a mocktail person, I am more of a soup and a tea coffee person.
Overall, give a chance I would certainly visit the place again and let me see if I can pick up Shantaram and read it too.