If you look at the picture I will try to tell a story. This is Leeds City Center. I was trying to find a place around it! It is the story about me being capable of getting lost in a telephone booth if it has two exits!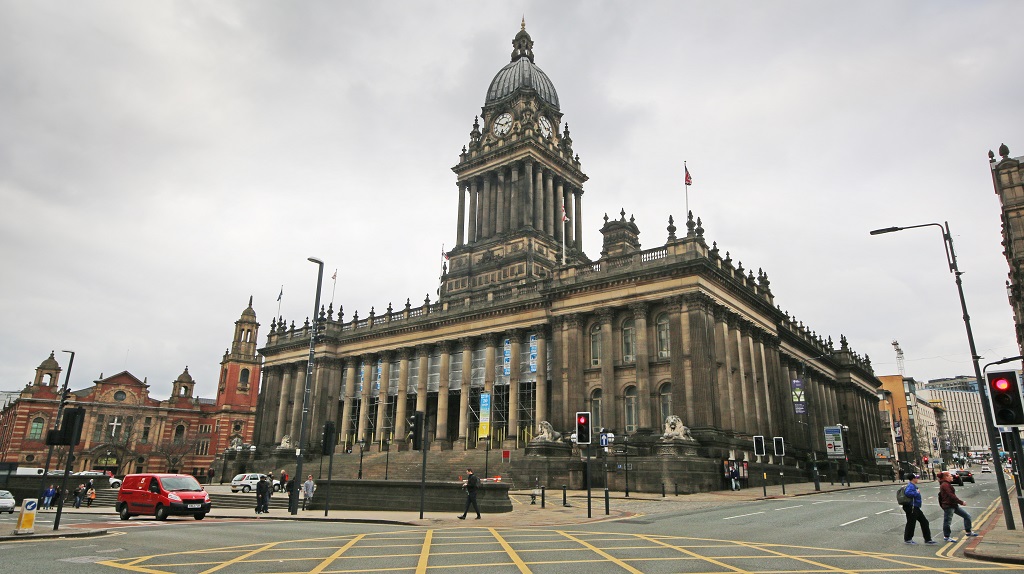 Photo Credit Alastair Wallace / Shutterstock.com
When I reached Leeds in the evening, after finding the Park Plaza hotel (which I managed to do without too much trouble) my next task was to find the conference venue. It was called Cloths Hall Court. I had a paper map in my hand and after looking at it, of course proceeded in completely opposite direction. Then I asked a police personnel about Cloths Hall. He asked which street and I told him Quebec Street. So, he sent me back towards my hotel.
After meandering on one or two streets, I managed to see a building named Cloths Hall Court and I was happy again for this too was just two minutes walk from the Park Plaza. However, the door was locked and a notice said if you need assistance, call this number and there was a phone next to it too. I thought the place was closed in the evening and I would come there in the morning again.
Later I walked around a bit, picked up a pizza and walked back to my hotel room. It was nine at night by now. I tried to work with my paper. After an hour I realized that I was fast asleep holding it! I didn't blame myself for this as I had reached London in the morning after spending a good part of the night at the Indra Gandhi International Airport in Delhi and the rest of it on the plane. And then I traveled from London to Leeds on a Megabus (super fares, 10.50 pounds as I had booked in advance via the internet and 5.50 for return on a Sunday morning when they changed the clock) with very small seats. So I didn't blame myself at all if I fell asleep while trying to read my own paper!
Then I woke up early the next morning (spent some time with the paper) and ran down to the restaurant to have a breakfast. Thinking that I knew the venue, I gave myself just about 7-8 minutes to reach, after all it was just a two minuets walk.
So, I walked down the Quebec Street and found the building, only it was still locked. I was wondering what my institute would do to me if I failed to find the correct venue and missed my paper presentation after they had shelled out all that money! Whatever came to the mind, nothing was pleasant.
Then I decided to ask for help. I asked a young girl who was passing by if she knew where the entrance to the building was. To my horror she pushed back her hair and took out her earphones. I could not see she was listening to music and was quite embarrassed to disturb her. She had no clue about the entrance but gave me a million dollar suggestion. She said, "Why don't you walk to the other side of the building and see if the entrance is from that side?"
I did exactly as she suggested and of course there was a sign announcing the conference. I still had two minuets till my session started and I was anyway the last speaker. The good folks at the conference registered me quickly, gave my name tag and I found my room without too much trouble. And to my relief there were just a few people inside the room. All the vistas of not being able to present my paper disappeared and some of the participants were even more nervous than me!
PS. If you are in Leeds, UK you would probably like to check out the UNESCO World Heritage Site at Saltaire, UK.